WASHINGTON -- Despite trailing Rick Santorum in most recent national polls, Mitt Romney appears to have momentum on his side in Michigan and a big lead in Arizona, just four days before both states hold Republican presidential primaries.
In Michigan, two new automated, recorded-voice surveys show Romney with a small, single-digit lead. The two polls, from Rasmussen Reports and Mitchell Research, were both conducted on Thursday, Feb. 23, and are the first to be fielded in Michigan entirely following Wednesday night's nationally televised candidate debate.
The Rasmussen Reports poll gives Romney a six-point lead over Santorum (40 to 34 percent), a reversal from the four-point Romney deficit the firm found just three days earlier. The Mitchell Research poll shows Romney three points ahead of Santorum (36 to 33 percent), a big shift from the nine-point Santorum lead the firm reported one week earlier.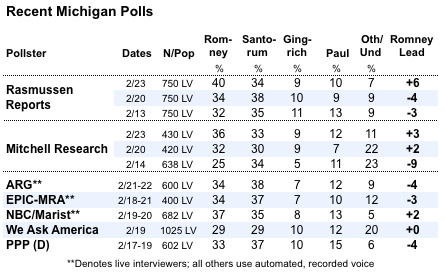 The new findings are slightly better for Romney than the results of five other surveys conducted earlier in the week, which collectively described a very close race between the top two candidates, ranging from a four-point Santorum lead to a two-point Romney advantage.
The HuffPost Pollster's Michigan chart, which attempts to smooth out random variation in the all public polling data, shows that the biggest change over the past week has been an increase in support for Romney. Over the same period, Santorum's numbers have declined only slightly. The chart's trend lines now give Romney a very slight lead over Santorum (36.3 to 34.7 percent), followed by Ron Paul (11.2 percent) and Newt Gingrich (8.0 percent).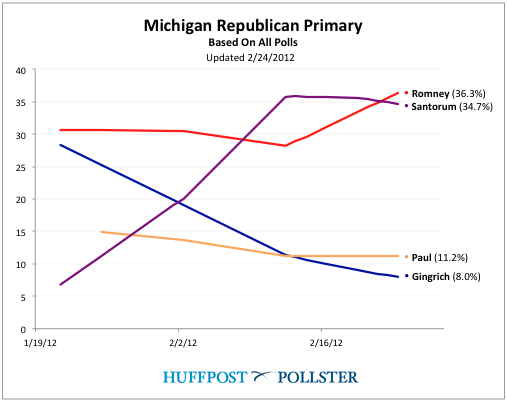 Most of the recent polls used an automated, recorded voice to conduct interviews. However, three live-interviewer polls conducted earlier in the week, looked at together, show the same virtual dead heat between Romney and Santorum as the automated surveys fielded at the same time.
Meanwhile, in Arizona, five new surveys conducted this week find Romney ahead of Santorum, with the three most recent giving Romney double-digit leads.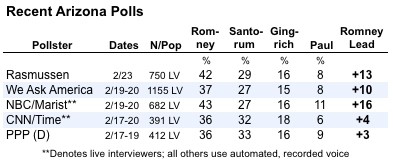 The HuffPost Pollster's Arizona chart shows that although Santorum gained significantly following his victories in Colorado, Minnesota and Missouri earlier in February, his gains have not been sufficient to overtake Romney in Arizona. The trend lines, which may not yet capture a late break to Romney, give him a lead of 38.3 to 30.9 percent over Santorum, followed by Gingrich (14.7 percent) and Paul (8.8 percent).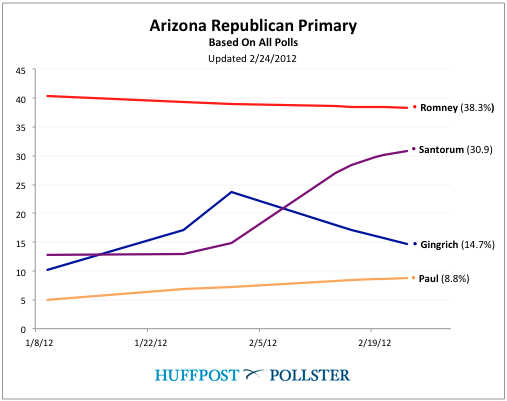 Can Santorum still prevail in Michigan despite the unfavorable trend? As Nate Silver notes, Santorum has outperformed polling estimates before, particularly in Iowa, Colorado, Minnesota and Missouri. But three of those four contests were caucuses, and all four featured exceptionally low turnouts, which allowed Santorum's energized evangelical Christian base to have an outsized impact.
Michigan and Arizona are both primary states. In 2008, roughly 12 percent of eligible adults voted in Michigan's Republican contest, a turnout twice as big as that in Iowa and more six times larger than those in Colorado, Minnesota and Missouri. In Arizona in 2008, 13 percent of eligible adults voted. Those larger turnouts make it unlikely that polls are understating Santorum's support in Michigan and Arizona by as much as they did in the earlier caucus states.
Even if the polls are slightly underpredicting Santorum's vote in Michigan and Arizona, should the current trends continue, Romney will probably have the votes to win both states.
Popular in the Community