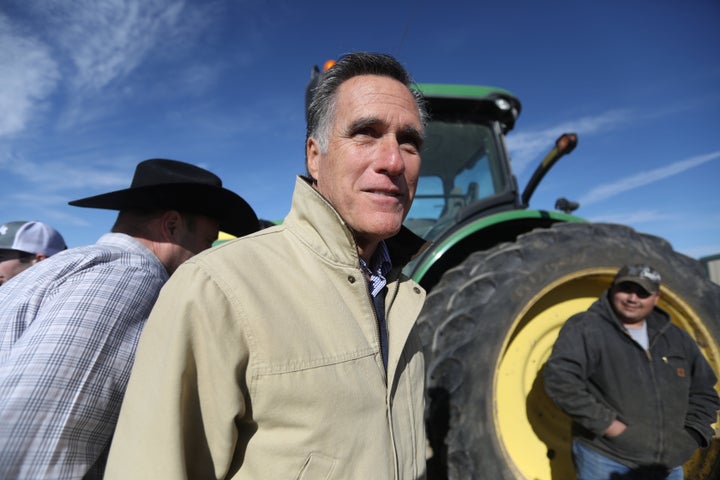 Mitt Romney failed to secure the Utah Senate Republican nomination outright at a party gathering over the weekend and must run in a June 26 primary.
The 2012 GOP presidential nominee, who has been endorsed by President Donald Trump to replace retiring Republican Sen. Orrin Hatch, fell short of the 60 percent needed to clinch the nomination at the Utah Republican Convention and will face state Rep. Mike Kennedy in the primary.
Kennedy edged Romney in the vote among convention delegates, 51 percent to 49 percent, according to The Salt Lake Tribune. But the convention result is often a poor indicator of the preferences among the state's Republican rank and file. In 2012, for example, Hatch similarly failed to clinch the nomination outright but went on to win his primary by 30 percentage points.
Romney sought to put a positive spin on the convention vote and the need for a primary.
"This is terrific for the people of Utah, and I really want to thank the delegates who stayed so late to give me the kind of boost that I got here," he said after the vote. "We're going to have a good primary."
The former governor of Massachusetts long has had a home in Utah and is popular in the state. He remains expected to cruise to victory ― both in the primary and the general election.
Although Romney accepted Trump's endorsement, he had attacked him as a "phony" and "fraud" during the 2016 presidential campaign. Romney was especially critical of Trump's negative rhetoric about immigrants.
On Saturday, Romney said he's not ready to commit to endorsing Trump for re-election in 2020, calling that a decision he would make "down the road."
"As a person of political experience, if I endorse someone, I'll want to know what's in it for Utah and what help would he provide for us on key priorities in Utah," Romney told CNN.
"So I'm not a cheap date," he added.
Popular in the Community