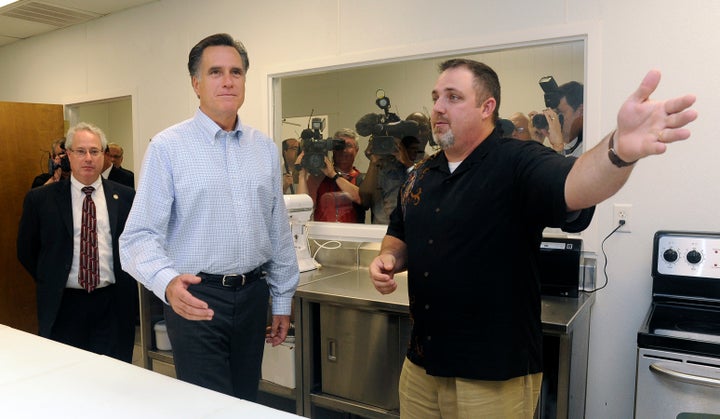 This story has been updated with additional reporting.

WASHINGTON -- Republican presidential candidate Mitt Romney has refused to sign a pledge being circulated by a pro-life group, citing concerns with the language used in the pact.
Romney, a spokeswoman said, is concerned that the pact could block some federal funding from going to hospitals and would restrict his ability to appoint Cabinet members in his administration.
"Governor Romney pledged in the last campaign that he would be a pro-life president and of course he pledges it today. However, this well-intentioned effort has some potentially unforeseen consequences and he does not feel he could in good conscience sign it," Romney spokeswoman Andrea Saul told The Huffington Post.
Romney is one of three Republican candidates who has declined to sign the pledge, which is sponsored by the Susan B. Anthony List, a Washington-based pro-life advocacy group. Candidates who signed the pledge have promised to nominate to the Supreme Court and federal courts only judges "who are committed to restraint and applying the original meaning of the Constitution, not legislating from the bench."
Former Godfather's Pizza CEO Herman Cain and former New Mexico Gov. Gary Johnson are the other two candidates who have refused to sign the pledge. Former Minnesota Gov. Tim Pawlenty, Rep. Michele Bachmann (R-Minn.), Former Speaker of the House Newt Gingrich (R-Ga.), Rep. Ron Paul (R-Texas) and former Sen. Rick Santorum (R-Pa.) have all signed it.
The SBA List said in a press release that they are "calling on pro-life activists to put pressure on those candidates who have refused to sign."
The pledge also states that a candidate will, if elected president, nominate pro-life persons to "relevant Cabinet and Executive Branch positions, in particular the head of National Institutes of Health, the Department of Health & Human Services, and the Department of Justice." Such a provision, Saul said, would restrict Romney's ability to choose his Cabinet.
The Romney campaign would not discuss specific appointees. But among the high-profile names that Romney would be barred from picking for Attorney General, for example, would be former New York City Mayor Rudy Giuliani and former Pennsylvania Governor Tom Ridge, both of whom are pro-choice.
The third of four bullet points in the pledge is to "advance pro-life legislation to permanently end all taxpayer funding of abortion in all domestic and international spending programs, and defund Planned Parenthood and all other contractors and recipients of federal funds with affiliates that perform or fund abortions."
This provision would negatively impact hospitals by stripping them of federal funding, Saul said. This could include veterans hospitals, she said.
"The pledge calls for legislation to strip taxpayer funding from thousands of health care facilities and hospitals around the country, and strictly limits the choices a President would have to appoint federal officials," the Romney spokeswoman told HuffPost.
But a SBA List spokesman dismissed that concern, saying that "if anybody in Congress ended up introducing a bill that would do that I'm sure it would not get much support at all."
The fourth promise is to "advance and sign into law a Pain-Capable Unborn Child Protection Act to protect unborn children who are capable of feeling pain from abortion."
Romney's refusal to sign, Saul said, is not a sign of disrespect for the SBA List or pro-life groups.
"Gov. Romney has been a strong supporter of the SBA List in the past and he looks forward to continue working with them to promote a culture of life," she said.
But the optics of the decision will nonetheless ding the former Massachusetts governor, who is already viewed with suspicion by pro-life groups based on his support in the past for abortion, or at least for upholding the status quo in Massachusetts. Romney has said he converted to the pro-life position in 2004.

Popular in the Community