NEW YORK -- When Mitt Romney appeared Tuesday afternoon on Fox News to answer questions about his controversial remarks caught on camera at a May fundraiser, the Republican presidential candidate, at one point, switched gears to bring up "a tape that just came out today where the president's saying he likes redistribution."
Romney didn't mention The Drudge Report, but the 14-year-old video that surfaced online Tuesday had just been splashed across the conservative aggregation site with a blaring red headline: "I ACTUALLY BELIEVE IN REDISTRIBUTION." Given Romney's reference to the Obama tape just as it was being hyped on The Drudge Report, political reporters saw evidence of the reportedly close relationship between Matt Drudge and Romney campaign manager Matt Rhoades.
In the 1998 audio clip, Obama says, "I actually believe in redistribution, at least at a certain level to make sure that everybody's got a shot." The 1:36 clip cuts off just after that sentence, so there's no further context.
While the national media has focused this week on Romney's claims at a private Florida fundraiser that the 47 percent of Americans who'll vote for Obama "are dependent on government" and believe they're "victims" -- part of a 49-minute video of candid remarks made in the thick of a presidential race -- Fox News and some conservative outlets, led by The Drudge Report, seem to be trying to change the subject to the truncated, 14-year-old Obama clip.
"Anyone who doesn't think this is a gamechanger doesn't understand how media works today," wrote Breitbart's John Nolte, shortly after Drudge splashed the clip. "The corrupt media has their narrative and those of us in New Media have ours."
The Romney campaign, and its Republican allies, also want to shift the media's focus to the Obama video. In a Wednesday campaign memo, Rhoades referenced the "newly-unearthed set of remarks" by Obama, while the RNC unveiled a new ad titled "Redistribution."
"The Romney campaign is so desperate to change the subject that they've gone back to the failed playbook co-authored by Sarah Palin and Joe the Plumber," Obama press secretary Ben LaBolt said Wednesday in a statement.
"Fourteen years ago, then-Senator Obama was making an argument for a more efficient, more effective government -- specifically citing city government agencies that he didn't think were working effectively," LaBolt continued. "He believed then, and believes now, that there are steps we can take to promote opportunity and ensure that all Americans have a fair shot if they work hard. Unlike Governor Romney, he doesn't believe that if you're a student who applies for a loan you're looking for a handout."
White House press secretary Jay Carney similarly dismissed the significance of the Obama clip and noted how struggling campaigns make "desperate efforts to change the subject," in response to a question at the daily press briefing from Fox News White House correspondent Ed Henry.
Meanwhile, Democratic leaders kept pounding Romney on Wednesday for remarks made at the May fundraiser. "This week we learned that Mitt Romney only wants to be president of half of the United States," said Senate Majority Leader Harry Reid (D-Nev.) "He'll only worry about how the other half lives, I guess." Sen. Dick Durbin (D-Ill) said that since Romney "judged 47 percent of the American people based on their income tax returns" then we "should judge Mitt Romney based on his income tax returns, or his refusal to disclose them."
But while Democrats hammer Romney on the four-month-old fundraiser video, Fox News is heavily promoting the 14-year-old video that Republicans would rather see on the cable news loop.
Just an hour after Romney appeared on Fox News, contributor Andrea Tantaros said on "The Five" that the Obama administration "has squarely come out and said we're in favor of redistribution." And during the next hour's "Special Report," Fox News correspondent Carl Cameron equated the significance of the two videos by noting that "while Romney was dealing with the controversy of his nearly five-month-old remarks, Obama was confronted with his own redistribution of wealth rhetoric from 14 years ago."
Fox News aired the Obama clip on "Special Report," followed by Romney's response during the earlier Neil Cavuto interview. "I disagree," Romney said. "I think a society based upon a government-centered nation, where government plays a larger and larger role, redistributes money, that's the wrong course for America." Later, panelists discussed the Obama clip.
"We have established, clearly, I think without question that the president of the United States believes in redistribution of wealth," said Stephen Hayes, a Fox News contributor and Weekly Standard senior writer with close ties to vice-presidential candidate Paul Ryan's team. "That's something that I think Mitt Romney can campaign on, can build an argument around, can build, hypothetically, a speech around, and I think can do himself a lot of good."
The Roger Ailes-run network aired the clip again during the next hour on "Fox Report," with host Sean Hannity describing the Obama video on his primetime show a couple hours later as a "key point in this campaign." Fox Business Network's Stuart Varney told Hannity that Obama's remarks represent "division," "class warfare," and show how he has "taken us straight down the road of Europe." A chyron during the Hannity segment read "CLASS WARFARE."
Hannity then advised Romney to embrace his closed-door remarks and say to the 47 percent, "Do you want to be on food stamps or do you want hope, an opportunity, a job?" -- a suggestion that echoed Rush Limbaugh's comments earlier in the day about how the Romney video presents a "golden opportunity" for the Republican campaign. (Over the past day, Romney has been embracing the closed-door comments).
"A new recording surfaces: this time it's Obama who gets caught," said host Greta Van Susteren on her show the following hour, before playing the clip. Later, Pat Buchanan called Obama a "Fabian socialist" on Van Susteren's show, with Donald Trump telling the host by phone that he wasn't surprised by Obama's 14-year-old comment, given that he's waging a "war with the rich and the so-called less-than-rich." Trump similarly advised Romney not to apologize for the 47 percent claims and to "bring on this discussion."
By Wednesday morning, the Obama clip was all over Fox News, airing seven times on "Fox & Friends First" and "Fox & Friends," the most-watched cable news morning show. During segments on Romney and Obama videos, "Fox & Friends" ran chryons reading "FOOD STAMP NATION" and "A NATION OF TAKERS: ARE ENTITLEMENTS DESTROYING AMERICA?"
"The Mitt Romney thing got a lot of play," said co-host Steve Doocy, referring to the fundraiser video. "It will be interesting to see how much the mainstream media plays the 'redistribution' thing."
The "redistribution" line has gotten play throughout the national media since Tuesday afternoon, albeit not to the degree that Fox News -- the top-rated cable news network -- is giving it oxygen. But either way, the "redistribution" line has gone from the TV studio to the stump.
During a Wednesday stop in Danville, Va., Ryan knocked Obama for talking about "redistribution" 14 years ago, according to a CBS News embed, while saying that "Mitt Romney and I are running to help Americans create wealth."
Clarification: A few words were added in the text to make clear Hannity's show airs a couple hours after "Fox Report."
Before You Go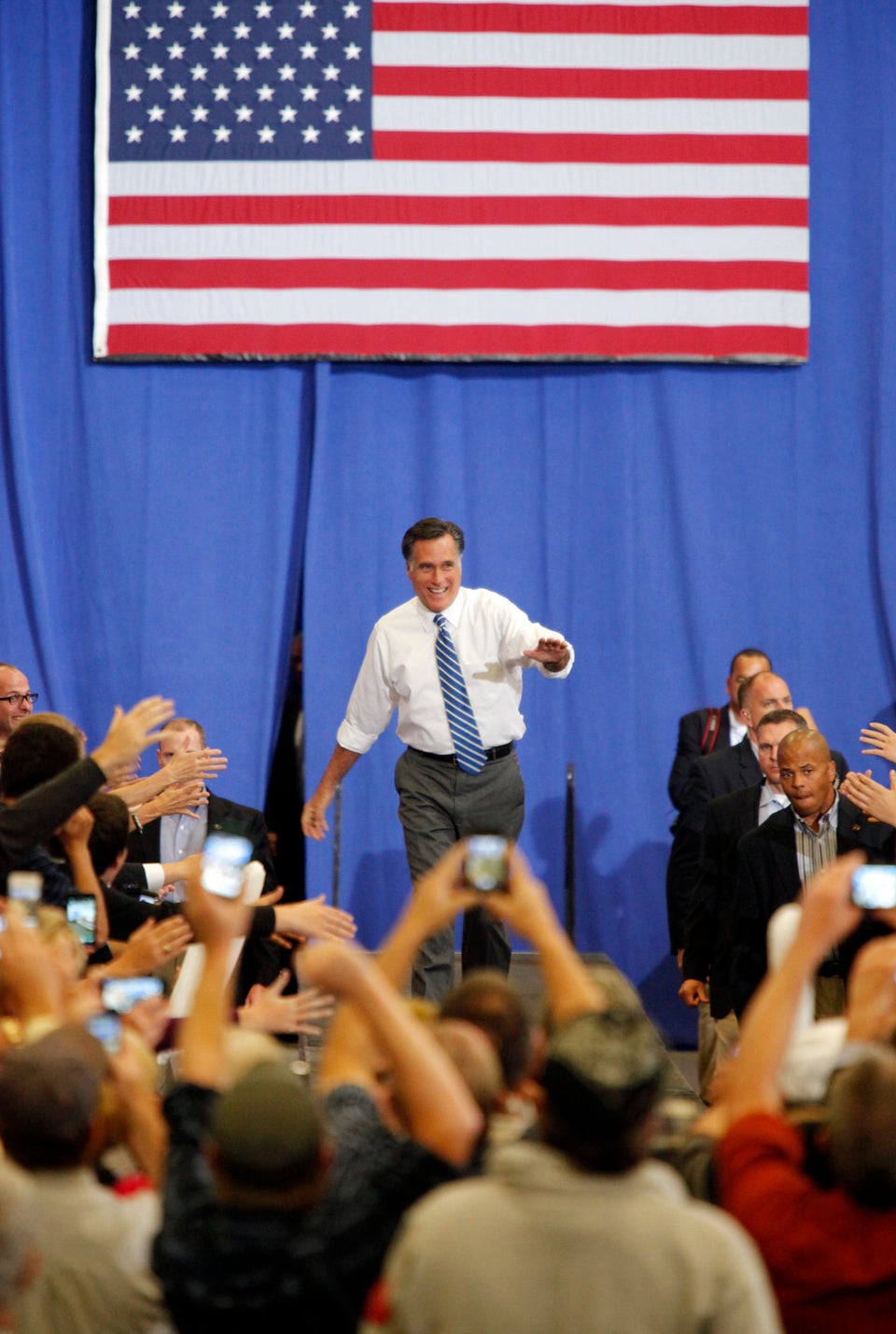 Mitt Romney Campaigns
Popular in the Community