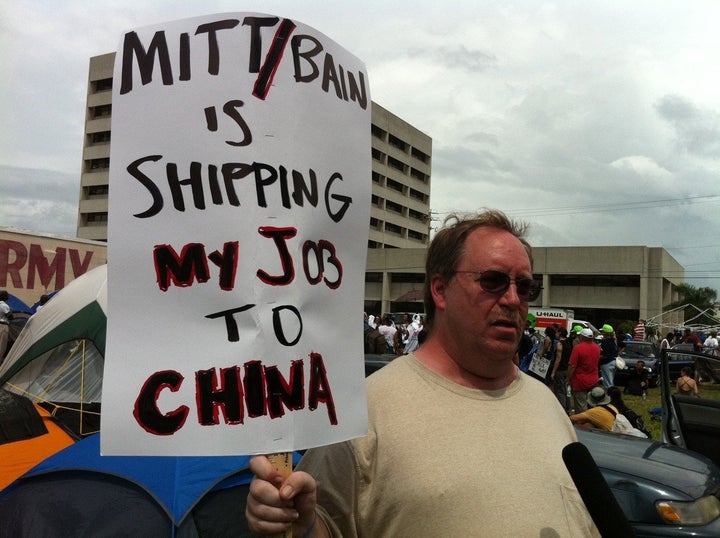 TAMPA, Fla. -- Whatever she thought she'd do with her vacation this year, Joanne Penniston didn't expect to find herself in a parking lot-turned-encampment behind an Army-Navy surplus store, 1,200 miles from her home in Illinois, talking with left-wing activists about the outsourcing of American jobs.
But Penniston, 35, works for Sensata Technologies, a manufacturer of sensors for cars that's owned by Bain Capital -- the private equity firm that's become synonymous with GOP presidential hopeful Mitt Romney, a founding partner. Penniston, along with roughly 170 co-workers, recently learned that her plant in Freeport, Ill., will be closed within months. The jobs of its workers will go to China.
And that's how Penniston -- who described herself as being apolitical until now -- found herself on the outskirts of the Republican National Convention, with three Sensata employees from back home holding signs like "Mitt/Bain Is Shipping My Job To China."
"I'm a single mother with two daughters, and I don't know how I'll support my family," Penniston, a six-year Sensata veteran, told HuffPost. "I'll have to move out of state to where there are better paying jobs or go to school. I'm worried about a lot of stuff -- food, utilities, juggling bills."
Outsourcing has emerged as a major theme in the 2012 presidential campaign, with the Obama camp hammering Romney for Bain ventures that either sent or helped send U.S. jobs out of the country. The campaign theme is meant to tap into the resentment and disappointment of workers in communities where factories have closed and jobs have disappeared, laying the blame at the feet of venture capital.
At "Romneyville," an Occupy Wall Street-style activism hub in Tampa established for the RNC, Penniston was joined by colleagues Tom Gaulrapp, Cheryl Randeker and Bonnie Borman, all of whom made the trek from Illinois and expect to lose their jobs back home soon. As small-town, working-class Midwesterners, the Sensata employees looked a touch out of place among the small sea of anti-establishment, lefty protester types who'd set up tents at the encampment.
In separate interviews, none of the workers volunteered praise for President Barack Obama or attacked the GOP platform generally. Instead, they spoke passionately against Romney and Bain, lamenting the loss of what they described as some of the few remaining manufacturing jobs in their area. When pressed, they said it didn't matter that Romney hasn't actually called the shots at Bain for years. He helped found the firm and profited from it, and so they blame him for their impending job losses.
They all said they feared having to work in low-wage service jobs. Although they can take advantage of the federal government's Trade Adjustment Assistance program, which helps fund retraining of workers whose jobs go overseas, none said they relished the idea of launching a new career.
"It was a really good job. You don't get rich, but you can get by and make a good living, and that's what our goal is in life," said Randeker, a single mother and 33-year Sensata veteran who's been vocal in media about the plant closing. "Now I'm 52, starting over. ... If [Romney] had never started [Bain], I wouldn't be losing my job right now."
"I didn't think I'd have to start over ... competing for minimum wages with my daughter," said Borman, a line worker with 23 years at the plant who's earning $15 an hour. "I figure it's time to stand up to people like Mitt Romney and say enough is enough. We can't keep shipping our jobs overseas or keeping the minimum wage down so that people can't survive. I feel like they're taking retirement totally away from us, making it impossible."
The workers have been seeking an audience with Romney, having made trips to campaign offices in Madison, Wis., and Davenport, Iowa, though the presumptive GOP nominee apparently hasn't warmed to the idea of a sit-down. A Romney spokeswoman did not immediately respond to a request for comment, and Bain has not been commenting on the Sensata plant closure to the press.
The workers argued that even though Romney has no position at Bain, they believe he could wield enough influence to scuttle the plant closure. Gaulrapp called that "our miracle, that he would step in and save these jobs."
"If he wanted to call them up and say this is the wrong thing to do, he could do it," Gaulrapp said. "At this point, it would take a miracle. They're packing up our equipment."
None of the Sensata workers described themselves as staunch Democrats, and a couple of them said they were wary of being co-opted by political activists. (The workers came to Tampa with Stand Up! Chicago, a left-leaning group that's protested businesses as well as Romney.) Penniston, who described her voting record as bipartisan, said she only came to Tampa to share her experience.
"I personally have tried to maintain that I'm not affiliated with either party," Penniston said. "It's really not about Republicans or Democrats for me. It's about Americans losing their jobs, and I would vote for anyone other than Mitt Romney."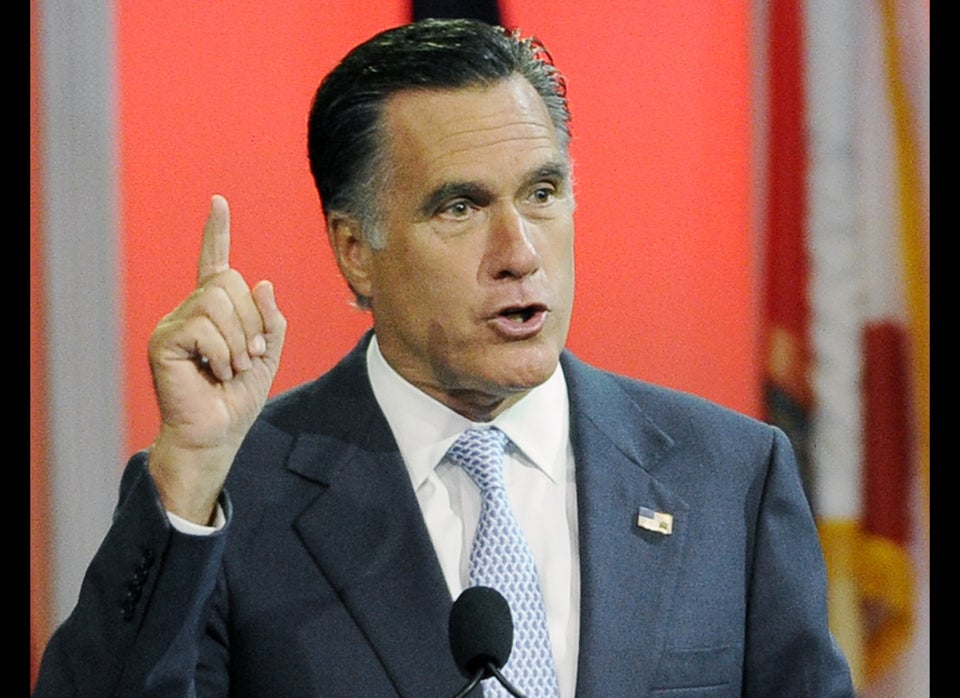 Romney's Bain Claims Don't Hold Up