Mitt Romney called on Roy Moore to step aside from the Alabama Senate race Friday, becoming one of the only Republican politicians to say, unequivocally, that Moore should go in light of accusations that he sexually assaulted a 14-year-old girl.
On Thursday, The Washington Post reported that four women said Moore pursued them when he was in his 30s and they were between the ages of 14 and 18.
The most serious case involves Leigh Corfman, who was 14 when she met Moore, then a 32-year-old district attorney. At one point, she said, he drove her to his home in the woods and undressed her.
"I wanted it over with — I wanted out," she said she remembered thinking. "Please just get this over with. Whatever this is, just get it over."
Moore has denied the allegations and his campaign called them "fake news."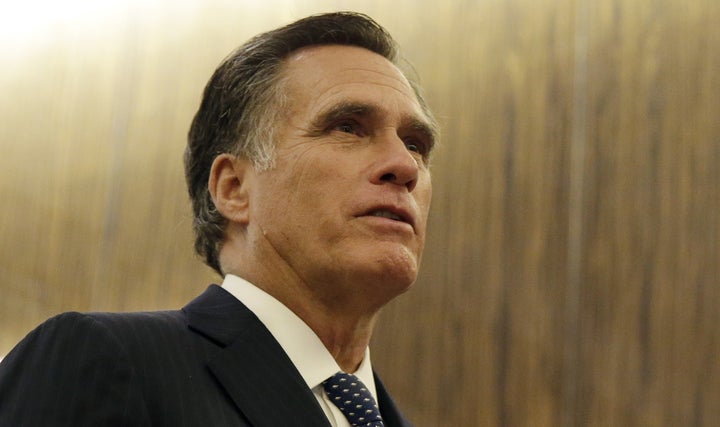 The statement by Romney, his party's 2012 presidential nominee, is far stronger than what GOP lawmakers have said.
On Thursday, Republican senators largely agreed that The Washington Post story is disturbing, but they almost all added a caveat: Moore should go "if" the revelations are true.
"If these allegations are true, there is no place for Roy Moore in the United States Senate," Sen. Richard Shelby (R-Ala.) said.
"If it is true, I don't think his candidacy is sustainable, but we believe in a presumption of innocence until proven guilty and so I think it's important for the facts to come out," Sen. John Cornyn (R-Texas) told reporters Thursday. "It's not just an allegation, it's a story. There has to be something more to it so I'm interested in seeing what substantiation there is for the story."
It's not clear what else Republican senators want to see before they tell Moore to go. The four women in The Washington Post story are all on the record, with their names and photographs published.
Sen. John McCain (R-Ariz.) was one of the only senators to also say that Moore needs to step aside now.
After Romney's tweet, Ohio Gov. John Kasich (R) also came out and said Moore should not represent Alabama in the Senate.
"He's clean as a hound's tooth," Alabama State Auditor Jim Zeigler said in an interview with The Washington Examiner.
The special election will take place on Dec. 12. It's too late to replace Moore on the ballot, although there has been talk of running someone as a write-in candidate.
UPDATE: 1:20 p.m. ― The National Republican Senatorial Committee, the campaign arm of the Senate GOP, severed financial ties with Moore Friday. A joint fundraising committee that benefits Moore and various party organizations filed paperwork to remove the NRSC as one of the beneficiaries.
Popular in the Community