NEW YORK -- Improving American education is simple: reduce class sizes. Or so Mitt Romney once thought. "I once thought classroom size was … [the] only thing I could do to make our schools better," he said Tuesday while speaking at Education Nation, programming organized by NBC News.
Then, the Republican presidential candidate read a McKinsey report. "Within a normal band of a population, the classroom size didn't seem to be driving the quality of education," Romney said he learned from the report. He mentioned the McKinsey story in his book, "No Apology: The Case for American Greatness."
After reading the report, Romney decided to analyze some of the data for himself. When he was governor of Massachusetts, Romney said he plotted student performance against funding and class size. "The district that spent the most per pupil and had the smallest classrooms, Cambridge, those kids were in the bottom 10 percent," he said.
"[Class size] turned out to be a factor, but not a big one," Romney concluded. His revised answer to educational issues, now that he's running for president: "We know the answer as to what it takes to fix our schools is to fix in great teachers."
In stressing teacher quality and the importance of testing over money and class size, Romney has aligned himself with many Democrats -- including U.S. Secretary of Education Arne Duncan -- who support a movement known as education reform. However, Romney differs from the Democrats on the issue in his views on school choice, vouchers, accountability and the role of teachers unions. "The teachers union has every right to represent their members in the way they think is best," Romney said. "But we have every right to say, 'No, this is what we want to do,' which is in the best interest of our children."
While Romney used the Education Nation platform to outline the evolution of his ideas on education, he did not offer any additional granular details of his education agenda. Romney was relatively mum on specifics in an interview with NBC anchor Brian Williams and in answering questions from the audience. The candidate reiterated his position that advocates for using pots of money, known as Title I, to allow low-income parents to choose which schools their kids can attend. The offering would ostensibly allow poor kids in failing schools to transfer to and pay for private schools. But Romney didn't explain a hole many have identified: the program would only offer families about $3,000 per child, but private school tuition costs well over $7,000 on average -- a cost that would continue to price out extremely poor families.
Romney has previously stated that he would use the U.S. Education Department as an arm to fight teachers unions, and on Tuesday, he hinted at advocating for a type of campaign-finance reform that would limit unions' contributions to politicians.
When Williams asked Romney about the Chicago teachers strike earlier this month, Romney elucidated his views on the unions. "Education is about teachers, great leadership and parents, and the union has a different objective," he said, adding that union contributions to school board campaigns create a dynamic where unions are, in effect, bargaining with themselves in contract negotiations. But, Romney said, "I don't know that I would prevent teachers from being able to strike."
Dennis Van Roekel, president of the National Education Association, the nation's largest teachers' union, fired back. "Romney's 'us vs. them' platform is a blast from the past," Van Roekel said. "Attacking educators and unions like NEA with gross exaggerations about political muscle and with divide-and-conquer tactics is a distraction from having to confront the real questions about his education record as governor of Massachusetts."
When asked by a student about alternatives to measuring kids' performance through tests, Romney said he had none. When he was governor, he said, teachers in Massachusetts complained that his policies forced them to teach to the test. So Romney took the test himself. "I took the exam, and I passed it by the way," he said. The test asked questions about things like geometry, he observed. Romney concluded that "if teaching to the test means learning how to read and write and ... learning basic math skills, there's nothing terribly wrong with that." He added, "I'm not going to replace testing."
Romney also espoused his love for charter schools, which are publicly funded but can be privately run. When he visited Philadelphia earlier this year, he stopped by a school that was closed for low performance but then taken over by a charter school. He saw kids on computers and singing in a glee club, and asked its founder how he afforded it all. "I run it like a business," the schoolmaster told him.
Related
Before You Go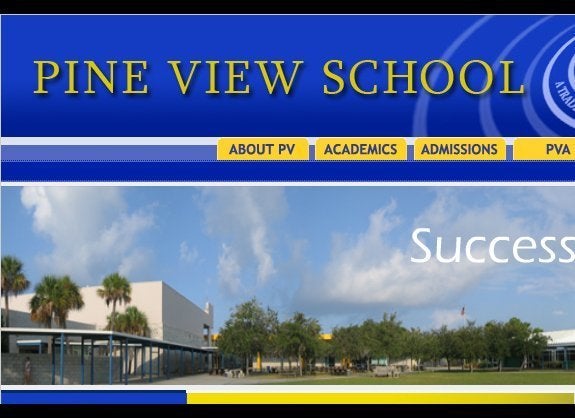 Newsweek Best High Schools 2012 (Top 15)
Popular in the Community