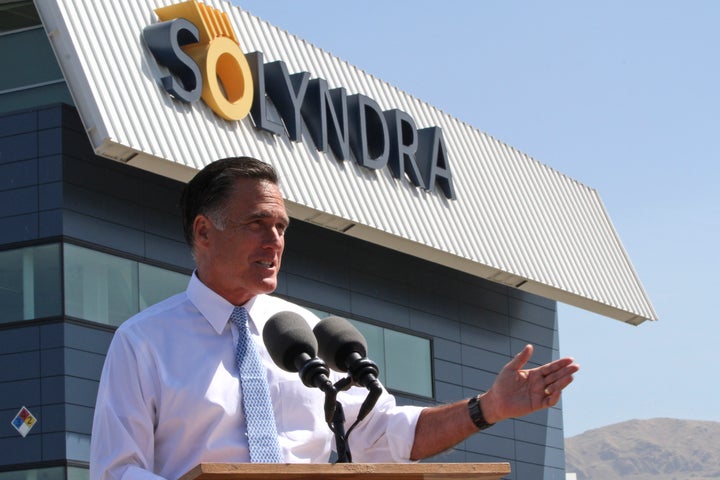 WASHINGTON -- Mitt Romney made a surprise campaign stop on Thursday at the headquarters of Solyndra, the California-based solar technology company that failed despite more than a half-billion loan guarantee from the Obama administration.
The trip was clouded in secrecy in part, the Romney campaign declared, because of concerns that the White House would try to prevent it from happening. Conspiracy theories aside, focus on President Barack Obama's handling of Solyndra has clearly become the Romney campaign's chief rebuttal to criticism of Romney's tenure in the private equity world. The campaign's argument is that Obama himself was a failed venture capitalist, but the money he spent was the taxpayer's not the private investor's.
It's an effective campaign cudgel, partially because the administration's fumbled handling of Solyndra can be used as a metaphor for wasteful spending more broadly. But, as with the Bain attacks, the Solyndra swipes may prove difficult to pull off cleanly. For one, Romney used to be a proponent of government funding of clean energy technologies. His 2008 energy policy platform called for a "dramatic increase" in "federal spending on research, development, and demonstration projects that hold promise for diversifying our energy supply." Among those projects were "bringing clean energy technology to market through commercialization of large-scale renewables."
He was comfortable with this platform for good reason. As governor of Massachusetts, Romney handed out loans to firms in emerging technology fields, some of which ended up (like Solyndra) going bankrupt. The governor's office noted that those expenditures were part of a stimulus bill he initially opposed but reluctantly supported.
Another reason why the Solyndra hit may prove tricky to execute is that, despite the conventional wisdom, it wasn't simply an Obama administration-backed project. Though the current White House accelerated the loan guarantee -- even as evidence emerged that it could go bad -- the roots of the loan actually emerged during the Bush administration. And the process was facilitated, in part, by a cadre of industry lobbyists of different ideological stripes.
One of those lobbyists is a semi-prominent supporter of Mitt Romney. As Solyndra was going through bankruptcy, it moved to hire fellow former Massachusetts Gov. Bill Weld to help lobby on its behalf. For $825 an hour, Weld and his firm helped the company deal with government investigations and other regulatory matters.
The Romney campaign did not immediately return a request for comment for this story.
Weld isn't the only Solyndra-tied lobbyist to help raise money on Romney's behalf. Alex Mistri, managing director of the Glover Park Group, donated to the presumptive Republican nominee in addition to attending a Washington fundraiser for Romney in October 2011. He was among a group of lobbyists hired by Solyndra (for $20,000) to help with Hill relations.
Disclosure: The reporter's wife has done oversight work with the Obama administration on several legal matters, including Solyndra.
Popular in the Community