"Personally, I think Hillary Clinton would be a better president than Donald Trump because I think that Donald Trump is a dangerous person and is someone who would embarrass America," Stuart Stevens, who advised 2012 nominee Mitt Romney, said Tuesday on Bloomberg's "With All Due Respect."
"I have no desire to see Hillary Clinton as president of the United States," he added. "But if this is the choice -- I will not give her my vote, but I can't support Donald Trump."
Stevens joins a growing number of Republicans who are speaking out and pledging not to back Trump if he wins the GOP nomination. Rep. Scott Rigell (R-Va.) emailed supporters Tuesday and said he refuses to back someone "so lacking in the judgement, temperament and character needed to be our nation's commander-in-chief." Sen. Ben Sasse (R-Neb.) said he will look for a third-party candidate if Trump makes it to the general election.
Trump responded to these sorts of criticisms Tuesday, arguing that he has actually expanded the Republican Party by bringing in some independents and Democrats.
"I think we're going to be more inclusive, I think we're going to be more unified and I think we're going to be a much bigger party, and I think we're going to win in November," he said in his Super Tuesday speech in Florida.
Stevens has criticized Trump for months. Trump, meanwhile, has tweeted at Stevens to mock him for Romney's loss.
Former GOP presidential candidate Newt Gingrich told reporters Tuesday that he believes Republicans should get in line behind the eventual Republican nominee, even if it's Trump.
"I believe when you're faced with a choice with Clinton corruption, appointing radical judges with a disastrous foreign policy, it's very hard for any serious Republican to not support the Republican nominee," he said at a rally in Virginia for former Ohio Gov. John Kasich (R), another Republican candidate. Gingrich has not yet made an endorsement in the 2016 race.
This piece has been updated with Trump's Super Tuesday comments.
Before You Go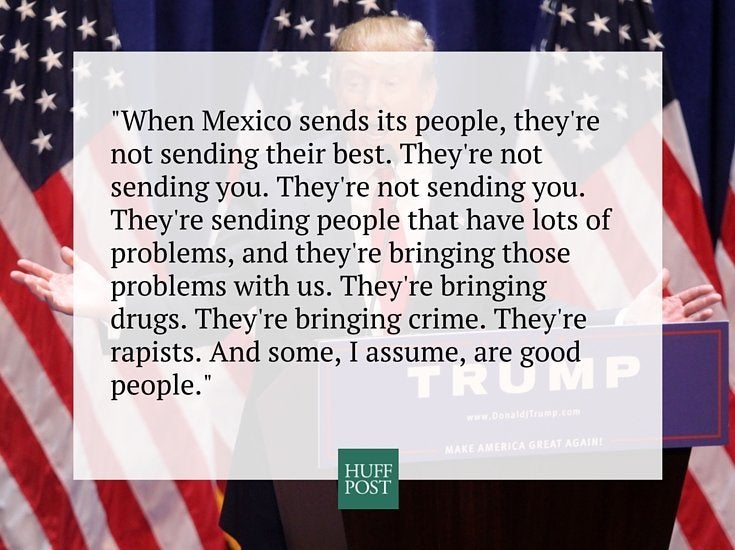 9 Outrageous Things Donald Trump Has Said About Latinos
Popular in the Community