WASHINGTON -- The super PAC providing vital support to Mitt Romney's presidential campaign continues to pull in millions of dollars as it begins an all-out advertising assault on President Barack Obama. According to a report filed with the Federal Election Commission, Restore Our Future received $4.9 million in May from a collection of corporations and wealthy individuals, although without the past roster of notable names or eyebrow-raising surprises.
As is typical for super PACs, which can accept unlimited contributions from corporations, individuals and unions, the majority of the money flowing to the group last month came in six- and seven-figure chunks. These giant contributions made up $3.8 million, or 77 percent, of Restore Our Future's May haul.
The biggest contribution came in the form of three donations totaling $1 million from subsidiaries of the Dayton, Ohio-based Reynolds and Reynolds Company. Waterbury Properties, CRC Information Systems and Fairbanks Properties each chipped in one-third of that $1 million. Reynolds and Reynolds is headed by Bob Brockman, a Houston businessman who has given $5,000 to Romney's campaign. Another subsidiary of Reynolds and Reynolds had previously given $50,000 to a super PAC that supported Texas Gov. Rick Perry's short-lived presidential bid.
Rocco Ortenzio, executive chairman of Select Medical, and Warren Stephens, president and CEO of Stephens Inc., chipped in $500,000 each. That bumped Ortenzio's total giving to $750,000.
Executives at The Villages, a Florida retirement community, contributed $428,400. The Villages is headed by H. Gary Morse, a member of the Romney campaign's Florida finance team. His wife and his company had previously given $500,000 to Restore Our Future.
Another member of the Romney finance team, Frank VanderSloot, chipped in $100,000. VanderSloot's company, Melaleuca, had previously donated $1 million to the super PAC.
Other notable donors include Goldman Sachs managing director Henry Cornell, whose lavish lifestyle was documented in Gawker ($150,000); former Chicago Tribune owner Sam Zell ($20,000); George W. Bush bundler Trevor Rees-Jones ($100,000); and conservative media tycoon Richard Mellon Scaife ($67,500).
Notably absent is the reported $10 million contribution from casino billionaire Sheldon Adelson. That donation was likely made in June and won't be officially reported until July.
Restore Our Future recently launched a $7.6 million ad blitz in swing states knocking Obama for his clumsy statement that the "private sector is doing just fine." The effort is the super PAC's first large-scale ad buy to directly target the president the way it attacked Romney's Republican primary foes Newt Gingrich and Rick Santorum.
In the Republican primary, the super PAC spent more than $40 million to savage Romney's opponents in a never-before-seen political ad binge by an independent group. Restore Our Future's spending fueled not only the unprecedented rise in outside expenditures in the 2012 election, but also the unprecedented negativity of outside spending in a presidential primary.
The group reported spending $4.7 million in May, mostly on media buys and ad production, and ended the month with $8.4 million on hand. Its biggest non-advertising payment was $650,000 to fundraiser Steve Roche of the Podium Capital Group. Roche has made a killing as the chief fundraiser for Restore Our Future, pulling in more than $3.5 million so far.
Sam Stein contributed reporting.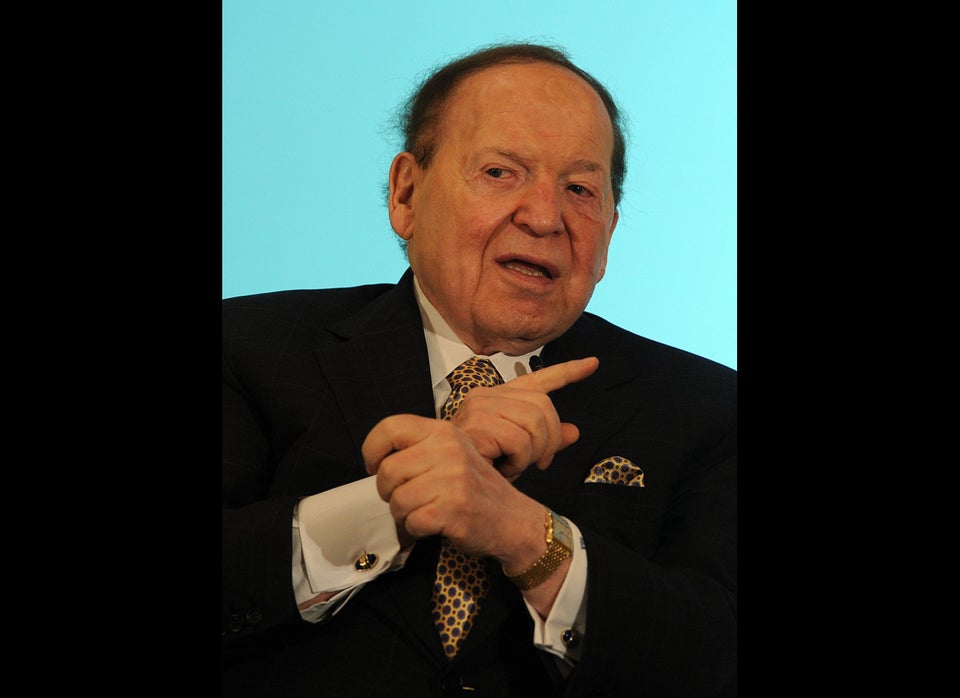 Donors Giving $500,000-Plus To Super PACs