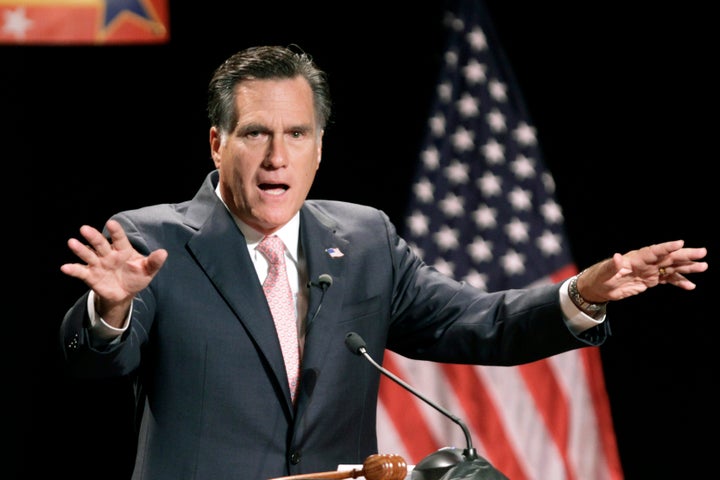 WASHINGTON -- The Restore Our Future PAC, formed earlier this year with the express purpose of helping former Massachusetts Governor Mitt Romney get elected president, reported raising $12.2 million from just 90 donors during the first half of the year, according to a disclosure report filed Sunday with the Federal Election Committee (FEC). Romney's campaign will get a big boost in the Republican primary from the outside political committee, which is able to raise unlimited money from individuals and corporations.
The committee's big-money fundraising efforts reveal the strong financial support that Romney has received from Wall Street and from Mormon businessmen. The PAC's success also shows the rapidly changing nature of the country's campaign finance system after the Supreme Court's Citizens United ruling.
That decision opened the door for corporations to contribute directly and without limit to certain political committees, such as Restore Our Future. The FEC does not require a contributing business to disclose the name of its owner.
The four biggest contributions to Restore Our Future came in at $1 million each. Hedge fund billionaire John Paulson, who made billions betting against the U.S. housing market, gave $1 million. The other three major contributions came from little-known businesses with hardly any identifying information.
Those business contributions reveal a new twist in the breakdown of transparency around campaign contributions.
A search of Utah state business records revealed that two of the companies, Eli Publishing LLC and F8 LLC, are affiliated with Steven Lund and Blake Roney, founders of the Provo, Utah-based anti-aging product company Nu Skin Enterprises and both Romney supporters. Eli Publishing is registered to Lund and F8 is registered to Jeremy Blickenstaff, a lawyer affiliated with Nu Skin, according to business filings. The Lund family foundation and the Roney family foundation are each also located at the same address as Eli Publishing and F8, respectively. Both Lund and Roney are affiliated with the Mormon church and have contributed to Mormon causes, including a "PBS Frontline" episode on Mormons.
A search for the third business, New York City-based W Spann LLC, turned up no filings in New York State's business records. The company does, however, list an address with ties to two of Romney's biggest supporters. The address, 590 Madison Ave, is a skyscraper that boasts as tenants Bain Capital, the investment fund that Romney used to run, and Randy Levine, the president of the New York Yankees, a lawyer at Akin Gump Strauss & Co. and a top fundraiser for the Romney campaign.
In total, financial-sector contributions to Restore Our Future totaled $4.5 million. Donors who were adherents of Mormonism, which Romney follows, gave an additional $3.35 million.
Texas homebuilder and prominent Republican fundraiser Bob Perry gave $500,000 to the committee. Perry had previously donated to both the campaigns of Romney and his primary opponent former Minnesota Governor Tim Pawlenty. Perry has not publicly indicated which candidate he supports. The potential entry of Texas Governor Rick Perry (no relation) into the primary race could complicate things; Bob Perry is the biggest contributor to Rick Perry's three gubernatorial campaigns, with $2.5 million in contributions.
Renee Morse and the massive retirement community owned by her husband H. Gary Morse gave a combined $500,000 to the PAC. The Morses are members of Romney's Florida finance team and have already raised at least $65,000 for the Romney for President campaign.
Restore Our Future PAC was created by supporters of Romney's presidential campaign earlier this year and could provide an unprecedented pot of money to aid the former Massachusetts governor's second bid for the Republican presidential nomination.
The committee could be of much help to Romney's campaign, which may need to tap its biggest donors for as much as they can give. The PAC provides donors who have already maxed out their donations to the official campaign an opportunity to dig deeper and give however much they want. The committee is not bound by contribution limits and can accept money directly from corporate treasuries.
While the committee is forbidden by law from coordinating in any way with the Romney campaign itself, three of its founders have close ties to the candidate: Each worked for Romney's 2008 presidential bid. Charles Spies was the 2008 campaign's general counsel, Carl Forti was the political director and Larry McCarthy worked on the media team.
According to the Center for Public Integrity, Romney is already appearing at fundraisers held for Restore Our Future. A recent FEC ruling stated candidates may solicit money for Super PACs, so long as they do not solicit for contributions above the maximum of $5,000 that their campaigns can receive. The Romney campaign, however, denies the candidate has solicited money at any of Restore Our Future's events.
Popular in the Community