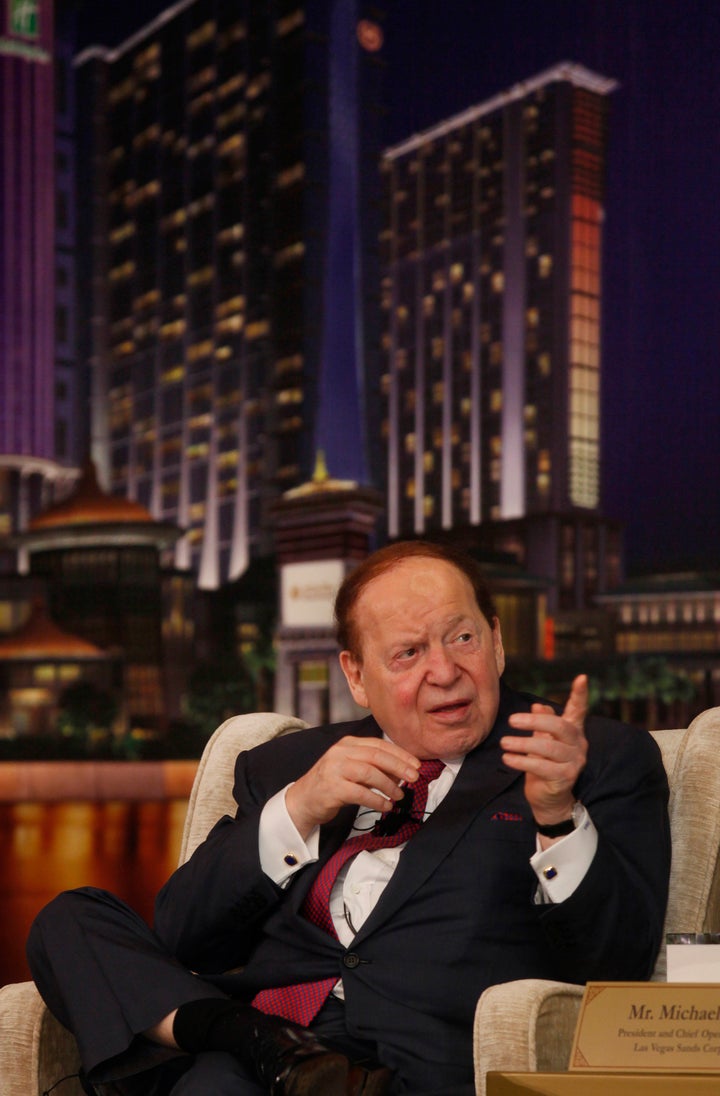 WASHINGTON -- Mitt Romney will be getting a lot of support from the super PAC run by his former aides in the future. Restore Our Future raised $20.7 million in June, the biggest monthly haul by a super PAC in the less than three years that they have existed.
The super PAC, which now has $21.5 million cash on hand, pulled in money from a who's who of noted Republican super PAC donors. The biggest of those donors was casino billionaire Sheldon Adelson, the top super PAC donor of the 2012 election, who accounted for half of the super PAC's haul with a $10 million donation.
Adelson was joined by Texas homebuilder Bob Perry, known for funding the Swift Boat Veterans for Truth group in 2004, who chipped in $2 million. Foster Friess, the camera ready former funder of Rick Santorum's super PAC, put in $100,000. Another $100,000 came from Joe Ricketts, the TD Ameritrade founder and Chicago Cubs owner who pondered spending $10 million on a plan to attack President Barack Obama for his ties to his former preacher Jeremiah Wright.
The group also received $1 million contributions each from investor John Childs, Oxbow Carbon, a corporation owned by William Koch, and from the family of Harlan Crow -- both the human and corporate Crow family.
The well-known garden and lawn care company, Scotts Miracle-Gro, contributed $200,000 from their corporate treasury to the super PAC. Scotts is one a handful of publicly-traded companies to donate to a super PAC. Many other publicly-traded corporations are believed to be making donations to politically active social welfare non-profits, which do not disclose their donors.
Restore Our Future continued to be an example of how contributions to super PACs, despite the requirement to disclose of their donors, can remain non-transparent. A $425,000 contribution came to the group from Mercury Trust, an unidentified corporation in Silicon Valley. Mercury Trust resides at a building sitting on an intersection in Menlo Park, but has no corporate filing with the state of California. Nor is it registered in Delaware, the birthplace of so many corporations.
Five different corporations holding the same address in Florida gave a combined $350,000 to the super PAC in June. According to corporate filings, the five companies are variously owned by Romney fundraiser H. Gary Morse or the retirement community company that he operates, The Villages. Morse's family and his retirement community company had already combined to chip in $865,900 to Restore Our Future. It's unclear why Morse and The Villages chose to give through other, lesser known, corporate entities.
Restore Our Future was also the recipient of an odd contribution. Sean Fieler, a financial analyst at Equinox Partners, gave an in-kind contribution of stock worth $50,256. Two campaign finance experts told The Huffington Post that they could not remember seeing an in-kind contribution of stock in the past.
Center for Responsive Politics senior fellow Bob Biersack said, "I can't say I remember seeing it before, but the contribution limits would have made it less likely in the old days."
Contribution limits would have prevented the in-kind contribution of stock because the stock could wind up to be worth more than contribution limits allow. Super PACs, however, lack contribution limits, making in-kind contributions of stock possible. Restore Our Future will eventually have to report the sale of the stock, its value and the purchaser of the stock.
The group spent $7.57 million in June, almost entirely on independent expenditures supporting Romney and attacking Obama. A $150,000 contribution was refunded to Goldman Sachs partner Harry Cornell.
UPDATE: 7:49 p.m. -- The Center for Responsive Politics used SEC records to identify Mercury Trust as "an affiliate of Fox Paine and Company, a California-based buyout firm, run by Saul Fox."
Calling all HuffPost superfans!
Sign up for membership to become a founding member and help shape HuffPost's next chapter
BEFORE YOU GO
PHOTO GALLERY
Awkward Mitt Romney