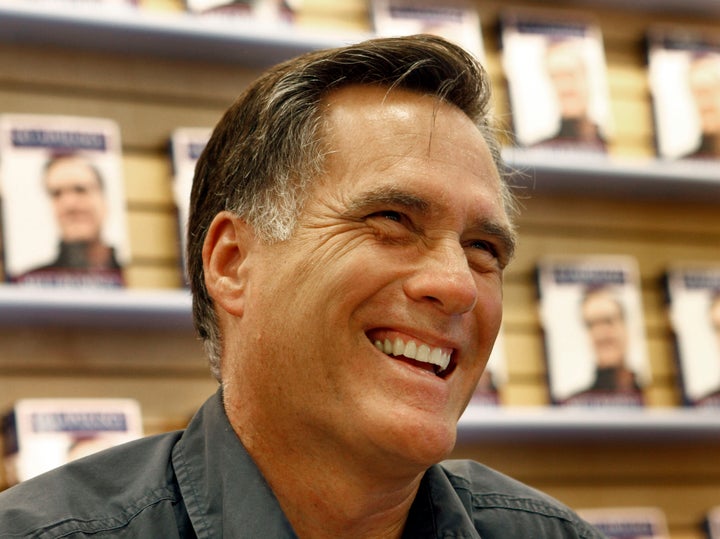 WASHINGTON -- When a political action committee supportive of Mitt Romney announced in early July that it had raised $12 million during the first half of the year, aides to the Massachusetts governor were ecstatic.
"We are pleased that independent groups will be active in fighting this entrenched power so the country can get back to work," Andrea Saul, a Romney spokesperson, told the Los Angeles Times.
Six months later, that pleasure has subsided.
The Romney-backing super PAC Restore Our Future has done wonders in helping to maintain Romney's frontrunner status for the GOP presidential nomination, devoting millions of dollars to a negative ad campaign badgering his closest opponent, former House Speaker Newt Gingrich. But the recent surfacing of old quotes has complicated the campaign's relationship to the PAC. As The Huffington Post reported, Romney during his 1994 run for Ted Kennedy's Senate seat said he would work to "abolish PACs" upon entering office. That he is now dependent on one to win the presidency is both difficult to explain and a touch politically problematic.
On Tuesday morning, Romney sought to distance himself from Restore Our Future.
"We really ought to let campaigns raise the money they need and just get rid of these super PACs," Romney told MSNBC's "Morning Joe."
By law, the Romney campaign is prohibited from coordinating with Restore Our Future, something the candidate also noted during his "Morning Joe" appearance. But Romney's call for the elimination of super PACs, despite having aides once praise the super PAC supportive of his candidacy, has left campaign finance watchdogs puzzled. So too has the fact that Romney took advantage of a Federal Election Commission loophole to address (but not solicit funds at) a fundraising gathering for Restore Our Future this July.
"I don't think it is any secret that Mitt Romney has been on every side of every issue, so perhaps this is another example of the politics of convenience as he is held accountable for the millions of dollars spent on his behalf," said David Donnelly, national campaigns director for Public Campaign Action Fund.
The Gingrich campaign likewise sees Romney as being duplicitous. The candidate's spokesman, RC Hammond, told a reporter on Tuesday that Romney is "either a lying politician or a piece of sh*t." The statement was meant to be off the record, but was accidentally tweeted (and subsequently deleted). Hammond expressed his "sincere apologies to Governor Romney" in an email to The Huffington Post.
Romney, of course, is not alone in taking both sides of this issue. President Barack Obama has criticized the proliferation of independent electoral groups, going so far as to warn that they are a threat to democracy. For his reelection campaign, however, Obama will have the benefit of several such organizations, including one started by former White House aides. Romney aides are quick to note this, as well as to point out that their candidate is operating within legal boundaries.
"He is working within the system as it exists, even as he believes the current rules don't make any sense," replied a Romney aide in an email to The Huffington Post.
The system as it exists certainly has been fruitful for Romney. Since Dec. 10, Restore Our Future has reported spending $2.21 million on advertisements and direct mail targeting Gingrich in both Iowa and Florida. The ads hit Gingrich for accepting money from Freddie Mac, appearing with former House Speaker Nancy Pelosi (D-Calif.) in an ad about climate change, taking money from health insurance companies and even supporting funding for China's one-child policy. Over the same period as the ads ran, Gingrich's poll numbers have dropped precipitously.
Gingrich, who has reportedly raised less than $5 million in his nomination bid and only recently obtained the support of a super PAC, commented about the negative ads to reporters on Monday. "You have all sorts of people that have consistently been running negative ads. Well, you get a number of negative ads before you start answering them, your numbers will go down for a while," he said.
The wounding of Gingrich by super PAC occurs largely thanks to Romney's supporters on Wall Street, who have pumped nearly half of the reported money -- $5.6 million -- into the super PAC's efforts.
Three Wall Street donors have provided $1 million contributions. Hedge fund billionaire John Paulson and former Bain Capital managing director Ed Conard gave $1 million each, and current Bain Capital managing director Paul Edgerly and his wife gave $1 million.
The ties between the super PAC's donors and the Romney campaign are very tight. On Dec. 14, Paulson appeared at a New York City fundraiser for Romney packed with Wall Street stars. And this wasn't Paulson's first fundraiser for Romney. In September, he was listed as a co-chair for another fundraiser featuring dozens of big financial industry names. Restore Our Future donors listed as co-chairs included Knott Partners' David Knott, KKR's Alexander Navab, Apollo Management's Marc Rowan and Bain Capital's Stephen Zide.
Billionaire Louis Moore Bacon, head of the hedge fund Moore Capital, chaired a London fundraiser for Romney in August. Bacon also gave $500,000 to Restore Our Future.
Greg, Jeffrey, and Sam Fox of the Harbour Group, a St. Louis-based investment firm, serve as Romney's finance co-chairs in Missouri and have combined to give $200,000 to Restore Our Future.
Jeffrey Sprecher, the CEO of the derivatives trading exchange Intercontinental Exchange, hosted a June fundraiser for Romney at his Atlanta home. Sprecher was one of the first donors to Restore Our Future, cutting a $230,000 check in January.
In total, 23 of the 28 Wall Street donors to Restore Our Future were reported to have given to the Romney campaign as of Sept. 30.
Critics of the super PAC are already pouncing on the Romney campaign's close ties as Restore Our Future increases its anti-Gingrich advertising campaign. The target of that campaign responded with a swipe at both Romney and the super PAC: "I'll tell the people of Iowa, when you get ready to vote, do you really want to reward politics as usual, negativity as usual, attack as usual, consultant as usual, fundraising from Wall Street millionaires as usual?"

Popular in the Community