WASHINGTON, Aug 19 (Reuters) - Republican U.S. presidential challenger Mitt Romney plans to make public his 2011 tax return by Oct. 15, a senior campaign adviser said on Sunday, as President Barack Obama's re-election team pressed its criticism of Romney's decision not to disclose more about his personal taxes.
Romney, a former private equity executive who is one of the richest men ever to run for president, has come under pressure for months from the Obama campaign to release more years of tax returns.
He has released his 2010 tax return and estimates for 2011 but does not plan to reveal more years of returns. In April, he requested an extension from the Internal Revenue Service to file his 2011 tax forms, while estimating his tax liability at $3.2 million for last year.
Ed Gillespie, a senior Romney adviser, indicated the former Massachusetts governor would release the 2011 return by Oct. 15, about three weeks before the Nov. 6 election, but refused to say exactly when.
"Look, October 15 is the deadline for the IRS on an extension. We have said as soon as they're ready we're going to release them. And I believe they'll be ready before that," Gillespie told the "Fox News Sunday" program.
"They're being finalized. There's a lot of forms that have to come in from other entities that the governor doesn't have control over," Gillespie added.
He said Americans will have "ample information" about Romney's taxes with the disclosure of the 2010 return and the planned release of the 2011 return.
The Obama campaign and its Democratic allies have targeted Romney's wealth and refusal to release more tax returns in ads that paint him as out of touch with ordinary Americans. Romney has an estimated net worth of up to $250 million.
Obama's campaign said on Friday that if Romney releases five years of returns, it would not press him to release more - a proposal quickly rejected by Romney's team.
"Look, Mitt Romney is a highly educated man. And he has clearly made a decision that what is in those tax returns is far more damaging to him than to do what every presidential candidate has done, which is show the American people your personal finances," Obama campaign senior adviser Robert Gibbs told "Fox News Sunday."
Gillespie faulted the Obama team's focus on Romney's personal taxes. "It wasn't an issue in 2008 because President Obama wasn't trying to distract from a four-year-long record of failed policies," he added.
Romney's vice presidential choice, congressman Paul Ryan, on Friday released tax returns showing he paid an effective tax rate of 20 percent last year, roughly in line with Obama's rate and likely higher than that of his running mate, Mitt Romney.
Ryan's release of his 2010 and 2011 tax returns aligned him with Romney's position that giving out two years of tax returns is adequate.
The top congressional Democrat, Senate Majority Leader Harry Reid, this month accused Romney of not paying taxes for 10 years, a claim Romney has strongly denied.
Romney said on Thursday he paid at least a 13 percent tax rate every year over the last 10 years. Romney has released tax information showing that he paid a 13.9 percent rate for 2010. He said in January he would probably pay 15.4 percent for 2011. Obama paid a rate of 20.5 percent for 2011.
Speaking on NBC's "Meet the Press" program, Maryland Governor Martin O'Malley, head of the Democratic Governors Association, said: "The only thing we know for sure is one year of returns. ... We know that he (Romney) has been engaged in tax avoidance schemes, with offshore accounts ... in Cayman Islands and the Bahamas. ... But it is tax avoidance."
Before You Go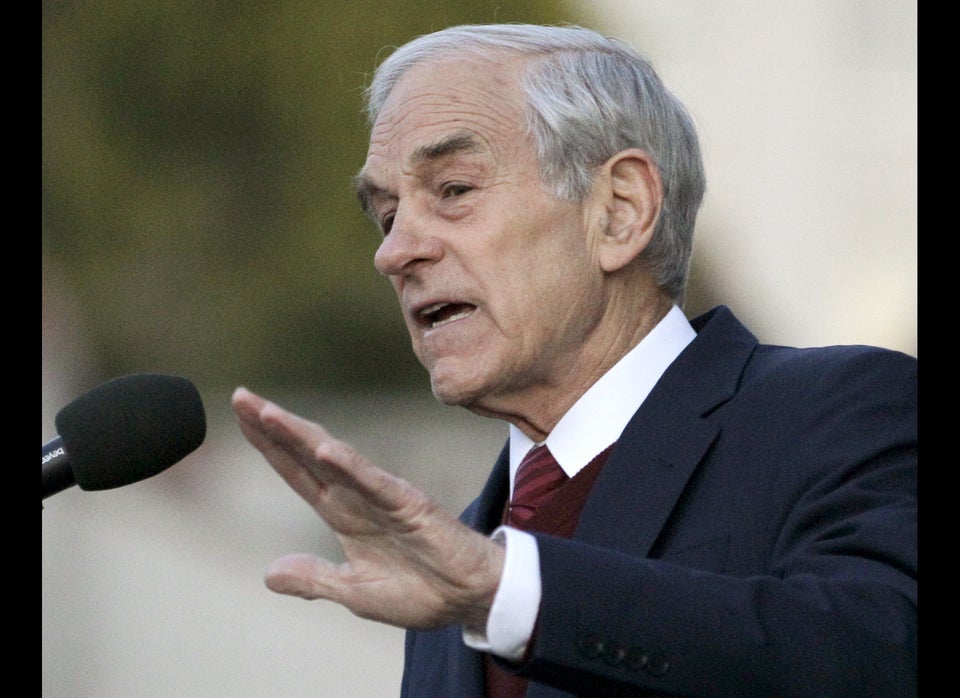 Republicans To Mittens: Release The Returns
Popular in the Community