 WASHINGTON -- John McCain's top campaign strategist in 2008 says that Mitt Romney's much-discussed tax returns were not the reason that the Republican candidate chose Sarah Palin as his running mate, but he did acknowledge that Romney's wealth played a factor in the decision.
"I get the political hyperbole and all, but that's not the way the decision was made," Steve Schmidt told The Huffington Post. "We never sat around having a discussion about Mitt Romney's taxes through the prism of a liability if he were chosen" for the ticket.
But he added that Romney's wealth was seen as a liability - "Sen. McCain got caught flat-footed answering a question about how many houses he owned. In fact, they were Cindy McCain's properties but that distinction was lost in the political optics and we knew it would be a big liability that the presidential and the vice presidential candidates together owned more than a dozen homes. It was like something out of a 'Saturday Night Live' skit. I mean, come on."
Schmidt is probably best know outside of political circles as the campaign adviser played by actor Woody Harrelson in "Game Change", the HBO movie that detailed the disastrous behind-the-scenes vetting of the Alaska governor. The film traces Schmidt's mounting horror as he realizes Palin is out of her depth and was haphazardly vetted.
In real life, Schmidt says he was not personally involved with vetting Palin, Romney or any of McCain's other potential running mates. But while he never saw any of the 23 years' worth of tax returns that the former Massachusetts governor submitted to McCain's team, he was in on campaign briefings and read executive summaries about the vetting process. And he says Democrats who suggest McCain dumped Romney from his short list because of what was in those tax returns "have no way of knowing any of the basis of that statement. It's a rhetorical flourish."
Controversy over Romney's record at Bain Capital and the firm's role in shipping jobs overseas has been building for weeks. This weekend, Romney demanded that President Obama apologize for the attacks. The president responded that he won't refrain from such charges.
And at least two Obama campaign surrogates have now doubled down on the argument that Romney must be hiding something. Last week, at the National Governors Association meeting, Maryland Gov. Martin O'Malley suggested that McCain, after looking at Romney's tax returns, decided that the untested Palin was a better choice as running mate.
"Why would you pick Palin over Romney?" he asked in an interview with BuzzFeed. "His failure to release those is a bit of an implicit admission of...guilt."
Chicago Mayor Rahm Emanuel joined in on Sunday, telling ABC News's George Stephanopoulos that Romney's lack of transparency in 2012 is no accident.
"He has only released one year, to the McCain campaign he released 23 years. And he's telling the people, 'I'm not going to give you what I gave John McCain's people in 2008.' And when he gave them 23 years, John McCain's campaign looked at it and went, 'Let's go with Sarah Palin.' So whatever's in there is far worse than just the first year," Emanuel said.
"It's totally unfair. They don't know any of the facts," Schmidt said of the inference about Romney's tax returns. "But it's hard to refute. And the bottom line is the American people don't trust politicians so nobody gets the benefit of the doubt and the utterance of the accusation does damage. People believe you're hiding something. It's wrong, it's unfair, but it's life in the big leagues."
In the book "Game Change", on which the HBO movie was based, authors John Heilemann and Mark Halperin wrote that Romney, former Florida Gov. Charlie Crist and Minnesota Gov. Tim Pawlenty were all on McCain's short list of potential running mates, "but game changers they were not." They also wrote that the campaign viewed Romney's Mormonism as a strike against him.
Schmidt told HuffPost that there was a "consensus" in the campaign that amid "extraordinary enthusiasm for Obama" and a "bad climate for Republicans," McCain needed a so-called gamechanger like Palin. After a hard-fought GOP primary featuring "endless hours of these guys attacking each other," it was decided that a McCain-Romney combination was "not a ticket that could win."
After McCain's preference for independent Democratic Sen. Joe Lieberman was shot down by Republicans, Palin got the nod.
"Right or wrong, we came to the conclusion that our convention wouldn't come out ahead with" Romney on the ticket, Schmidt said, "so we went in a different direction."
Support HuffPost
The Stakes Have Never Been Higher
Before You Go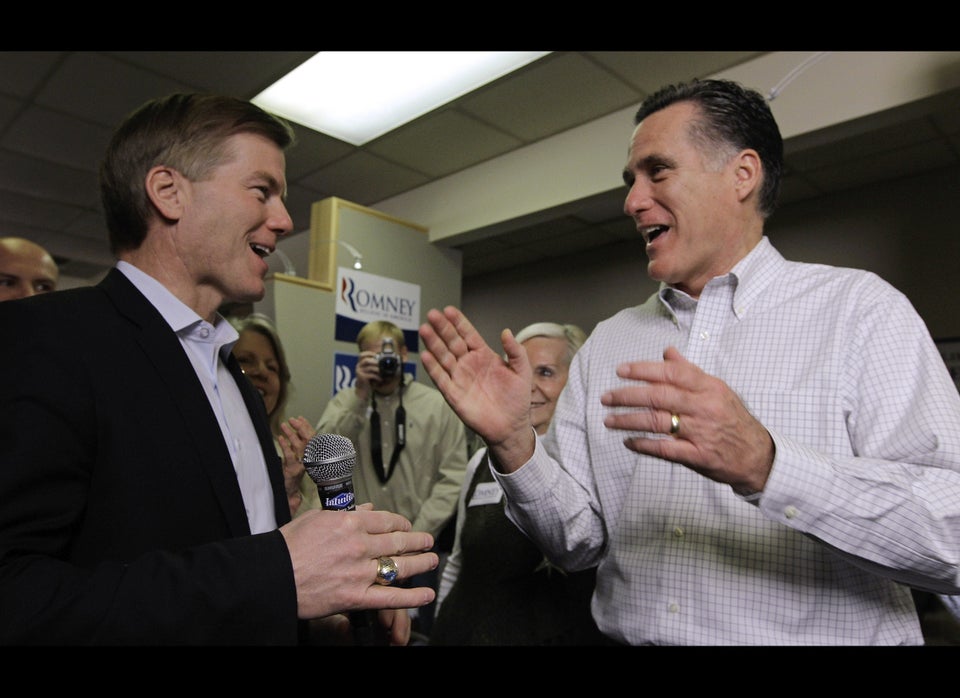 Veepstakes 2012
Popular in the Community