WASHINGTON -- Mitt Romney has been determined to resist releasing his tax returns at least since his bid for Massachusetts governor in 2002 and has been confident that he will never be forced to do so, several current and former Bain executives tell The Huffington Post. Had he thought otherwise, say the sources based on their longtime understanding of Romney, he never would have gone forward with his run for president.
Bain executives say they've been instructed to keep company and Romney-specific information completely confidential, tightening the lockdown on an already buttoned-up company.
But pressure has been building on the presumptive GOP nominee. On Tuesday, the conservative National Review added its voice to a chorus of Republicans pushing him to disclose his returns from the years before 2010.
The Obama campaign has been hammering Romney for the past few weeks over his time at Bain, which Romney claims ended in February 1999, but which documents and his own testimony show lasted much longer. The ultimate prize for the Obama campaign would be a trove of Romney's tax returns.
So far, the intense focus on his Bain time seems to have only hardened Romney's objection to releasing more returns. He is "not enthusiastic," he told the National Review on Tuesday, about giving Democrats thousands of more pages to rifle through for material that they can "distort and lie about."
Asked about the Bain executives' observations, Romney spokeswoman Andrea Saul said, "Rumors on what unknown people who Mitt Romney may not have ever met muse about what someone else, also unknown, told them should not justify a story."
While Romney may personally prefer to drop out before releasing more returns, people who know him note that he doesn't always do what he wants. Torn between his longtime desire to be president and his equally strong belief that he should not be forced to release more returns, Romney may turn, as he has with so many big decisions, to strict numbers-based analysis. If he plummets in the polls and the risk of defeat presses itself on him, the sources say, his calculation could change.
A variety of possible explanations for Romney's refusal to release the returns have flowed into the information vacuum. The Obama campaign has floated the notion that maybe he paid no taxes at all in some years. Others have wondered if he was part of the Swiss tax evasion scandal of 2009. Underlying the resistance, sources close to him say, is Romney's belief that voters simply don't have a right to see what should be private financial information.
If the scrutiny that Romney's 2010 taxes have already undergone is any indication, his fears are well placed. The filing indicated a Swiss bank account -- unprecedented for a presidential candidate -- which added to the image of a wealthy man unfamiliar with ordinary people's limitations. Bain filings show that several of its companies set up shop in Bermuda and the Cayman Islands, places known as tax havens.
Romney told the National Review that the Cayman Islands company was set up to allow foreign corporations to invest in the United States without paying U.S. taxes. "[T]he so-called offshore account in the Cayman Islands, for instance, is an account established by a U.S. firm to allow foreign investors to invest in U.S. enterprises and not be subject to taxes outside of their own jurisdiction. So in many instances, the investments in something of that nature are brought back into the United States. The world of finance is not as simple as some would have you believe," he said.
For now, Romney continued, he's content to keep the returns private. "In the political environment that exists today, the opposition research of the Obama campaign is looking for anything they can use to distract from the failure of the president to reignite our economy. And I'm simply not enthusiastic about giving them hundreds or thousands of more pages to pick through, distort, and lie about," he said.
This story has been updated with a response from the Romney campaign.
Before You Go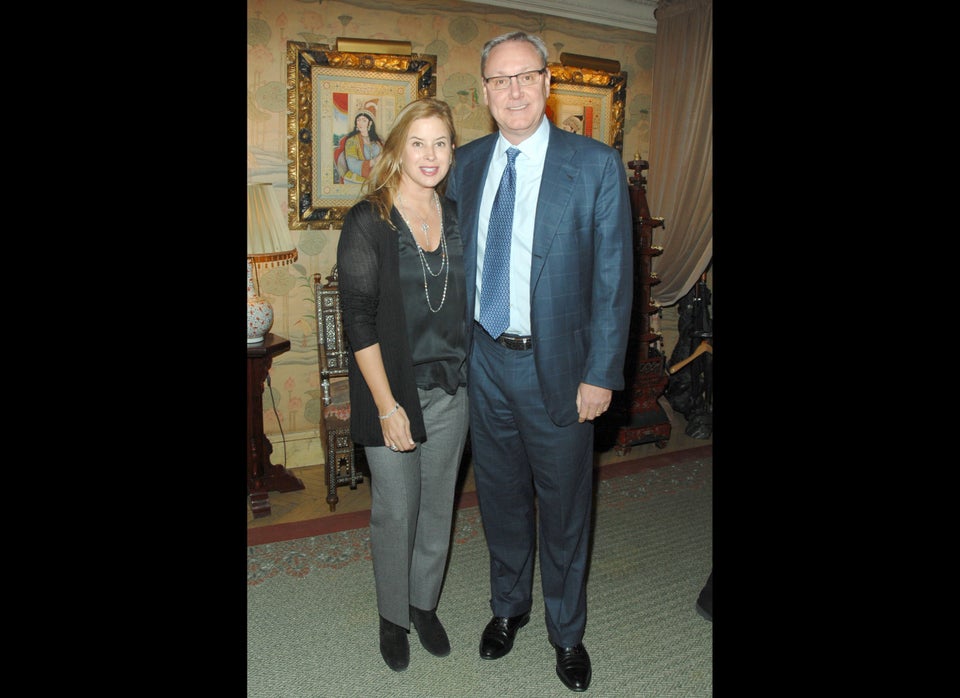 Romney Super PAC Donors
Popular in the Community