NEW YORK -- In July 1988, CNN's John King was camped outside the home of Massachusetts Gov. Michael Dukakis when he got a sign the Democratic presidential nominee had just picked a running mate.
King, then a 24-year-old Associated Press reporter, noticed that top Dukakis adviser Paul Brountas looked more relaxed as he left the house than he had on previous nights King spent waiting out there. So King raced back to the AP's Boston bureau around 10 p.m., worked the phones all night, and confirmed that Texas Sen. Lloyd Bentsen was the vice presidential pick just in time for the network morning shows.
"It was a career-changing, life-changing break for me," King said Monday in an interview with The Huffington Post.
Twenty-four years later, political reporters are again working sources and reading the tea leaves, hoping to nail down Mitt Romney's vice presidential choice before the campaign blasts out the news through a new smartphone app.
The New York Times, one of several news outlets that followed the presumptive Republican nominee to the grocery store on Monday, reported how "Romney's every movement and utterance are watched and parsed for any scrap of a detail that might reveal his intentions." To wit: the Times noted Romney purchased "12-packs of Caffeine Free Diet Coke, Wild Cherry Diet Pepsi and bags including Greek yogurt."
For months, journalists and pundits have been caught up in the quadrennial Veepstakes guessing game, rarely letting Romney out of an interview or event without asking the inevitable, yet unanswerable question. After walking out with groceries on Monday, Romney was asked whether Ohio Sen. Rob Portman or former Minnesota Gov. Tim Pawlenty -- two contenders believed to be atop the shortlist -- were coming to dinner that night. Romney laughed it off.
News organizations devote extensive resources to covering the VP selection process, from who's being vetted or not to breaking the news of the pick, often just days or even hours before the campaign announces it. While it doesn't matter to the majority of Americans which reporter broke the news or got it minutes before others did, these scoops have currency among the political agenda-setters who Mark Halperin once dubbed the "Gang of 500," the type of insiders who nowadays get birthday shoutouts on Mike Allen's morning Playbook.
NYU journalism professor Jay Rosen, who wrote in April about what he considers the four types of scoops, told The Huffington Post that "getting a leak on who the VP pick will be and springing it on the world before the candidate does so is an ego scoop, almost in the purest sense of the term."
"I'm sure it's true that it helps with bosses and future employers to gain a reputation as a reporter with sources who gets juicy leaks," Rosen wrote in an email. "That's extremely plausible. But look at what it says: I'm doing this to impress my bosses and future employers, not because it has any real public value."
"Another argument is that we want reporters competing for scoops even if some of them fall into the 'ego' category because we need an aggressive press that is trying to reveal stuff," he continued. "It's not clear to me why reporters cannot make distinctions, and compete for important scoops like the CIA's black sites rather than a VP announcement that is coming anyway, but ... there it is!"
Even King, who's broken more VP picks than anyone over the past quarter century, acknowledges that resources could be used in other ways during an election year. "Do we spend an enormous amount of time and energy on these things that may be spent researching the deficit or fixing Medicare?" King asked. "You could make that argument. You wouldn't get an argument back from me."
NBC's Andrea Mitchell, who broke VP picks in 1988 (Dan Quayle) and 2004 (John Edwards), also noted there are bigger issues to cover, such foreign policy, taxes, or entitlements. But while Mitchell said the amount of uninformed speculation gets "more than a little silly," there's value in covering the selection process.
"It is an interesting insight into how the nominee makes his choice and rolls out the choice," Mitchell said. "It tells you a lot about his decision-making, about his value system, about his sense of the campaign, about what he needs."
Looking back over the past several cycles, such scoops have come as a result of shoe-leather reporting and a bit of luck.
In August 1988, Mitchell eliminated several Republican VP contenders through reporting before finally confirming George H.W. Bush's pick by way of a single, "gold-plated" source as the GOP convention loomed. In the pre-Internet, pre-MSNBC days, anchor Tom Brokaw had to break into daytime programming to report it.
Four years later, King broke the news of Bill Clinton's choice after receiving a numeric clue repeatedly on his pager: 4673. King assumed someone was trying to tell him something but didn't know how to leave their full number. But after leaving an AP dinner to make a round of calls at his nearby hotel, King noticed the number spelled something out on the phone's keypad: G-O-R-E. "That was my cloud of black smoke and then I had to find my pope," said King, who after numerous calls finally confirmed the pick with his sources.
King was also first to report on air that Barack Obama was picking Delaware Sen. Joseph Biden in 2008, just hours before the campaign was scheduled to announce the selection via text message to supporters.
While the campaigns would inevitably roll out these picks, King said providing original, new information is what makes news organizations stand out, especially given all the "noise and clutter out there." It's the "nature of the beast" for reporters to compete for such political scoops, King said.
And yet, journalists -- even those who've landed such scoops -- say that which reporter broke them, and when, is primarily of interest to only a small group of people.
"It does not matter to the public that they hear about it as soon as possible," said Ron Fournier, editor-in-chief of National Journal. "There's nobody outside of 400 of us in Washington who remember Andrea Mitchell or John King got it."
But within that group of political reporters and insiders, these stories become legend. "I wish I had a nickel for every time somebody told the story about King's pager," Fournier said, noting that it "helped establish John King as the best reporter of his generation" and burnished the AP's own reputation.
Fournier, like other veteran political journalists, remembers such VP stories -- from his own 2000 scoop that Al Gore was picking Joe Lieberman to how Mitchell "kicked my ass" on John Kerry's selection of Edwards four years later. But it's not unusual for such scoops to come down to the wire: around the same time Mitchell went on air, now-Huffington Post editorial director Howard Fineman was reporting the news on MSNBC.com. Meanwhile, the New York Post famously and erroneously reported it was Rep. Dick Gephardt the same morning.
Fournier said he could "never forget" breaking the Lieberman story, and Lieberman telling reporters on his lawn, 'I haven't heard from [Gore], but if it's on the AP wire, it must be true.'"
While NBC News first reported that Dick Cheney had switched his voter registration from Texas to Wyoming during the 2000 cycle, the Washington Post's Dan Balz finally confirmed that he was George W. Bush's VP pick, forcing the paper's editors to do something rare at the time: posting the news first online before it arrived in print the next morning.
In an email, Balz noted the "long tradition of reporters trying to be first on the VP story," while also expressing some reservations about the energy news organizations spend on it.
"I've always thought the VP story is one of the most unrewarding of all the stories we cover during a campaign because so much time and effort going [into] tracking something that's more invisible than visible," Balz said. "But it's a very competitive story and in a time when we compete over being minutes ahead of everyone else, that means everybody devotes a lot of resources to it, at least at the moment when it looks like a decision is imminent."
Related
Before You Go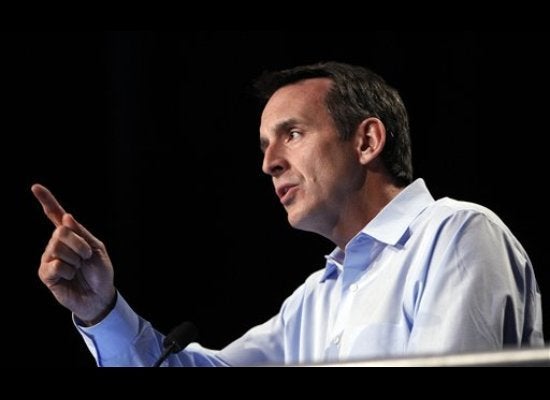 Romney's Veep Search: Who's The Safest Pick?
Popular in the Community