 Earlier this week, Mitt Romney's presidential campaign made clear that the Republican candidate would end a tax credit, currently set to expire at the end of this year, that the wind power industry considers crucial to its survival.
Speaking to the DeMoines Register, Shawn McCoy, a spokesman for Romney's Iowa operation, said that the candidate would "allow the wind credit to expire, end the stimulus boondoggles, and create a level playing field on which all sources of energy can compete on their merits."
This sounds reasonable, but there are two problems.
First, the Romney campaign has shown no commensurate desire to "level the playing field" by also eliminating lucrative and long-running tax breaks enjoyed by the fossil fuel industries. The campaign has, in fact, remained mostly silent on the issue when asked directly by reporters over the last many months, and repeated queries sent to the Romney campaign this week went unanswered.
Also worth noting: prepared testimony from billionaire Harold Hamm, chief executive of the Oklahoma-based oil company Continental Resources, submitted to the Senate Finance Committee in June. Hamm argued passionately that Congress should "maintain tax provisions critical to independent oil and gas producers."
"No form of energy production should get a leg-up via special tax treatment or direct subsidy from the government," Jim Lakely, a spokesman for the conservative Heartland Institute, said in an email. "A properly working and efficient free market operates on a level playing field for all. Government manipulation via subsidies distorts the market."
But there's another problem with this sudden interest in free markets and forcing all energy companies to compete without government assistance: It can't happen, because the market has already been wildly skewed by a very long and lucrative history of subsidies and tax breaks.
Indeed, even if all tax breaks and subsidies for everyone -- oil, gas, coal, wind, solar, nuclear, biofuels and so forth -- were eliminated tomorrow, fossil fuel producers, which have received lavish government support for nearly a century, would enter this new, suddenly "fair" energy market competition with a mammoth head start.
A 2011 analysis by DBL Investors, a clean-tech venture capital firm based in San Francisco, found that over roughly 90 years beginning in 1918, the oil and gas industries had received about $447 billion in cumulative energy subsidies, adjusting for inflation. Renewable energy supports kicked in much later, and the industry has received roughly $6 billion between 1994 and 2009, according to DBL. Measured as an annual average, the oil and gas industries have enjoyed about $4.86 billion per year in federal support since 1918. The nuclear industry drew about $3.5 billion annually between 1947 and 1999.
The average annual government tax benefit for renewables since 1994: about $0.37 billion: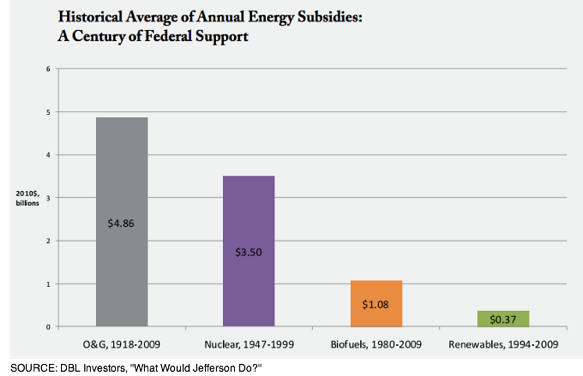 Government subsidies for the coal industry, a direct competitor to wind power in the electricity generation market -- and one that generates billions of dollars in revenues each year -- reach well back into the 19th century, the DBL analysis notes.
A Congressional Budget Office report from March noted that renewables currently enjoy the lion's share of federal tax preferences. But that shift in favor of clean energy is not only very recent, it has occurred right alongside continued government support for producers of non-renewable energy. That support has helped them to acquire not just a toehold in the marketplace over the last century, but near total dominance.
And yet the Romney campaign and its free-market supporters have chosen to set their sights on an income tax credit of 2.2 cents per kilowatt-hour for the first 10 years of electricity production from utility-scale wind turbines. That may not seem like much, but when combined with various state incentives, the tax credit has played a key role in helping the wind industry get off the ground over the last decade. This is true despite the fact that the provision -- originally enacted as part of the 1992 Energy Policy Act, signed enthusiastically by then-president George H. W. Bush -- has traditionally been given only a two-year lifespan before Congress revisits it. Over the last 20 years, legislators have sometimes renewed it, and other times they have let it expire.
Late Thursday, the Senate Finance Committee voted to extend the expiring credit, but its ultimate fate remains uncertain. Over the years, this sort of uncertainty has created something of a boom-bust cycle for wind power, which is constantly gaining and losing ground as the tax credit is given and then later taken away.
Not so for other forms of energy. "Only four major energy tax preferences are permanent," the non-partisan Congressional Budget Office analysis found. "Three are for fossil fuels and one is for nuclear energy."
All of this is not to suggest that the country won't need, and indeed prosper from, the use and development of fossil fuels and perhaps even other non-renewables for many years to come. Change takes time. But if Romney really wants to "level the playing" field in the energy markets, if he wants wind power to "thrive wherever it is economically competitive," as suggested by his spokesman in Iowa this week, then he'll first have to find a way to account for a century's worth of government favor enjoyed by non-renewable sources like oil and gas.
Otherwise, the game would seem hopelessly rigged.