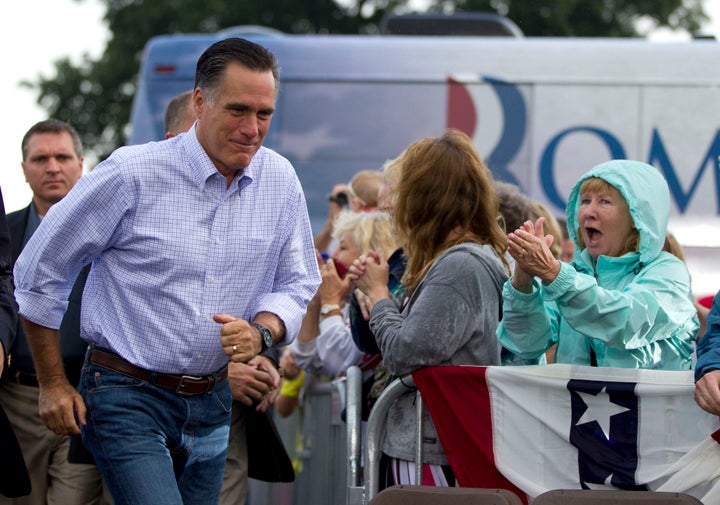 WASHINGTON -- To see the most important impact of the Democrats' attacks on Mitt Romney's career at Bain Capital, look no further than how the presumptive Republican nominee for president is doing with women voters in swing states, particularly Ohio.
Romney trails President Barack Obama among women voters in Ohio, with 40 percent to Obama's 52 percent, and is even further behind when it comes to personal favorability, according to a poll released Monday night by Purple Strategies, a D.C. based influence and communications shop.
Ohio women surveyed have an overwhelmingly negative view of Romney: 56 percent view him unfavorably and 32 percent view him favorably. Their feelings about Obama are mixed, but he has a slight positive advantage, with 48 percent favorability ranking among women voters to 47 percent unfavorable.
Compare those numbers to male voters in Ohio: 51 percent of men in the Purple Poll prefer Romney for president, compared to 43 percent who are for Obama. Romney has a 43 favorable and 42 percent unfavorable rating with Ohio men, while Obama has a 43 percent favorable and 52 percent unfavorable rating.
Overall, Obama leads Romney in the topline state number 48 percent to 45 percent. And it's clear that Obama's edge comes largely from those female voters.
"A gender gap exists, showing up most strongly in Ohio," according to Purple's polling summary.
In addition to Ohio, Purple released a set of monthly numbers for three other key swing states: Virginia, Florida and Colorado.
The average across all four states, when broken down by gender, looks similar to Ohio. Romney has a 47/45 percent favorable/unfavorable advantage with men, while 55 percent of men view Obama favorably and only 41 percent view him favorably. But 50 percent of women view Obama favorably and 45 percent view him unfavorably, while 52 percent are unfavorable toward Romney and only 37 percent are favorable.
The Obama campaign's ads emphasizing Bain Capital's plant closings and outsourcing have a much bigger impact among women than men, Democrats say. Obama has also gone out of his way to emphasize his support for issues that are specific to women.
While Ohio voters in general are not very pleased with Obama –- he has a 46 percent approval rating and a 49 percent disapproval rating in the state -– if Democrats can drive up Romney's negatives so high that he is an unsuitable alternative to Obama, then that could be the difference between victory and defeat in a state that could decide the election.
And women voters represent the Obama campaign's best chance to do that.
REAL LIFE. REAL NEWS. REAL VOICES.
Help us tell more of the stories that matter from voices that too often remain unheard.
BEFORE YOU GO
PHOTO GALLERY
War On Women