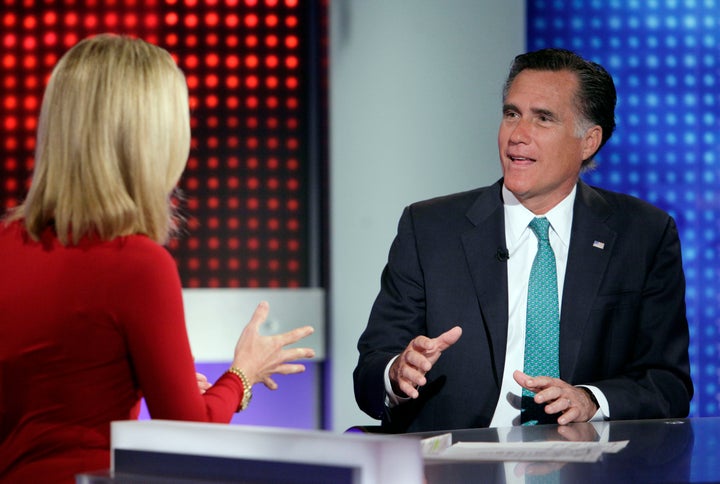 WASHINGTON -- In recent days, Mitt Romney's campaign has been trying to squash the perception that he's bad with the ladies.
It's been bringing out everyone from Ann Romney -- who insists that her husband really isn't "stiff" when you "unzip him" -- to other prominent Republican women. All are trying to make the case that the former Massachusetts governor will look out for women's rights if elected president.
But the records of some of these surrogates seem to undermine the campaign's message.
The campaign stumbled for a moment during a Wednesday call with reporters, when a Romney aide was unable to answer whether the former governor supports the Lilly Ledbetter Fair Pay Act. Obama signed the measure into law in 2009 and considers it one of the keynote achievements of his presidency. The law provides women with more legal channels to pursue receiving equal pay for equal work. Romney spokeswoman Andrea Saul later clarified that Romney "supports pay equity and is not looking to change current law."
But two of his surrogates did vote against the legislation in Congress. On Wednesday, the campaign sent out statements from Republican Reps. Mary Bono Mack of California and Cathy McMorris Rodgers of Washington, blaming women's jobs losses on Obama's policies. But both women voted against the Lilly Ledbetter Act as well as the proposed Paycheck Fairness Act.
A March 29 Wisconsin Women for Romney call with reporters featured Wisconsin state Sen. Alberta Darling (R-River Hills) and conservative activist Bay Buchanan. Darling was a cosponsor of legislation repealing her state's 2009 Equal Pay Enforcement Act, which was designed to deter employers from discriminating against certain groups by granting workers more avenues for pressing charges. Wisconsin Gov. Scott Walker (R) quietly signed the bill into law last week.
Buchanan has railed against feminism, stating in 1999 that the movement has hurt women. She blamed the high number of divorces, single-parent households and teen suicides on feminism in part.
"If the movement is about helping women, if it is moving them in a better direction, women have not done that well," Buchanan said then. "This is not a good direction for the nation to be taking."
And on Fox News on Monday night, Romney surrogate South Carolina Gov. Nikki Haley (R) was totally off-message, saying, "There is no war on women. Women are doing well."
Popular in the Community