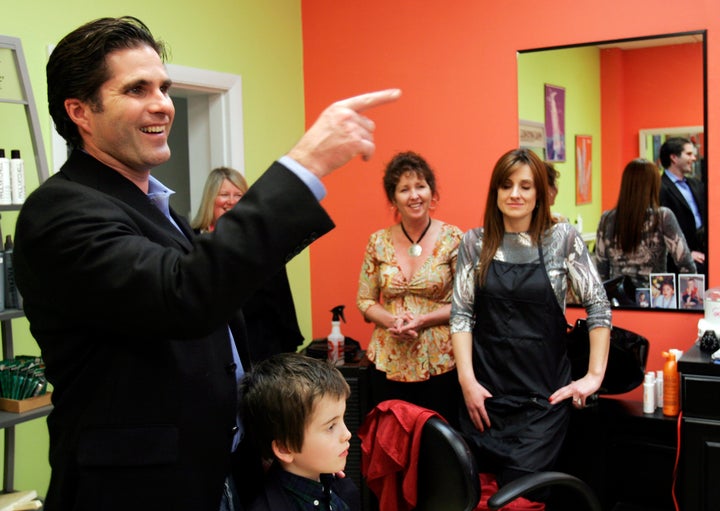 WASHINGTON -- Located less than a block from K Street, the aptly-named Lincoln Restaurant will host more than 30 Republican lawmakers and scores of the city's best known GOP lobbyists on Wednesday night at a fundraiser for Mitt Romney. But the main attraction at this party isn't going to be Mitt Romney.
Instead, it'll be Romney's eldest son, Tagg Romney, 41, a private equity manager who has recently taken a more active role in his father's campaign. And judging by the numbingly-long list of co-hosts, most of whom are under 40, Tagg's party is a hot ticket among members of D.C.'s shiny Republican social set.
There's a good reason for this: unlike the vast majority of Washington fundraisers, this one actually seems like it might be fun. Among the congressional hosts are some of the most gregarious guys in the House, like Rep. Jason Chaffetz (R-Utah), Rep. Michael Grimm (R-N.Y.) and Rep. Aaron Schock (R-Ill.) -- they also happen to be among the youngest. The lobbyists, too, represent the "livelier" side of K Street, people like Sam Geduldig, former staffer for Speaker John Boehner; former Bush State Department aide Sarah Lenti and former National Republican Congressional Committee spokesman Ken Spain.
Most of the private-sector folks cycled through a few different jobs in government during their 20s, before quietly floating over to firms on K Street that focus on issues near and dear to the Republican heart, like energy, financial services and defense. Bigger salaries mean former Hill staffers have swapped their Michelob for Moet & Chandon, but apart from that, this crowd hasn't changed very much in the last decade. These are the Republican "cool kids," and it's safe to say that an affable, telegenic finance guy like Tagg Romney will fit right in.
The same can likely be said about his dad, Mitt Romney, who plans to hit up four separate Manhattan fundraisers on Wednesday. The parties will be hosted by the same Wall Street tycoons with whom Romney invested, and sometimes competed against, during his more than two decades running Bain Capital.
While Tagg is busy hobnobbing in D.C. with folks like Goldman Sachs lobbyist Joe Wall, big poppa Romney will be shuttling between a breakfast at Cipriani's on 42nd Street, a reception at the legendary Park Avenue penthouse of private equity billionaire Steve Schwarzman, and the Waldorf Astoria, where James Lee, a vice chairman at JPMorgan Chase, will host yet another reception.
All this father-and-son elbow-rubbing also underscores just how difficult it's going to be for Romney's chief rival, GOP front-runner Newt Gingrich, to raise the kind of cash he needs to stay competitive beyond Iowa and New Hampshire.
In what appears to be an unspoken acknowledgement of Romney's dominance over the twin money meccas of Wall Street and K Street, Newt recently set his sights on winning over large groups of Christian conservatives, many of whom he met in a closed-door session last week outside of Washington. Provided they were convinced of his strong moral fiber after an hour-long meeting, these groups could offer Gingrich both financial backing and logistical support, the latter of which could make all the difference in a drawn-out primary battle against Romney's well-oiled machine.
Gingrich plans to spend Wednesday in Iowa, where he'll attend a movie screening hosted by former presidential candidate Mike Huckabee. The film is a pro-life documentary called "Gift of Life," and Gingrich will be joined by rival candidates Rick Perry, Michele Bachmann and Rick Santorum.
WATCH: Mitt Romney Makes A Regrettable Wager During Saturday's GOP Debate
Popular in the Community