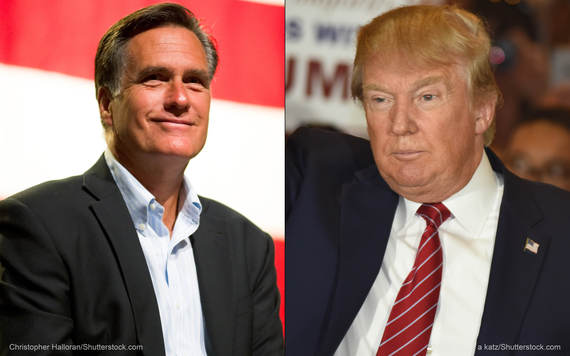 After pulling off a sweeping Super Tuesday win, Donald Trump positioned himself as the Republican Party frontrunner. But Mitt Romney, in a speech today, made it clear the billionaire businessman does not have the full support of key leaders of the Republican party.
On Thursday, Mitt Romney delivered a speech at the University of Utah's Hinckley Institute of Politics Forum criticizing Donald Trump's campaign. Romney urged voters to support any of the party's other leading candidates -- Ted Cruz, John Kasich or Marco Rubio.
Mitt Romney Speech Slams Donald Trump's Policies
The Mitt Romney announcement highlighted Donald Trump's policies and the lack of substance behind them. The former Massachusetts governor praised Trump's promises to repeal Obamacare and bring jobs back to the U.S., but noted that he doesn't have any plans in place to follow through with his promises.
On Trump's Domestic Policies and Tax Plan
Romney told the crowd that Trump's domestic policies would lead to a recession, using examples like the billionaire's 35 percent "tariff-like penalties," which he said would cause a trade war and raise prices for consumers, kill export jobs, and cause businesses to leave the country.
He also said Trump's tax plan and his refusal to form entitlements and fairly address spending would cause the deficit and the national debt to rise.
On U.S. Allies and ISIS
He said Donald Trump is a threat to national security, saying the Republican candidate has offended U.S. allies and fed into enemies like ISIS by denouncing Muslims. Romney supported his claims by highlighting a "60 Minutes" interview where Trump spoke on Syria, suggesting that the U.S. should allow ISIS to take out Bashar al-Assad and wait to intervene until afterwards, which Romney referred to as "recklessness in the extreme."
"Now, Donald Trump tells us that he is very, very smart," Romney said to laughter. "I'm afraid that when it comes to foreign policy he is very, very not smart."
'Trump Is a Phony, a Fraud'
The Mitt Romney speech covered Trump's insolent temperament, noting his lack of respect toward women, people with disabilities and propensity for vulgarity. He also denounced Trump's admiration of Vladimir Putin and his public criticism of former President George W. Bush.
Romney called Trump a liar and accused him of playing the American people for a fool. "Donald Trump is a phony, a fraud," Romney said. "His promises are as worthless as a degree from Trump University."
Romney urged fellow Republicans to stop supporting Trump and choose one of the other three leading candidates, saying, "If we Republicans choose Donald Trump as our nominee, the prospects for a safe and prosperous future are greatly diminished."
He acknowledged Trump's prevailing popularity, but that it's not too late to change the course of the race. "If the other candidates can find some common ground, I believe we can nominate a person who can win the general election and who will represent the values and policies of conservatism."
Donald Trump Tweets About Mitt Romney Announcement
Never one to sit back and take criticism in stride, Donald Trump took to Twitter to slam Mitt Romney. He criticized Romney for his failed presidential runs in 2008 and 2012, and tweeted that Romney had begged for Trump's endorsement in 2012.
Mitt Romney, Donald Trump Campaign Spending
The level of fundraising Donald Trump could reach if he earns the Republican presidential bid has yet to be determined, but in January he raised nearly four times the amount Romney did at the same time in the 2012 election -- and spent over $5 million more.
Donald Trump has also publicly denounced Super PACs, while much of Mitt Romney's campaign funding came from these groups -- $12.8 million from Restore Our Future, Inc.; $6.5 million from American Crossroads; and $4.7 million from Ending Spending Action Fund.
Following Mitt Romney's speech, Trump announced that if he received the Republican nomination he would begin fundraising for the general election. Doing so would allow him to scale up his campaign to compete with Hillary Clinton's massive budget. Still, Trump has shown an incredible capacity for self-funding his own campaign, irrespective of supporters' contributions.
Mitt Romney Net Worth vs. Donald Trump Net Worth
Despite his own claims of a $10 billion fortune, Donald Trump's net worth is $4.5 billion, according to CelebrityNetWorth. Until he was fired from "The Apprentice" in August 2015, he was reportedly earning $60 million per year from the show. In total, he earned more than $250 million in 2014 from investments and various business ventures.
Mitt Romney's net worth is $250 million. He reportedly earned $42.6 million in 2010 and 2011, which mostly came from capital gains.
More from GOBankingRates: