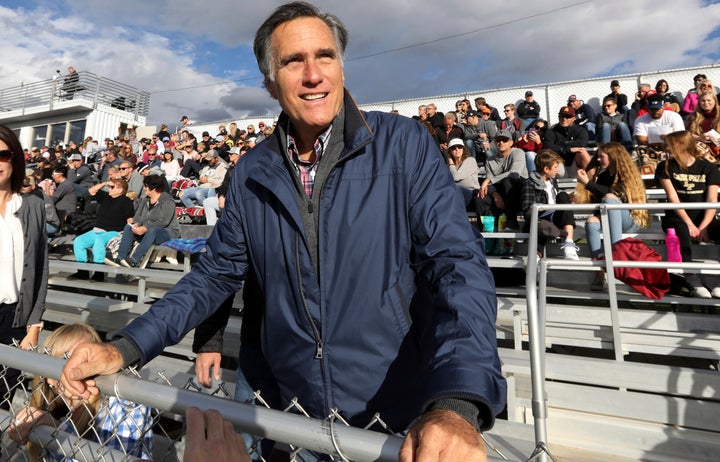 Mitt Romney completed one of the most circuitous comebacks in political history on Tuesday, with voters in Utah electing the one-time Massachusetts governor and 2012 Republican presidential nominee to be the state's next senator.
The Michigan-born-and-raised Romney handily defeated Democratic nominee Jenny Wilson, an at-large member of the Salt Lake City City Council.
Romney's election in heavily Republican Utah was never really in question. In addition to Utah's heavy GOP registration bent, Romney, a member of The Church of Jesus Christ of Latter-day Saints, has long been a popular figure in the state, which sports the country's largest Mormon population.
He replaces fellow Republican Orrin Hatch, the longest-serving GOP senator in history who is retiring after 42 years in office.
Among the crop of freshman lawmakers when Congress convenes in early 2019, the 71-year-old Romney can expect particular attention ― and not just because of his already-established national profile. Romney's past criticism of President Donald Trump means one of the more fraught relationships in Republican politics will once again be in the spotlight.
As the 2016 battle for the GOP presidential nomination was in full swing, Romney delivered a stinging rebuke of Trump, calling him "a phony" and "a fraud" for whom dishonesty was "a hallmark." He urged Republicans to choose another candidate; Trump responded by belittling Romney's 2012 presidential bid. In one speech he said Romney "choke like a dog."
The two later backed off their insult-trading, and Romney was on the president-elect's shortlist for secretary of state. But Romney also has maintained his distance from the divisive commander-in-chief.
Reports indicate that while Romney will likely not resort to harsh language if he feels compelled to upbraid Trump upon taking office, he may be inclined to speak out against the president on trade and national security issues.
Two of Trump's most vocal Senate Republican critics are retiring after this congressional session ends ― Bob Corker of Tennessee and Jeff Flake of Arizona ― and Romney could partially fill the void they leave.
No politician in recent history has held major offices in multiple states in the course of their career. Such moves were far more common occurrences in the 18th and 19th centuries, when the country's expanding borders led many politicians westward along with their constituencies.
REAL LIFE. REAL NEWS. REAL VOICES.
Help us tell more of the stories that matter from voices that too often remain unheard.