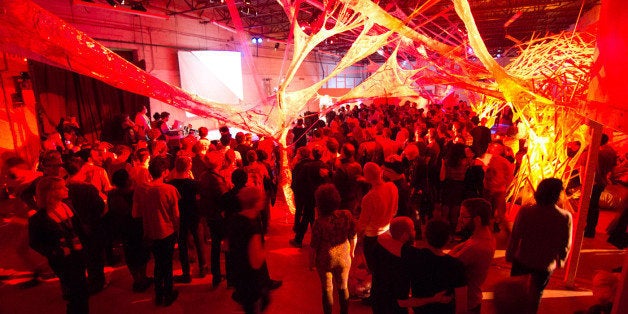 One of the largest annual queer community efforts in New York City is slated to open to the public tomorrow, Nov. 11, and it's a week-long event that you don't want to miss.
The MIX NYC Queer Experimental Film Festival is a longstanding and major event that takes a slew of volunteers to pull off. While primarily a film festival, in reality MIX is so much more. Existing as a art space with massive installations and a queer community space outside of a mainstream context, MIX has become known as a staple within the NYC queer scene. In fact, over the years, the festival's influence has come to extend beyond the borders of NYC onto an international scale.
In order to better understand the ideology driving the MIX festival -- currently in its 27th year -- and what this week-long endeavor represents to those involved, The Huffington Post chatted with a number of the festival's organizers this week.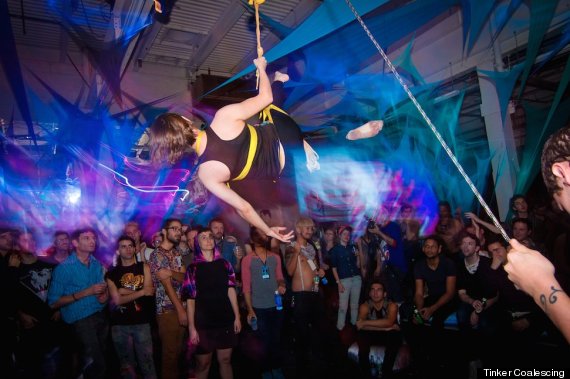 The Huffington Post: What is the MIX NYC festival? How long has it been around? Stephen Kent Jusick: It's a film festival, art exhibit and temporary autonomous zone for queers of all sorts who are looking for something other than a pre-packaged homogenized experience. MIX NYC was created out of the friendship of a gay man and a lesbian, Jim Hubbard and Sarah Schulman respectively, who were sharing a joint in 1987 talking about the lack of venues for queer (then "lesbian and gay") experimental film work. The few gay venues weren't so interested in experimental film, and the film venues didn't want the gay stuff. So they pluckily decided to put on a festival, working out of their homes in the East Village. The first venue was Millennium Film Workshop, in the basement of La Mama on East 4th Street.
Sloan Lesbowitz: MIX NYC started out in 1987 as the NY Lesbian and Gay Experimental Film Festival. Founders Jim Hubbard and Sarah Schulman noticed how spaces for experimental film were very straight, and gay festivals only showed narratives and documentaries. There was a real need for queer experimental films to be seen and promoted. It is significant that this festival started from the friendship of a gay man and a lesbian, and with a strong commitment to formally experimental film. MIX has evolved and changed in so many ways, but the elements of queer friendship and experimental film remain essential.
How has the MIX NYC festival developed and changed over the years? Stephen Kent Jusick: Jim and Sarah worked on it for six years, but decided that they wanted to involve more voices. So starting in 1992, guest curators were invited to submit proposals and present their own take. This really opened things up to other ideas of what experimental film is to various communities. In that first round of guest proposals there was a show about queer zines, a program called Fire!, after the Harlem Renaissance journal showing new black work, as well as work from Brazil. That eventually led to the founding of MIX Brasil in 1993, which the NY staff helped program but MIX Brasil was always run by Brazilians in Sao Paulo who had their own understanding of their own community. In 1993 Shari Frilot, who had curated Fire, took over, expanded the festival and pursued an agenda of encouraging and showing more work from people of color. She also produced the first festival catalog and the first festival trailer made by Karim Ainouz. Shari also gave space and resources for the presentation of media-based installation art. This was very unusual for film festivals at the time and unheard of at queer film festivals. This was a period of growth and change. Venues were added and the festival had a base in Harlem at the Victoria Theater in 1996. Shari then left for Outfest and later Sundance. Rajendra Roy took over in 1997 and was able to ride the New Queer Cinema wave to energize more volunteer staff to get some grants and sponsorships, like Absolut. Raj left for the Hamptons Film Festival and eventually became of the Chief Curator of Film at MoMA.
The importance of installations waned in the later 1990s and early 2000s, until 2006 when a new staff decided to make installation a central component of the festival, to provide a different experience to complement the film screenings. We decided to forego traditional theater spaces to use lofts, storefronts, abandoned department stores and other kinds of spaces to contain the festival. In 2010 it became clear that there was something about the space -- the world -- that MIX was creating that audiences were responding to. The idea of a lounge space that was free and open to all became a big deal. We had off-site parties scheduled, but no one wanted to go to them because it was so fun at the MIX space. Since then we've made a more conscious choice to create welcoming and comfortable spaces for queers to congregate, and have tried to make the temporary MIX Factory (this year called the MIX Hive), into a place that people can have their needs taken care of. We moved from serving hors d'oeuvres to full meals each night. There are performances and pillows to lie down on, and we try to keep the space lively and open for the whole six days.
Other MIX festivals cropped up. MIX Mexico started in 1996, and is still run by its founder Arturo Castelan. The Milan Lesbian & Gay Film Festival became MIX Milan in 2008, and Copenhagen's festival became MIX Copenhagen in 2011. We're still sort of a small organization but there's a lot of tendrils around the world.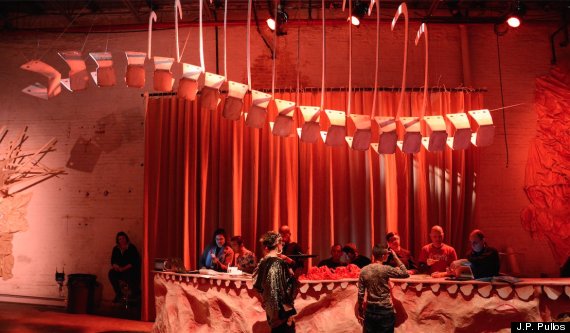 In what ways is MIX a queer community event? Diego Montoya: Well, it's built by the community. It's not just us showing this work -- it's designed in a way where the process is as important as the end result with hundreds of volunteers taking a hand in making it happen. It's truly a collaborative community event.
Caitlin Rose Sweet: MIX is queer on every level. The people organizing, building, curating, attending, designing this festival are all queer. MIX creates a space for queer people to exist outside of the heteronormative gaze. We craft a space in which we get to tear down walls and take off our protective layers to let out all our wild queer selves. It's a beautiful experience to watch a group of people volunteer their time, skill and labor to build this world, see and meet so many talented queer artists and feel the space fill up with so many queer bodies. Mix is one giant queer art build -- it's a labour of love for the community and a space to celebrate queerness in its endless formations. The installations, performances and screenings are curated in a specifically critical way. We are looking for queer art that tears down boundaries and push queer art beyond the limitations of identity politics. The pieces are complex, layered, and using media experimental ways.
Devon Gallegos: MIX has become somewhat of a season -- a time in the year that has a feeling like Thanksgiving or Christmas -- but instead of taking time off work you take time off to do the work you've been kept from all year. Most of the important work of culture is done with your friends and chosen family -- those who want to revise the world alongside you; so MIX becomes one of the places where clusters of folks gather together, by truck or train-hop, to come and co-build temporarily better worlds through stories and senses, and the derangements of both.
How does MIX create spaces to put these important films in a queer community context? Why is this important? Stephen Kent Jusick: On one hand, MIX NYC shows films that don't show elsewhere. So there is a unique opportunity to see this work. But in some cases a film has shown elsewhere and we try to to make the experience of it at MIX different in some way. So when we showed "Fig Trees," a film about AIDS activism in South African and Toronto that had already screened at New Fest and AMNH, we handed out homemade fig treats and gave out HIV+ t-shirts to all audience members. That made the screening more specific to us and is just one way we extended the themes off the screen and into life.
Sloan Lesbowitz: In 2007 we screened film footage from 1970 gay pride shot on 16mm by Kate Millet. It was silent, and artist Sharon Hayes collaborated with Millet to add sound. The experience was as close to time travel as I can imagine.
In both 2007 and 2008, guest curators included short experimental films by David Wojnarowicz in their programs. In addition to the rare opportunity to see these films, when the controversy arose in 2010 around a Wojnarowicz film being censored from a show at the Smithsonian, I for one -- and I suspect some of our audience -- were now not only already familiar with his work but passionately committed to the importance of experimental films that are as difficult in their anger, imagery and politics as his.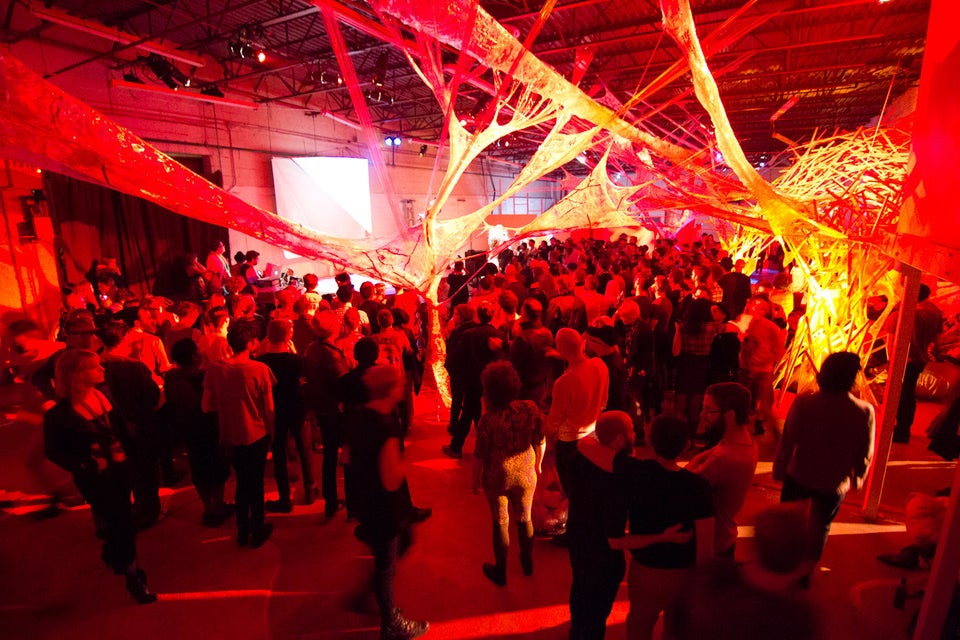 MIX NYC
In 2009 we screened "Maggots and Men" as our closing night presentation to a fully packed house. Not only was it was powerful to see a film by, for and about transmasculine people, it was beautiful when most of the cast and crew were present to receive applause and questions at the end.
In 2010 we showed two films with very descriptive titles in the same night: "Too Much Pussy" and "50 Faggots." Both gay men and lesbians were at both screenings. Gay guys found the dyke film to be lacking in the explicit sex they were expecting and lesbians agreed. Lesbians found some of the opinions flying around the "50 Faggots" Q&A to be misogynistic, and gay men literally cheered us on as we voiced these observations.
In 2011, Occupy Wall Street was happening at the same time as the festival. In fact it was being shut down during the festival. Our executive director Stephen Kent Jusick had been out at Liberty Park the night the police were clearing it out and was losing his voice the next day at the festival from screaming at the police, but somehow he still managed the following night to project one of his own Super8 films and do live manipulation of the projection, and we were treated to spontaneous spacial and sound distortion, and more than a little burning emulsion. The film was shot near the piers in NYC, another once liberated space. That same year, one of our volunteers appeared on the front page of the NY Times website being arrested. We cheered when he returned to us. And unfortunately one of our film makers, AK Burns, was unable to make a personal appearance at her film screening due to receiving a concussion from the police.
In 2012, we celebrated our 25th festival with some retrospective screenings. During one of our Q&A periods, a question was raised about the relevance of Barbara Hammer's "Dyketactics," which apparently seems relatively mild by modern pornographic standards. We got into an excellent discussion with an audience of all different ages and genders, about the importance of a ground-breaking experimental film that emphasizes women touching women. We even got into the dearth of images of lesbian bodies and touch, despite the increased commodification of images of bodies in our culture, since the film's creation in 1974. What can attendees expect when they attend MIX?
Sloan Lesbowitz: It will be beautiful. It will be imperfect. You will be immersed in a queer art landscape. The venue will be comfortable and the staff will be welcoming. The films will be thought-provoking, challenging, beautiful and politically-charged. You will laugh, you might cry, somebody will make a mess and somebody will help clean it up. You can meet artists and they can meet you. There will be food and drink. There will be music and dancing. You will investigate interactive installations. You will see performances. There will be art that has a clear message and art that is ambiguous and puzzling. The film programs are curated with specific visions and themes that you will not see at any other festival. And you might fall in love.
Devon Gallegos: You can expect to see sopping wet keyboards and art happenings on Second Life. You can expect to lay in a bed, look up and see the folk who were on the bed five minutes before. You can expect to look up from where you're pooping and see constellations of flowers. You can expect to lose their keys under the cushions; my advice is to just keep looking, you'll find them eventually...
Diego Montoya: To be overwhelmed and fully embraced. We are building an opulent beehive cathedral. Expect tons of gold and jewels (faux of course but equally sparkling). The space will be animated with custom media -- video projections of kaleidcscopic honey-drenched jewels and queers. In addition to the screening room, our lounge area is centered around pollination. We're building a suspended geodesic dome with a million hand-made flowers. We're painting the ceiling the on the floor like a reverse Sistine Chapel -- and lots of cloud pillows.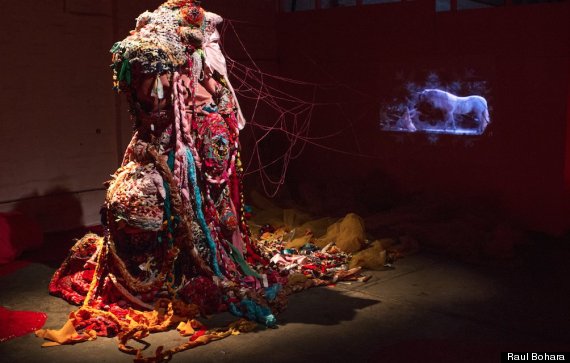 What is the future for this festival? Stephen Kent Jusick: Boom or Bust! We've had a lot of growth the past eight years and lots of change. We do an incredible build each year now that takes weeks and weeks, as tons of volunteers clean, paint, build and create, making a beautiful space for people to hang out. Even our "staff," the people who are committed long-term and think and work year-round, are volunteers or get a paltry stipend. The money that we do raise goes directly into renting a venue, lights and equipment to show the films and installations and make everything happen. With Jim and Sarah in the 1980s it was a labor of love -- and it still is that today, but on a different scale. It's been hard to sustain, though, and that only happens because people WANT it. I've given my time doing the sometimes-boring admin work for free for the past six years because I want MIX NYC to exist and to thrive. MIX can be what the community wants it to be. It will change in the future, with different people making decisions and having new ideas.
Diego Montoya: We seem to be getting bigger and bigger. The design team is developing and getting closer so the conversation between the space, the installations and the screenings is much tighter and more integrated. From a design perspective I think it keeps getting more ambitious. We're including more experimental media in the design of the space, where before it as treated with non-media elements.
MIX NYC Queer Experimental Film Festival opens Tuesday, Nov. 11. Head here for more information.
Popular in the Community