Print media may be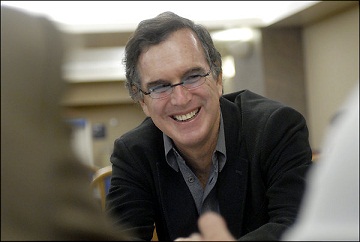 suffering, but it was hard to believe it last Monday. Over 600 people flooded the Plaza branch of the Kansas City Public Library to hear Doonesbury creator, writer and illustrator Garry Trudeau discuss how his daily strip had risen from a football-themed cartoon in the Yale Daily News called Bull Tales.
Reworked into Doonesbury for its debut on October 26, 1970, the comic now runs in almost 1,400 papers worldwide and at Slate.com. Doonesbury fans were so numerous that the library's basement auditorium was filled,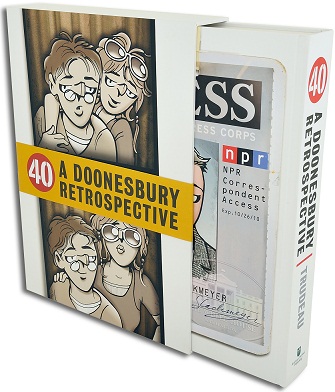 forcing some to hear the speech from the hallway or through a closed circuit TV on the ground floor. Although a New Yorker, Trudeau is practically a hometown boy in Cowtown because his syndicate Universal Uclick and publisher, Andrews McMeel, are based there.
During its four-decade run, Trudeau's strip has been lauded with a Pulitzer (in 1975, when Trudeau became the first comic strip cartoonist to receive it) and has also been banned several times (for a satirical tour of Ronald Reagan's brain and a scathing parody of the anti-abortion film Silent Scream, for example).
Doonesbury has been loved and hated because it has candidly and often hilariously skewered social mores and politics. Thanks to a crew of lovable, dynamic if not always clearheaded characters, Doonesbury is still a vital part of the national discussion. Zonker Harris may always be a hippie who's waiting a little too eagerly for California to pass the marijuana legalizing Prop 19, but former quarterback B.D. has evolved from a third-stringer gridiron player to a poignant representative for wounded veterans when he lost his leg during the battle of Fallujah.
Contacted by e-mail after the presentation, the 62-year-old Trudeau clearly has new directions for his enormous menagerie of characters. He's also got a new 700-page, 11-pound anthology, 40: A Doonesbury Retrospective, that's hitting the stores. That hasn't stopped him from contemplating a career as a player for the New York Knicks if this cartooning thing doesn't work out. Looking fit, it seems they could use him. They're the basketball equivalent for our long hopeless Royals.
Is there anything in 40: A Doonesbury Retrospective that your readers might not have seen before?
Almost certainly, because it's the rare reader who has stayed with it from the beginning. These are all previously published strips, but people move, change papers, lose the books in a divorce, whatever. Over 40 years, they're likely to have missed many of the strips--and forgotten many others.
What is original to 40 is the text -- 20 essays. They're reflections on the central characters -- what inspired each of them, what they've become. Plus there's a big four-page chart mapping all the connections among the extended Doonesbury family.

Now that a graphic novel, The Watchmen, has made Time Magazine's top 100 novels of the 20th century, do you think that our culture is willing to look at comics as something other than simple amusement?
I don't think most cartoonists worry too much about whether comics will ever be viewed as literature. Watchmen, Maus, Jimmy Corrigan and a handful of others are now regarded as masterpieces of the genre, but whether the genre itself is ever taken seriously is out of our hands. Besides, critical respectability could be the kiss of death. We're basically pulp people, and many readers wouldn't have it any other way.
Even though Doonesbury's origins are in print, the web site for the strip is remarkably sophisticated (I enjoyed asking questions to Uncle Duke). How much do you contribute to the site itself?
I've been very involved in the creation and evolution of the site, but David Stanford, our "Duty Officer," is the man behind day-to-day operations. He and I developed the site's sensibility and wise-guy voice a while back, and now he does most of the writing and editing. He's also the one who communicates with and edits the posters on our milblog, The Sandbox.
George Corsillo of Design Monsters is David's counterpart in graphics. I started my career as a graphic designer, so George and I work out the look and feel of the pages together. Then he takes over and executes with the technical folks at uClick. The current re-design is all his. Without George and David, the site could not exist.

The 1970 debut of Doonesbury, courtesy Andrews McMeel.
Has it been tough to keep Mike, Zonker, B.D. relevant with all the social and technological changes in the last 40 years?
Those changes are so incremental, I'm not really conscious of any particular adjustment I make. I can only try to keep the characters interesting; it's up to the readers to decide whether they're still relevant.
Two years ago, you took a risk and submitted a strip declaring Barack Obama's victory before the election had been held. Did you have any sort of backup plan in case McCain won or if there was a protracted fight like there was in 2000?
None whatsoever. My thinking ran something like this: A week before the election, Nate Silver at 538.com had Obama's chances of winning at something like 98%. If Obama won, I looked like I was in the flow, part of the future. If he lost, it'd be such an extraordinary upset that the last thing editors would be focused on was whether one of their goofball cartoonists got it wrong.
Speaking along those lines, have you ever had to revise a storyline because the news took a different turn than you anticipated?
There are only a couple of incidents that come to mind. During Watergate, we had just released a week of strips about Nixon aide John Ehrlichman when he abruptly resigned. The syndicate had to recall the full week. Ehrlichman later wrote me a letter apologizing for the inconvenience.
The second recall took place following 9/11. We had just shipped a week of strips wailing on Bush. An attack on the president at that moment felt wildly inappropriate, so we reeled them back in and sent out some replacements.
Does it bother you that during this election cycle that Doonesbury has spent more time covering the wars in Afghanistan and Iraq than most of the rest of the media has?
I'm not sure I agree with your premise. There's been some awfully good reporting coming out of both Afghanistan and Iraq. What does bother me is that our foreign wars are not center stage as a campaign issue. How is that $100 billion a year and hundreds of lost lives don't merit the same cost/benefit scrutiny that TARP does?

Newspapers have had a tough time in the last few years. Is there anything you think print media must do to stay alive?
If I knew, a lot of people would be beating a path to my door. We've lived with this problem for a long time, and everyone agrees we have to figure out a way to reconnect content with value. The New York Times is about to install an online paid model. Maybe they'll pull it off this time. The big lesson of the app phenomenon is that with the right match of platform, content and ease of payment, a new set of consumer expectations can be created. Billions of apps have been sold. Who saw that coming?
All photos courtesy of Andrews McMeel.
Popular in the Community