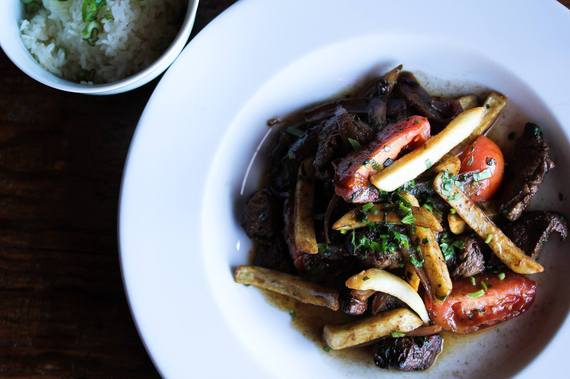 To explore Hollywood is to dig deeper. Slip off of the Sunset Strip. Hide from Hollywood Boulevard. Discover Peruvian cuisine on Vine Street at Los Balcones. From its inception 10-years ago by owner, Jorge Rodriguez Assereto, the intimate yet airy location brings Angelenos a full array of flavors from various parts of Peru. Fresh seafood and precisely prepared meats open one's eyes to south south south of the border. Additionally, fresh from tenured mixologist and Balcones Director of Beverages, Joel Black, chose all the spirit, beer and wine fixtures. Then employing seasoned barkeep and Los Balcones Bar manager, Josh Suchan, to create the cocktail menu. In total, a delicious selection that peaks and fulfills our interest.
First, cocktails! Directly focused on the spirit of Peru, the menu consists of Aromatics to Sours to Pisco Punches. Our party of three started with a traditional staple Pisco Sour, the Pichuberry Cooler with Aviation Gin, and flavorful Peruvian lager, Cusquena. The Sour is a regional classic, employing the native pisco spirit that is distilled from grapes and can effectively substituted for vodka and tequila. (Keep an eye out for Balcones' monthly Pisco Society tastings to learn even more about this under-the-radar booze). Then there is the cuisine...
Every dish clarified to the multi-layered beauty that is Peruvian fare. The Choritos dish hails from the Port City of Callao where mussels abound; widely consumed along the vast Peruvian coastline. Freshly steamed mussels, diced onions, tomatoes, lime juice, chopped rocoto pepper and fresh cilantro makes for a spectacular starter. With over 1,500 miles of coastline, seafood plays a big part of any Peruvian menu.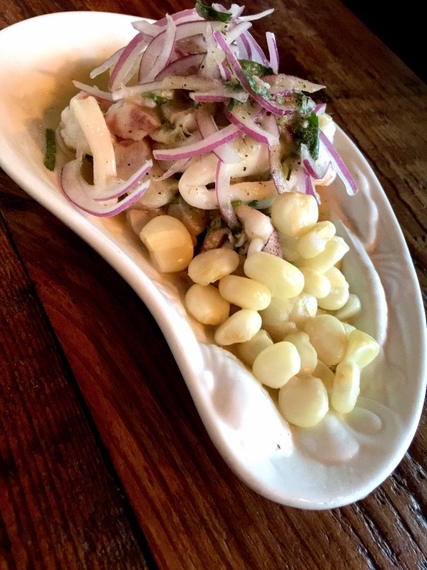 The Lomo Saltado and the Ceviche Mixto rose high on our list of several favorites. For these two, the flavors and preparation derive influence from Peruvian and Chinese cultures, combining native Peruvian produce and Chinese cooking techniques and condiments.
As a stir-fry, the Lomo Saltado includes slices of steak sautéed in a wok at a very high temperature. As the meat is seared, onions are added along with tomato wedges. When the onions start changing color, garlic and seasoning are included and the wok is deglazed with red wine vinegar and soy sauce. The dish is finished by adding a splash beef stock and chopped cilantro. Balcones serves this delight over a bed of french fries and a side of rice. As a note, if you want to enjoy the Lomo Saltado "Jorge Style", request an over easy egg on top. Giddy up! The freshness and contradiction to what one usually expects in a ceviche--finely diced seafood--the Mixto keeps its parts of striped bass, shrimp and squid whole, along with large-Peruvian corn. A true taste of Peru without the travel!
Calling all HuffPost superfans!
Sign up for membership to become a founding member and help shape HuffPost's next chapter