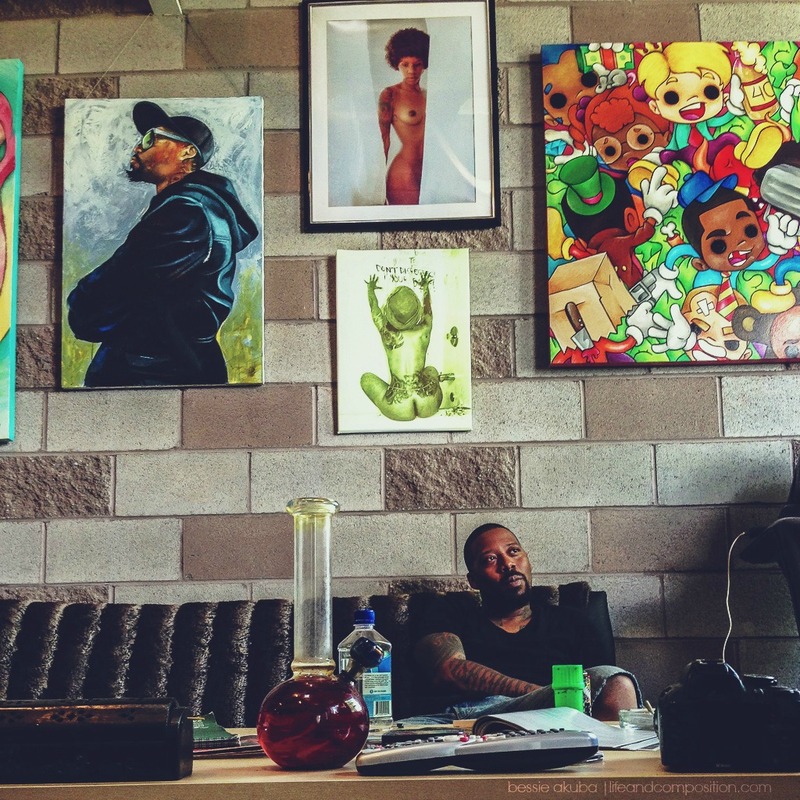 As soon as I walked into his private studio loft in Castleberry Hill, Atlanta's historic creative district, I felt like I was walking into an artist's oasis. Creative inspiration abound. This space was filled with light, paintings, sculptures, photography, paint, easels, books, movies, cameras, and more books. Pieces of art from other artist as well as this artist's own could be seen on the walls and some displayed on the floor leaning against walls. Then again, what more would you expect from an artist that is serious about his craft, right? This studio space belongs to< Miya Bailey, the Atlanta-based tattoo artist whose canvas is not just limited to the skin. Not only is Miya Bailey a tattoo artist, he's an illustrator, painter, film producer pioneer, and an inspiration to all creative professionals.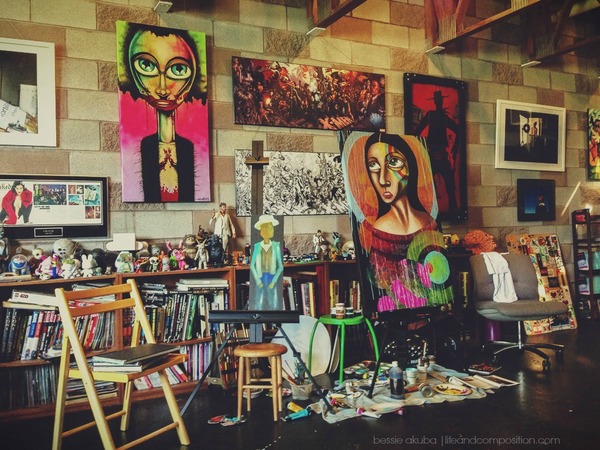 Originally from Asheville, NC; Miya Bailey opened his tattoo shop with Tuki Carter; the City of Ink in Atlanta's Castleberry Hill District. Clients like Usher, Rick Ross, pro skateboarder Stevie Williams have been inked by artist from City of Ink. Bailey has appeared on television lending his expertise on the Oxygen network's show "Best Ink", and is currently working on another television project slated to appear on the CMT network. Bailey is also the brainchild of the documentary film "Color Outside the Lines", a documentary that seeks to educate people on black tattoo culture, and destroy stigmas about the controversial, yet beautiful art form. Miya Bailey is a tattoo legend whose artistic style flows like water. It moves and it bends. It is fine art tattooing. You will not see anything like this by anyone else. And when you see it, you know Miya created it. And the same thing goes for his paintings.
While I was at his studio, Miya and I talked about everything from race and the tattoo community, gentrification of Asheville, NC, his community activism, his artistic influences, and some of his favorite places in the world to travel to (London). But one of the things that struck me the most about Miya was how giving of an artist he is. Miya has no problem with sharing information, time, and knowledge to his fellow artist. When it came to us discussing the Atlanta art scene, it became very apparent that Miya Bailey and City of Ink have created their community of progressive artist in and of themselves. I asked about some of his favorite artist; and Paper Frank and Corey Davis were among some of the artist that he named.
Throughout the year Miya Bailey and City of Ink hold several art shows in the Castleberry Hill community. As a matter of fact, they do the majority of the art shows and strolls in the Atlanta area. Bailey does not charge artists to submit their work. He even expressed how bewildering it is that Atlanta artist are given the opportunity to showcase their work at the City of Ink Art Shows--for free all while gaining a lot of exposure. Yet, with the amount of artist in the Atlanta area, it didn't make sense that they would not be receiving more submissions than they were.
There are thousands of tattoo artist who are doing wonderful work . However, there are not many like Miya Bailey who possess the gifts that Bailey shares with not just the creative community, but with the world as a whole. Whether you follow him on instagram, twitter, watched him on television or film, or have been tattooed by him; you'll walk away learning something. Whether it's something about art, himself, or even yourself. Bailey is one we can all learn from. He's a teacher, the artist's artist, the peoples artist.
REAL LIFE. REAL NEWS. REAL VOICES.
Help us tell more of the stories that matter from voices that too often remain unheard.