COLUMBIA, Mo., Nov 11 (Reuters) - Two white men were arrested on Wednesday on suspicion of making threats on social media against black people, two days after the University of Missouri's president and chancellor stepped down amid protests over their handling of reports of racial abuse.
Tension was still high on the main Columbia campus, where there was a greater-than-usual police presence. Several students leaving the area said they felt unsafe.
Police arrested Hunter Park in Rolla, Missouri, which is about 95 miles (150 km) south of Columbia, at about 1:50 a.m. local time (0750 GMT). Early Wednesday afternoon, police also arrested Connor Stottlemyre, 19. Both made threats on "Yik Yak," a social media site, officials said.
Park is a sophomore at Missouri University of Science and Technology (S&T) in Rolla, which is part of the University of Missouri System, according to a spokeswoman at the Rolla campus. He is studying computer science.
Police said Park's threats had circulated on social media, including Yik Yak, where an anonymous post tagged 'Columbia' late on Tuesday read, "I'm going to stand my ground tomorrow and shoot every black person I see."
"Some of you are alright. Don't go to campus tomorrow," another post read. "We're waiting for you at the parking lots," read a third post. "We will kill you."
Stottlemyre, a student at Northwest Missouri State University, was arrested by campus police in Maryville, Missouri, for threatening violence against blacks. It was not clear if it was also inspired by the turmoil at University of Missouri-Columbia.
Stottlemyre was being held at the Nodaway County Jail on Wednesday evening, but had not yet been charged, said London Newkirk, a jail official. Northwest Missouri State University police were investigating.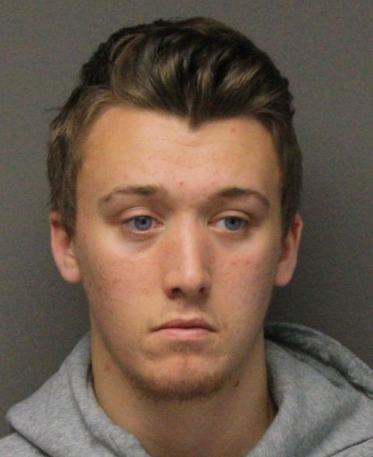 Yik Yak is an anonymous social media app that allows users to create and view posts within a 5-mile radius. Yik Yak spokeswoman Hilary McQuaide said the company worked with police to identify Park, saying it may do so when a post poses a risk of imminent harm.
"Threats of violence of any kind are not tolerated," said Cheryl Schrader, chancellor of S&T, in a statement on Wednesday.
Park is from the St. Louis suburb of Lake St. Louis, Missouri, according to jail records.
He was arrested at an S&T residence hall by university police under Missouri law which prohibits communication of a life-endangering threat to at least 10 people. He was transported to Columbia and is being held at the Boone County Jail on $4,500 bond.
Park's initial arraignment at the Boone County Courthouse is set for Thursday afternoon, according to a spokesman for the jail. No attorney was listed for Park in the jail records.
On Twitter on Wednesday, the hashtags #PrayForMizzou and #BlackOnCampus were trending in the United States, and many postings highlighted the anonymous threat on Yik Yak. "Mizzou" is the colloquial name for the University of Missouri.
Despite the police presence on campus, a few students decided to go home because they felt unsafe, students told Reuters. One described the campus as a "ghost town" with buildings closing early and normally crowded tables outside restaurants near campus being empty.
University authorities said classes were operating on schedule. However, some professors, acting individually, canceled classes. Other teachers gave students the option of not attending classes.
Bradley Smith, a graduate instructor of English, took to Facebook on Tuesday night to cancel his class.
"By holding class at our regular time, I would be forcing my students who do and probably should feel threatened, to implicitly disobey me in order to protect their lives by not attending my class," he wrote.
Some students expressed frustration and anger at the school for not officially canceling classes on Wednesday and downplaying the threat, students told Reuters.
On other U.S. campuses, peaceful marches or walkouts have taken place this week, over what some demonstrators see as soft handling of reports of racial abuse on campuses.
Soon after Missouri President Tim Wolfe announced he would step down on Monday, a crowd of more than 1,000 gathered peacefully at the Afro-American Cultural Center at Yale University in New Haven, Connecticut, for a "March of Resilience," in solidarity with Missouri.
The crowd sang and chanted for an end to racism on campus. The issue has been in focus at Yale after a fraternity turned away black guests at a Halloween party, saying, according to reports at the time, that only white women would be admitted.
A walkout organized by a student group called People of Color at Ithaca College, a private school in upstate New York, took place on Wednesday afternoon, attracting hundreds of demonstrators demanding the resignation of Ithaca President Tom Rochon. Rochon, like Missouri's Wolfe, has come under pressure for perceived soft handling of racial incidents on campus.
Students responded to chants of the school president's name by yelling "No Confidence!" They then performed a brief "die-in," lying down on the rain-soaked ground before marching down the center of campus.
Hundreds of students also walked out on Wednesday at Smith College, a women's private school in Massachusetts, in solidarity with students at the University of Missouri and Ithaca College.
Students at Yale University planned to hold on Wednesday evening a campus forum on race and diversity, as demonstrations continued at U.S. colleges over the treatment of minority students. (Additional reporting by Shawn Shinneman and Lakshna Mehta in Columbia, Missouri, Barbara Goldberg, Angela Moon and Melissa Fares in New York, Matthew Liptak in Ithaca, New York; Brendan O'Brien in Milwaukee, and Richard Weizel in New Haven, Connecticut; Writing by Ben Klayman and Mary Wisniewski; Editing by Bill Rigby and Lisa Shumaker)
PHOTO GALLERY
Mizzou Players Respond To Wolfe's Resignation
Calling all HuffPost superfans!
Sign up for membership to become a founding member and help shape HuffPost's next chapter