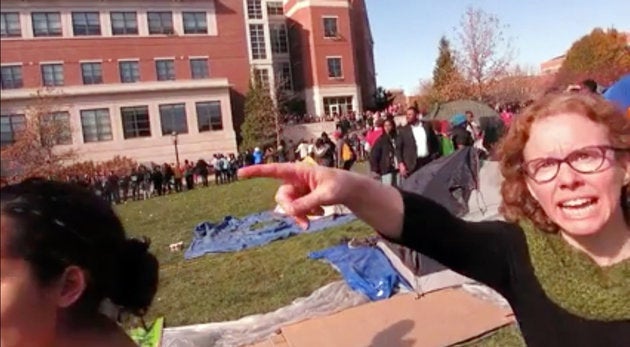 University of Missouri communications professor Melissa Click has been charged with third-degree assault -- a misdemeanor -- over an altercation with reporters on campus in November, the city prosecutor's office has confirmed. The prosecutor's office filed the charge Monday morning, after which the court is expected to issue a summons.
In a video that was widely shared online, Click was shown blocking reporters from a public space at the school's campus. Students, who had gathered following the resignation of the university's president over racial tensions at the school, declared the area a media-free "safe space."
Click can be heard telling a reporter to "go away" before grabbing his camera, then asking for backup. "Hey, who wants to help me get this reporter out of here? I need some muscle over here!" Click says on the video.
Click's actions sparked a national outcry, raising concerns about press freedom on the campus. The University of Missouri School of Journalism met to discuss revoking Click's "courtesy appointment" at the school, but Click resigned before the panel reached a decision. She later issued an apology.
"I regret the language and strategies I used, and sincerely apologize to the MU campus community, and journalists at large, for my behavior, and also for the way my actions have shifted attention away from the students' campaign for justice," Click said in a Nov. 10 statement.
"The City Prosecutor obviously had a lot to weigh," Schierbecker said. "I'm happy an informed choice was made rather than an expedient one."
Click did not immediately respond to a request for comment Monday.
Related
Popular in the Community