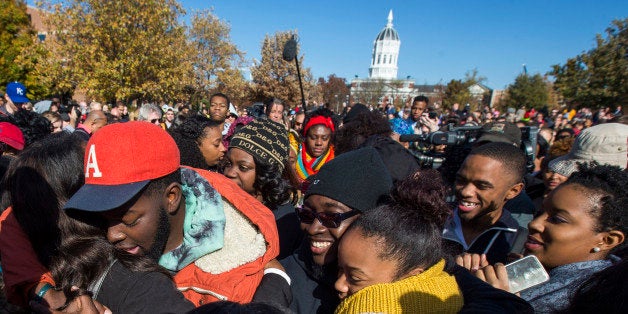 It's a good day to be a Missouri Tiger.
I've been closely watching the racial unrest at my alma mater, the University of Missouri, where Tim Wolfe stepped down Monday as president amid criticism of his handling of social injustice issues on campus. Hours later, Chancellor R. Bowen Loftin announced he is leaving his post at the end of the year.
The campus movement started small with a handful of students, then a hunger strike, and finally, along came big Missouri football.
Head coach Gary Pinkel announced that the entire team, its coaches and staff would suspend all official football activities, including Saturday's game, until Wolfe resigned. This was huge and thrust the issue into the national spotlight, because, let's be honest: money talks and there's a lot of money tied to the football program.
When Pinkel tweeted a photo of the team, it gave me chills. Seeing all those young black and white men, linked arm in arm in solidarity was the epitome of One Mizzou.
People of color can't be the only ones protesting racial injustice. I remember after the deaths of Mike Brown and Eric Garner, tears sprang to my eyes as I saw many white people taking to the streets to protest.
It made me feel like my country liked me and that my fellow (wo)man, regardless of color loved me. As a black woman, that's not something I feel everyday. I don't obsess over people not liking me or my skin color, but I do cherish the moments when those who are different than me, support me and those like me.
The football team picture was indeed one of those moments. However, there have been reports on how not everyone on the team supported the boycott. I'm sure there's plenty of white students and faculty who don't support Wolfe's resignation. However, I do know that on this day, Missouri came down on the right side of history.
Racism has been part of Mizzou since the first of its iconic columns was erected. When I was a student, there were incidents of white students calling us the n-word or we'd hear about the occasional noose left outside a black student's dorm room. I also remember one Super Bowl party where a white "friend" screamed racial epithets at the TV, only to stop when he remembered there were two black people in the room.
I can only imagine what it's like now. Across our country, we're talking more about racism in the wake of the #BlackLivesMatter movement. And these much-needed conversations can make people uncomfortable, put them on the defense and some tend to act out with racial slurs and fecal swastikas. Couple this type of backlash with the anonymity of social media, there's been a lot of hate speech this year in and around Mizzou.
Some students have said they don't feel safe on campus, but hopefully with Wolfe and Loftin's departures, school administrators can get to work on substantive changes. After all, Wolfe's resignation was just one of the demands made by the campus group, Concerned Student 1950. The group is named after the year the university admitted its first black student, and it is calling for an increase in black faculty and staff, more funding for the campus counseling center and a comprehensive racial awareness program.
And Jonathan Butler, the student who had been on a hunger strike, tweeted "this is only the first step! More change is to come!!!"
Calling all HuffPost superfans!
Sign up for membership to become a founding member and help shape HuffPost's next chapter