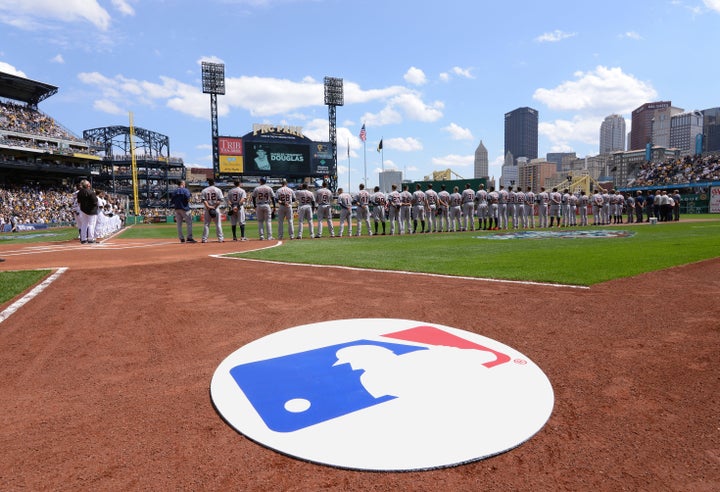 Major League Baseball and its players union on Friday announced a new domestic violence policy, giving commissioner Rob Manfred sweeping powers to discipline players who commit acts of domestic violence, sexual assault or child abuse.
Under the new policy, Manfred will have the authority to investigate allegations of these acts, and will also have the power to hand down whatever "discipline he believes is appropriate in light of the severity of the conduct." There are no minimum or maximum standard punishments.
MLB and the MLB Players Association began working on a new policy to address domestic violence and related crimes last year, in part because it did not want to get caught in the same position as the NFL and commissioner Roger Goodell, who was widely criticized for the way he handled the domestic violence case involving former Baltimore Ravens running back Ray Rice.
The full policy can be read here:
A new Joint Policy Board, which will include representatives of MLB and the union alongside experts in domestic violence, sexual assault, and child abuse, will develop a treatment plan for players and evaluate and supervise them once they are subject to it. The policy board could require players to heed court orders and limit interaction with their partners. It could also force players to give up weapons or to adhere to "other reasonable directives designed to promote the safety of the player's partner, children, or victims."
Manfred will have the authority to place players on paid administrative leave for up to a week while his office investigates cases, and the commissioner will have the discretion to wait until the conclusion of criminal proceedings to issue final discipline.
Manfred will also be able to issue punishment regardless of any criminal conviction, while players will have the ability to challenge their case in front of an independent arbitrator. That is a key difference from the NFL, where Goodell serves as the arbitrator in appeals, and it could help baseball avoid the type of fights that have taken place in football. 
The policy will also implement regular education programs for Major League players about domestic violence, sexual assault, and child abuse, establish a 24-hour help line for players and their relatives, and provide resources to everyone in baseball and their families. It also includes plans to increase community outreach, which some Major League teams have already done.
Calling all HuffPost superfans!
Sign up for membership to become a founding member and help shape HuffPost's next chapter