Ja'nae Wray dug into the left-handed batter's box on a field at Major League Baseball's youth academy in Compton, California, Friday afternoon, her bat raised just above her shoulder as she waited for her pitch. A belt-high fastball came toward her, and she unleashed, hammering a three-run home run over the center field fence.
Not bad for someone who'd never played organized baseball before.
Wray, a 12-year-old from Douglasville, Georgia, was one of 100 girls who traveled to Compton last weekend to participate in the inaugural Trailblazer Series tournament, an all-girls youth tournament organized by MLB and USA Baseball (the sport's American governing body) to help pave the way for a new generation of girls to play the sport.
Until this weekend, MLB had never made such a direct investment in girls baseball, let alone hosted an all-girls youth tournament. But MLB Commissioner Rob Manfred has made growing youth baseball a priority for his league since taking over in 2015, and MLB and its players union that year announced they would jointly spend $30 million to increase baseball and softball participation across the country.
The Trailblazer Series, which concluded Saturday, existed alongside those efforts. Along with USA Baseball, MLB covered the travel costs of each player who attended the four-day event.
The aim was to grow girls' participation by showing them that baseball is for girls, too. Before coming to Compton, "I didn't know girls played baseball," Wray said.
But at the high school level and below, girls are often pushed away from baseball and toward softball, under the guise that the two diamond sports are gender equivalents. They are not: Federal courts have ruled that, under Title IX, the federal gender equity in education law, baseball and softball are separate sports, and that girls cannot be denied access to baseball just because a school has a softball team.
But the perception that softball is baseball for girls is powerful: Almost half a million boys, but just 1,290 girls, played high school baseball in 2016, according to the National Federation of State High School Associations.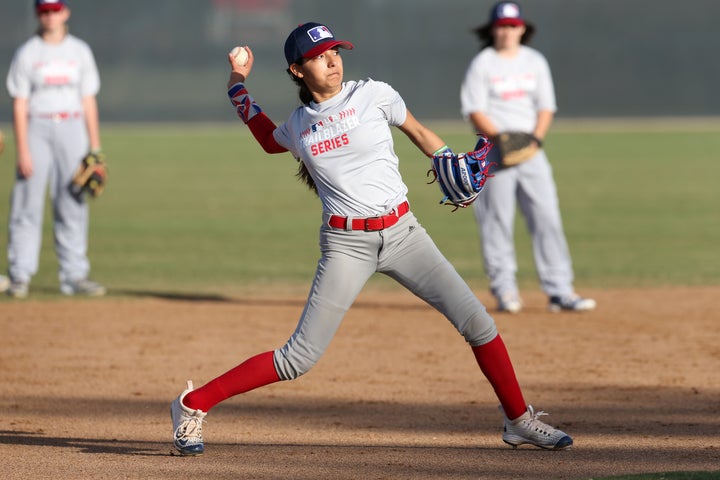 MLB's involvement could begin breaking down those barriers. Veronica Alvarez, a catcher on the U.S. women's national team, started playing baseball when she was 5, only to end up on a softball field through high school. Only later, when she discovered the existence of the U.S. women's team, did she return to baseball.
An event like the Trailblazer Series "would have kept me in the sport," said Alvarez, who coached at the event. "I would have seen that there are other girls here."
"I appreciate the experiences I had in softball," she added. "But I wish those experiences could have been in baseball."
That has begun to shift perceptions of women in baseball, said Jennie Finch, who won an Olympic gold medal pitching for the U.S. women's softball team and is now a youth ambassador for both softball and girls baseball at MLB.
"They're growing up listening to Jess Mendoza and seeing Justine Siegal coach," she said. "The next generation, it's not even going to stand out. It's going to be the norm."
But connecting the momentum in MLB to lower levels will require years of targeting youth baseball, and MLB's direct involvement in it ― through the Trailblazer Series or other initiatives that may follow ― could lead to a "major breakthrough," said Marti Sementelli, a pitcher on the women's national baseball team who coached at the tournament.
"They're a powerhouse. It gives us more opportunity to do more things," Sementelli said. "We've always said we wished MLB would be a part of it."
"This has opened our eyes a bit. The response has been great," said Kim Ng, a senior vice president at MLB. "By virtue of having the two big actors in this landscape ― between MLB and USA Baseball ― I think that sends a clear and resounding message that we're in."
Wray, at least, is evidence that the tournament left an impact on the girls who participated. She plans to play both baseball and softball when she goes back to Georgia ― in Compton, she met another Georgian who plays on an all-girls travel team she hopes to join.
"I didn't know there were girls teams," Wray said. "I didn't know there was a USA Baseball team. Now I'm really interested in it. It showed me that a lot of other girls play baseball, and I can play too."
Calling all HuffPost superfans!
Sign up for membership to become a founding member and help shape HuffPost's next chapter
BEFORE YOU GO
PHOTO GALLERY
PHOTOS: Wild MLB Celebrations