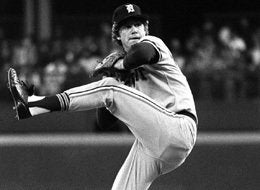 Bookended by the Rockies at 11, and the Blue Jays at 20, the middle of the first round is as up in the air as ever. Now, we'll try and sort through this cluster of talent in part two of the Huffington Post's draft preview.
* Denotes a compensation pick.
11. Colorado Rockies -- Mike Leake, RHP, Arizona State
The Buzz: This Sun Devil has absolutely dominated the Pac-10 conference as he currently boasts a 13-1 record to go along with a sparkling 1.35 ERA in 106 2/3 innings this season. He does not have extraordinary stuff, but he's a command pitcher with four pitches and a guy who knows how to get hitters out.
12. Kansas City Royals -- Tanner Scheppers, RHP, St. Paul Saints (Independent)
The Buzz: Scheppers has steadily risen in the draft rankings in recent weeks. He has been lighting up radar guns in Indy ball while easing worries about shoulder problems that caused him to slip in last year's draft.
13. Oakland A's -- Tim Wheeler, OF, Sacramento State
The Buzz: Tim Wheeler has been climbing up on draft boards as fast as anyone in this year's class. He's got a good combination of power and speed and plays a very good center field with an average arm.
14. Texas Rangers -- Matt Purke, LHP, Klein HS (TX)
The Buzz: The Rangers, already with an embarrassment of riches as far as pitching prospects are concerned, would be nothing short of thrilled if this native Texan fell to them at fourteen. Purke displays great arm strength and movement on his fastball, but he is very raw and might be tough to sign come draft day.
15. Cleveland Indians -- Rex Brothers, LHP, Lipscomb
The Buzz: Brothers currently ranks behind only Stephen Strasburg in strikeouts for all NCAA Division I pitchers and has seen his draft stock soar over the past few months. The Indians have an organizational need for young pitching, and this young lefty would help them immensely.
16. Arizona Diamondbacks -- Max Stassi, C, Yuba City HS (CA)
The Buzz: Stassi is a risky pick here because of signability concerns coupled with the fact that the D-Backs will have to dish out money for not just one but two first round picks (see below.) However, Stassi is the top prep catcher available with a very good all-around hitting approach, and he fills a major organizational need. Arizona would have a tough time passing him up if he's available here.
*17. Arizona Diamondbacks -- Tyler Skaggs, LHP, Santa Monica HS (CA)
The Buzz: The Diamondbacks have had great success with high school arms in the last few drafts, and Skaggs would be a good fit for them here. At 6-foot-5, he's got a low-90s fastball with life and two secondary pitches. Right now, he's a young, raw talent with lots of room for growth.
18. Florida Marlins -- Andrew Oliver, LHP, Oklahoma State
The Buzz: After a slow start to his 2009 campaign, Oliver has worked hard to rebound from it, although his numbers are definitely not where he'd want them to be this close to draft day. He still has a plus fastball and good upside, but not enough leverage to demand an unrealistic amount of money from the Marlins.
19. St. Louis Cardinals - Jacob Turner, RHP, Westminster Christian Academy (MO)
The Buzz: Turner will be one of the most talented pitching prospects available come draft day. However, he is already committed to UNC and it will likely take upwards of $7 million to deter him from heading off to college. It would be a big risk here, but I see the Cardinals rolling the dice on the hometown kid with a live fastball by selecting Tuner with their first round pick.
20. Toronto Blue Jays - Mike Minor, LHP, Vanderbilt
The Buzz: Like Oliver, Minor is another collegiate lefty who had a slow start to his season but has since done a nice job of rebounding. He currently has 98 strikeouts in 90 innings pitched to support a 3.90 ERA. According to Baseball America, five of the Jays' top six prospects are hitters, so they will likely look to go for pitching with this pick.

Calling all HuffPost superfans!
Sign up for membership to become a founding member and help shape HuffPost's next chapter