Scrapbooks are made for memorable moments. Within their treasured confines, they hold the highlights of lifetimes and preserve favorite pictures of milestone achievements. Baseball's All-Star Game is the perfect stage to fill those pages. The heroics of beloved stars, rising above their best-of-the-best peers, has garnished legacies and, in some cases, changed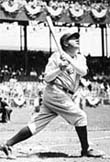 the game itself. It began with the very first All-Star Game in 1933 when baseball's biggest icon, Babe Ruth, fittingly swatted the first All-Star home run. The overwhelming popularity of that exhibition turned the midseason meeting of mammoths into a permanent showcase.
Eighty years later, fans still thrill to see which superstar will steal the show. "This is the company picnic of the baseball gods," says Mark Langill. "Their status magnifies the moments we remember." As the Los Angeles Dodgers' team historian, memory is Langill's stock in trade. "There are no typical plays in an All-Star Game," says Langill. "Every at-bat's a showdown, every great catch, a snapshot." Whether it's a single scintillating play or a career-capping day, it's a time when any team's player can shine, and we root for each other's as well as our own. And so, with a little help from Langill, in honor of the 2013 season, here's a look at a lucky thirteen Midsummer Classic memorable moments:
The screwball comedy films of the 1930's were filled with pratfalls, breakneck deliveries and unexpected twists. The baseball screwball is no different. "It's the great unexpected pitch," explains Langill, and its ruler was the New York Giants' Carl Hubbell. A lefty with a loose

wrist, King Carl's ability to twist it in the opposite direction of a curveball would leave batters gawking at the ball's unexpected break. At the 1934 game, Hubbell struck out five future Hall of Fame gawkers in a row as Babe Ruth, Lou Gehrig, Jimmy Fox, Al Simmons and Joe Cronin went down in order. "After Ruth's show of power cut the ribbon on the All-Star Game, the next year, a pitcher got revenge," says Langill. And in the end, future Hall of Fame Hubbell was the star left standing.
They called him "Leo the Lip." "He was known as a battler," says Langill of Brooklyn Dodger Leo Durocher," a real street-smart player. Give him an inch and he'd take a mile."

At the 1938 game, he did just that. Down by two, with two on in the seventh Durocher laid down a bunt. But third baseman Jimmy Foxx threw the ball into right field, where Joe DiMaggio then fired it home over catcher Bill Dickey's head. As the comedy of errors unraveled, the scrappy Durocher never stopped running, turning what should have been a sacrifice into a three-home-run bunt. The fluke play would win the game and presage Durocher's vocal managerial career. But as Langill points out, on the day of the bunt heard round the world, "Leo the Lip used his legs."
It was the year Ted Williams hit .406, and Joe DiMaggio's 56 consecutive-game hitting streak riveted the nation. But at midseason in 1941, the Red Sox and Yankee legends

would go from being team rivals to teammates. "It's as if the Hatfields and McCoys banded together," says Langill. "That's the All-Star Game spirit." But it was Williams, with his stoic study of the science of hitting, who came through in the end. With two out in the bottom of the ninth, the Splendid Splinter put good wood on the ball, hitting the first walk-off home run in All-Star Game history, scoring DiMaggio and himself to win the game. As Williams rounded the bases, he leapt for rarely displayed joy. "The hitting machine finally showed emotion," says Langill. The following year, the two legends would find themselves on the same side again, this time in uniform for their country.
With its arch-lined façade, New York's Citi Field, site of this year's All-Star Game, pays homage to Brooklyn's Ebbets Field as this year celebrates the centennial of its 1913

inception. It was by stepping on that field in 1947 that the Dodgers' Jackie Robinson changed the history of baseball, and by extension, race relations in America. But it wasn't until 1949 that Dodgers Robinson, Roy Campenella and Don Newcombe, and Cleveland Indian Larry Doby put the "all" in All-Stars. If Ebbets was the house of integration, then "they were the cornerstones," notes Langill. Offensively, the day belonged to Joe DiMaggio, but as Langill observes, "history was made as the cozy neighborhood ballpark suddenly became the stage for the world." And America's Game finally lived up to its name.
It was a sweltering day in 1962, but it wasn't until the sixth inning that things really heated up. That's when Los Angeles Dodger Maury Wills entered the game, pinch hit, stole

second and scored the first run. In the eighth, he singled, dashed to third on another single, and scored on a caught foul. While stars melted around him, Wills, flying like the wind, ran away with the game and the first All-Star MVP Award. And he didn't stop there, swiping Ty Cobb's stolen base record with a new mark of 104, and the League MVP Award with it. According to Langill, Wills's fleet feet "brought the stolen base back to baseball and made speed cool again." Considering the way Wills burned up the basepaths, that's very cool indeed.
Everyone knows the play: 1970, bottom of the twelfth in Cincinnati, the Reds' Pete Rose comes barreling home, flooring Indians catcher Ray Fosse to jar the ball loose and win the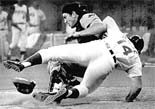 game. Years later, the debate continues: Did Rose really have to bowl Fosse over so brutally in an exhibition game? To Langill, the answer is obvious: "It was just another game for 'Charlie Hustle' because all-out was how he always played. This is all he knew. There wasn't a Plan B in him." The same can be said of Fosse, who stood his ground and didn't back down. Like Rose, Fosse played to win like the All-Star he was. The separated shoulder he suffered in that collision would have repercussions for the rest of his career. Perhaps the reason the play is so memorable is simply because of the professionalism and passion the two stars displayed, as Langill says, "In their moment, the game was real."
Before his post-season heroics dubbed him Mr. October, the Oakland Athletics' Reggie Jackson made a name for himself in midsummer. In 1971, Jackson had what Langill calls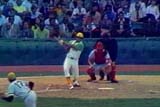 "his first Kodak moment," blasting a literally towering home run as it struck a light tower on the stadium's roof. Even as it turned off lights, it turned a spotlight on Jackson that would follow him from then on, no matter where he played. He was just one of six future Hall of Famers to hit home runs that day. "All that means is that it wasn't a Hall of Fame pitching exhibition," states Langill. But Jackson's home run was a sign of his Hall of Fame play to come. Says Langill: "That ball off the transformer also transformed the batter. It was his first big moment on the national stage, but it wouldn't be his last."
Exactly fifty years to the day of the first All-Star Game, the 1983 festivities returned to Comiskey Park in commemoration. There, Ruth's spirit hovered with a warning for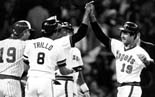 pitchers: "Be afraid. Be very afraid." The nail in the coffin came in the third inning when another lefty, this one living, came to bat. The preceding batter had been intentionally walked to load the bases. With his pride as big as the Babe's waistline, Anaheim's Fred Lynn took offense and hammered out the first All-Star Game grand slam. As Lynn rounded the bases, somewhere The Babe was having a beer. "It took an Angel to rekindle the ghost of Ruth," quips Langill, "and he paid Ruth's home run back with interest." To date, it's the only All-Star grand slam in history.
"In the regular season and playoffs, baseball's a team sport," notes Langill, "but the All-Star game was a chance for individuals to shine." And so came the Bo Jackson show of 1989.

Kansas City's five-tool player hit a monster lead-off home run, stole a base, and made a spectacular catch with two on and two out, all in the first inning. His RBI go-ahead run in the second was all that was needed to win. "He had already completed half the decathlon by the third inning," says Langill. "All that was missing were the goalposts." But not for long, as Jackson's "Bo knows" commercials, which brilliantly parodied his two-sport stardom with baseball's Royals and football's Raiders, played between innings. But as the saying goes, "The light that shines twice as bright, burns half as long," and soon after, Bo burned out.

"It was like watching Gulliver pitch with the Lilliputians bailing out of the batter's box." That's how Langill describes Randy Johnson's All-Star

appearances. At 6'10", the Seattle Mariner southpaw had a blazing fastball and a hard-breaking slider, leaving lefties lucky to be alive. The lefty lucky to live in 1993 was John Kruk of the Philadelphia Phillies. After Johnson buzzed him with some wild high heat, Kruk pulled at his jersey to the beat of his palpitating heart. Stepping back in, with his butt practically on the bench, Kruk flailed out. In 1997,

the sacrificial lefty was Larry Walker of the Colorado Rockies. After Johnson greeted him with an over-the-head missile, Walker, in a purely exhibition- inspired moment, turned his helmet around, along with himself, to bat from the right. Though he ultimately turned back and worked out a walk, the moral of the story in both cases is clear: How do you survive a flame-throwing giant? Duck!
In one of the most memorable pregame ceremonies in history, Ted Williams, "the greatest hitter who ever lived," was surrounded by adoring All-Stars past and present. But the 1999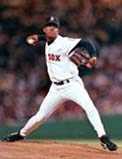 game at Fenway Park would be dominated by a Boston pitcher. Pedro Martinez dazzled batters, striking out the side in the first, ending with Sammy Sosa, and picking up where he left off in the second by striking out Mark McGwire. He was a K away from breaking Carl Hubbell's consecutive strike-out record when Matt Williams reached on an error, only to run into a strike 'em out/throw 'em out double play. "It was as if Boston's most storied hitter had passed the torch to their greatest pitcher," says Langill. "The last Red Sox pitcher to have that much mystique was Babe Ruth." Gazing on Pedro holding up his crystal star-shaped MVP Award, Red Sox fans had a chance to reflect on all the stars they'd seen that night - and thank their lucky ones.
Field of Dreams

"You can't write this stuff," is the saying most heard when real life trumps movie magic. But ever since the Baltimore Orioles' Cal Ripken, Jr. eclipsed Yankee hero Lou Gehrig's consecutive games-played streak, movie moments played as consistently as he did. The

2001 All-Star Game was no exception. Ripken came to bat as they played The Natural (cue music), doffed his helmet to the cheering fans (roll sound) and (...action!) launched the first pitch he saw for a home run (and the crowd goes wild!!). Langill reflects: "When a guy like that hits a homer, we all cheer because we all know what he stands for, so you applaud the person more than the home run and you're genuinely happy to give him the curtain call." As Ripken hoisted his MVP Award like an Oscar, it was obvious: Some stories are so good, they write themselves.
One year after the All-Star Game celebrated a player with the record for consecutive played games, baseball couldn't even finish one. The MVP play of 2002 could have been Torii Hunter's superhuman leap to rob long-ball Giant Barry Bonds of a sure home run. With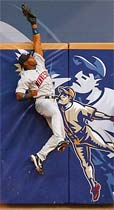 his outstretched glove above the wall, the Minnesota Twin looked like he had one, as his body perfectly aligned with the illustration of the flying fielder on the wall's padding. In what was possibly the showcase's last playful moment, Bonds slung Hunter over his shoulder in mock retribution. Ironically, after nineteen pitchers and eleven innings, that catch is what kept the score even. But despite the chants of "Let them play!" by the fans, one week after the passing of Ted Williams, the trophy renamed in his honor went unawarded.
"The tie suddenly woke people up and showed them how much they cared about the game," says Langill. As if to ensure it, it was soon declared that future All-Star Games would secure World Series home-field advantage for the winning league. Suddenly a team's season of superiority lost its meaning. The following midseason, a new slogan was touted: "This time it counts," as if it hadn't before. (Tell that to Ray Fosse.) But as devoted fans of baseball know, the Midsummer Classic is more than just the final score. It's Pie Traynor stealing home, and Ted Williams's eefuce pitch-hitting prowess. It's Stan Musial's twelfth inning walk-off homer, and a Willie Mays tour-de-force day. It's an Ichiro Suzuki inside-the-park home run, and Mariano Rivera, standing alone on a diamond field, basking in the glow of the baseball world's gratitude. The All-Star Game is all this and more. For as Langill says: "Great players in their glory will always play their best." And when they do, they make memories worth saving.

For more on Ted Williams, Joe DiMaggio and the historic All-Star Game of '41, go here. For highlights of the 2012 MLB season, go here. For more superheroes of baseball, go here. To learn about the banning of Buck Weaver and Pete Rose, go here. To read Devra Maza's Hall of Fame poem, "The Great Greg Maddux" go here. For more on the author, visit www.devramaza.com.

Photos credits: Ruth, Williams, Ebbets All-Stars, Wills, Rose/Fosse, Reggie Jackson, Bo Jackson, Johnson, Kruk, Ripken, Rivera, Musial/NL All-Stars, courtesy of AP; Hubbell, courtesy of SF Giants; Durocher courtesy of LA Dodgers; Lynn, Walker, Martinez, Hunter, courtesy of Getty Images.

Star Trek: What's your favorite All-Star Game moment? Should the All-Star Game victory determine home-field advantage in the World Series? Tell us in Comments.
Popular in the Community