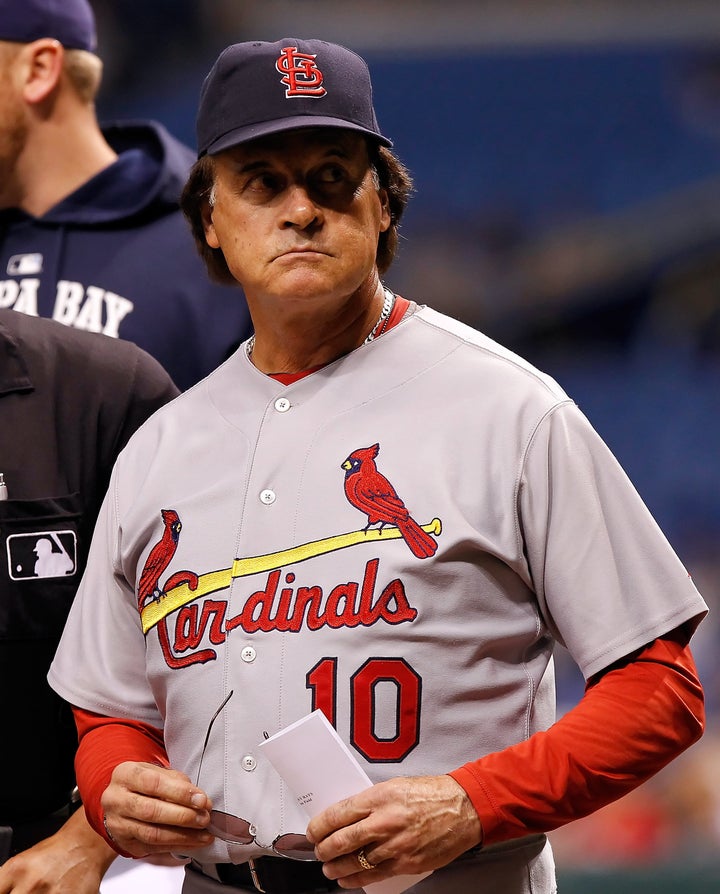 I recently caught up with St. Louis Cardinals Manager Tony LaRussa -- the truest of baseball men -- last week to speak about Albert Pujols' contract talks (or lack thereof), his ongoing relationship with Colby Rasmus and the importance of Chris Carpenter in the second half.
LaRussa on Pujols: "Publicly and privately, I don't think there's much going on. I think they're going to play the season and see what happens. I love him like a son and I want whatever is best for him, but I also have great respect for this organization. The best of both worlds, he would stay here but it's got to be a deal good for him and the organization, and I don't know whether that's possible or not. I know their going to try."
LaRussa on his relationship with Rasmus: "That was overplayed from the beginning. Things didn't go right from the beginning. He was immature and wanted to be traded."
LaRussa on Rasmus' development: "He is at .250 and clearly trying to pull the ball. [Down the road], he could be a major force; he's got plus ability."
LaRussa on Chris Carpenter: "His numbers have been deceiving because he picked up three or four losses when he was shutting them up until 6 or 7 innings, but he's throwing well. I wish we had four more like him."
Staying on the senior circuit...
It's great to see Andrew McCutchen finally made the All-Star team. Honestly, I'm not sure how many realistic candidates the Pirates have had since Roberto Clemente and Willie Stargell donned the Bucco black and yellow, but McCutchen is more than worthy. The fans should be ashamed for not voting him in. This is just another reason why All-Star voting is a sham.
Aside from the fact that there is a severe dearth of center fielders in the NL this season, the Pirates' young thoroughbred has not only raked in stats (.291 BA, 14 HR, 54 RBI, .894 OPS), he has also become a nightly highlight reel. Plus, with his clutch hitting (.307 with runners in scoring position), he has Pittsburgh in legitimate playoff contention at 47-43; a place they haven't been since Barry Bonds took them there in 1992.
On another note, Tommy Hansen not getting All-Star honors is a complete joke. Hansen has an impressive nine wins to go along with his 2.62 ERA ranking (fourth in the NL), while striking out 97 batters in 89 1/3 innings. Opposing batters have a .193 average against him. Now, I understand why NL Manager Bruce Bochy took his two guys -- Tim Lincecum and Matt Cain -- but as great as Ryan Vogelsong's story may be, Hansen deserved the nod.
Plus, check out my brand new HuffPost sports blog, The Schultz Report, for a fresh and daily outlook on all things sports.
REAL LIFE. REAL NEWS. REAL VOICES.
Help us tell more of the stories that matter from voices that too often remain unheard.