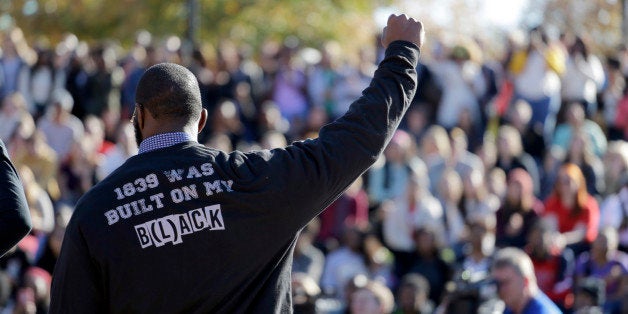 As I reflect on this year's MLK day, I am taken back many years. I was a young teenager living in a suburb and learned that a black family purchased a home a couple of miles from my home. When the neighbors learned that the family was black they tried to buy the house to prevent the family from moving in. The neighbors were unsuccessful but their actions bothered me, and I soon joined a group named the Congress on Racial Equality.
On a hot and muggy August day, I was one of the 250,000 people gathered on the Washington mall in D.C.--the largest such gathering in history--to speak out in support of equality for all. I was standing at the foot of the Lincoln Memorial when Dr. King gave his famous "I Have a Dream" speech. What I remember more than the speech is seeing thousands of people of all colors and races, religions and economic backgrounds, joining hands and singing the civil rights movement's national anthems.
For the nation it was a pivotal event, and within a year the Congress and President responded by enacting the most sweeping civil rights act in our history. For me personally, it was a defining moment, convincing me that I would someday go to law school and become a civil rights lawyer.
As I look back it is clear that we have come a very long way toward equality and justice since that day over 50 years ago. Yet, as I look around, I realize that there is still much work to do. It is sad for me to say that too often today we witness a world where differences are used as justifications for hatred, for injustice, and for violence. Racial, ethnic, cultural, religious, gender and economic differences are literally tearing apart the world.
During the past semester we have witnessed unrest over racial issues on campuses across the country. While the demonstrations have been sparked by specific incidents, they represent much deeper, widespread and real concerns. In the past decade, colleges and universities have become more diverse, not only with respect to race but also across cultural and ethnic lines and with respect to gender identity. This diversity is a wonderful development. But, in many instances much more effort has been focused on increasing the number of students who add to diversity and less attention has been directed to ensuring that all students feel welcomed and included on their campuses.
The current campus demonstrations also occur within a larger national and international context. Vivid racial events over the past few years remind us once again of our continuing national struggle to address racial injustices. Recent debates over immigration highlight the discomfort with cultural and religious differences. Similarly, the battles over gay marriages underscore the uneasiness with differences related to gender identity. We are hearing politicians who use fear as a justification to fuel hatred rather than understanding.
It is clear that the growing interconnectedness of the world will continue to highlight the differences that exist throughout our local, national and global communities. As one writer observed, "Difference has now become part of the texture of daily life. . . . That can be an enriching experience or a threatening one."
Over the years, I have come to the conclusion that one of the most important roles for higher education is to prepare students to live and work with people who are different from themselves--to make sure that difference is viewed as an enriching experience rather than a threatening one. We are preparing future leaders who are the hope for much needed change. To create that change, however, students must have the skills and understanding to foster interdependence.
How do we do this in higher education? First, we must start with a common understanding and agreement that preparation of students to view difference as a positive, enriching experience, is indeed a core mission of a great education. Second, we must create a campus community that has the richness of racial, cultural, religious, gender and economic diversity among its students, faculty and staff. Finally, we must create curricular and co-curricular programs that emphasize our diversity as well as our interdependence and commonalities.
This is not an easy challenge. It requires that our commitment to diversity rise above lip service and become part of the very fabric of the school. It requires work, and sometimes hard work that involves a level of discomfort.
In addition to committing to development of a plan to ensure that we attain our objectives with respect to diversity and inclusion, I ask that each member of our campus community commit to speaking out when he or she sees incidents of intolerance. Each of us has a responsibility to speak up if we see our friends and colleagues behaving in a manner that is inconsistent with respect for the dignity of others. Silence is not an option if we are truly committed to creating an inclusive campus. Indeed as King said: "Our lives begin to end the day we become silent about things that matter."
One of Dr. King's central concepts is the beloved community. The ultimate goal of that community is a truly integrated society, which King maintained would not come simply through tearing down the walls of segregation but rather would emerge only when people of all races and classes recognized their interdependence. And, such interdependence requires us to recognize and celebrate our many differences, while at the same time understand our commonalities.
Related
Popular in the Community