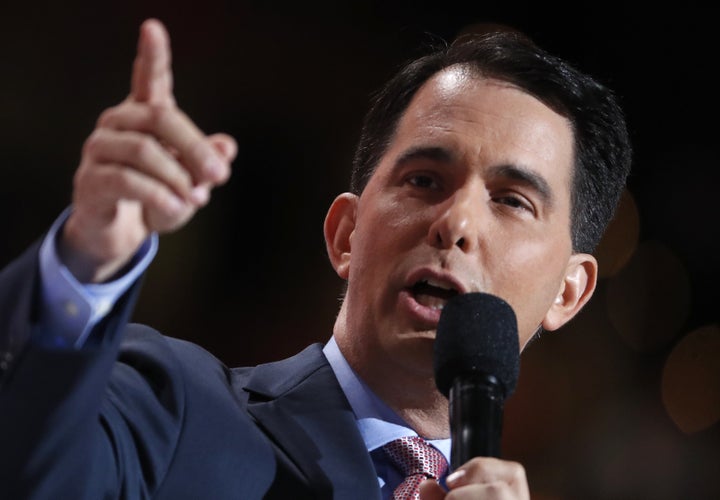 Politicians across the U.S. marked Martin Luther King Jr. Day this year by sharing photos of the civil rights hero and remembering his fight for equality. Some of the people paying tribute did so despite having actively fought against the causes that Dr. King championed.
Still, Walker tweeted on Monday that he was honoring "the life and legacy" of King.
Florida Gov. Rick Scott (R) also paid tribute to King, despite his own voter suppression controversies. Scott was criticized by civil rights advocates in the weeks leading up to the 2016 elections for refusing to extend the voter-registration deadline even with a hurricane looming over the state.
"Everybody has had a lot of time to register," Scott said. A federal judge soon reversed that decision, along with a Florida law that put strict standards on mail-in ballots. U.S. District Court Judge Mark Walker called the law an "undeclared war on Floridians' right to vote."
It's hard not to wonder what Dr. King, who once said that "we must live together as brothers or perish together as fools," would have thought about the vice president-elect's record.
Trump also infamously pledged to ban Muslims from entering the country, accused Mexico of sending "rapists" to the U.S. and has nominated for attorney general Sen. Jeff Sessions (R-Ala.), a man who was once deemed too racist for a judgeship position. (Coretta Scott King, Dr. King's wife, even wrote a scathing letter opposing Sessions' 1986 nomination.)
Despite this, Trump, who has received the enthusiastic endorsement of white supremacists, urged Americans on Monday to celebrate King and "all of the many wonderful things that he stood for."
Popular in the Community