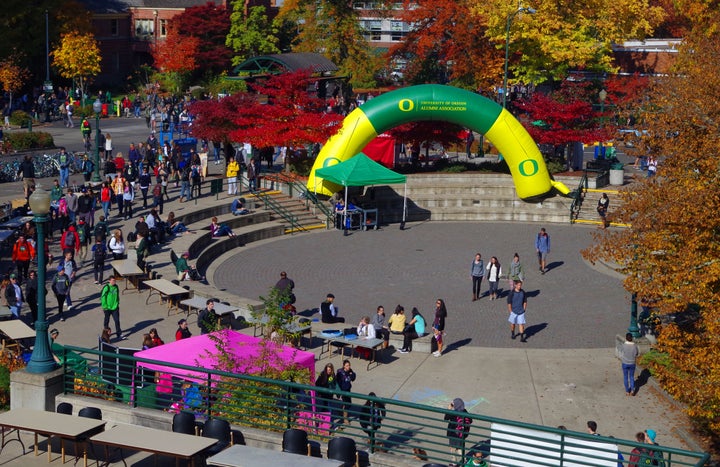 Multiple news outlets reported in the past two weeks that students at the University of Oregon nearly removed a Martin Luther King Jr. quote from a campus building because it was not inclusive enough.
But because the article said the student union board gave it "some hard thought," and that one person had raised the question of whether there's a better quote out there, a bunch of outlets decided that meant the union debated yanking the quote for lack of inclusivity. 
To write that story, the outlets needed a reason why the quote would be pulled. They decided one student quoted in the article, a sophomore named Mia Ashley, would be their explanation. She opined to the Daily Emerald, "Diversity is so much more than race. Obviously race still plays a big role. But there are people who identify differently in gender and all sorts of things like that."
The Daily Beast, Fox News, Reason, Reason (again), the Washington Times, the National Review, Inquisitir, the Daily Caller, Mediaite, the Daily Mail, the Weekly Standard, the Blaze, Town Hall, Hot Air and the New York Post, as well as a bunch of smaller blogs, all wrote that the University of Oregon had a serious debate about removing the MLK quote for not being inclusive enough. Bill O'Reilly mentioned it briefly on air last week. Even Mic, a news website that generally tilts progressive, wrote up the story incorrectly.
Every single one of them was wrong, and none of the writers -- besides those for FoxNews.com -- made any apparent attempt to verify whether there actually was a debate about the MLK quote needing to go. 
But it turns out Mia Ashley is not even involved in the student union board. She was just a student that the reporter contacted to get another opinion. We know this because The Huffington Post actually reached out to Ashley for comment. 
"There was no effort to get it removed, because I don't want it removed," Ashley told HuffPost. "I never said I wanted it removed. The quote is excellent, and using a Martin Luther King Jr. quote to comment on diversity is a no-brainer."
Since Ashley wasn't involved in the discussion by the EMU board, HuffPost contacted other students and staff on campus who actually were present for the brief conversation about the MLK quote. 
"The quote came down during renovation, and is going back up in a couple weeks," said Laurie Woodward, director of the EMU, when HuffPost first contacted her on Jan. 27. "Not really a story, at least I don't think so."
According to people involved in the decision, the Erb Memorial Union Board, which is made up of a mix of staff members and students, met in March 2015 to talk about where to place the "I have a dream" quote when construction finished. A student member of the board asked whether the quote represented the campus now, but no one took it as a suggestion that the board should not put it back up, and board member Miles Sisk said he couldn't emphasize enough how short the discussion was about it. 
"After a very, very, very brief conversation, everybody decided the MLK quote was going to stay," Sisk, a senior at the university, told HuffPost. "It wasn't raised to suggest that [the quote] wasn't good enough or anything. It was more of a philosophical question by someone on the board."
How astounding that an institution of higher learning would hold a philosophical discussion about how we should think of great quotes decades after they are spoken. But we digress. 
What many news outlets portrayed as another example of political correctness run amok on a college campus was actually just one student asking a hypothetical question, and a discussion about it ending a minute later.
No one ever pushed to remove the quote at all.
To quote Gertrude Stein, "There is no there there." Just an assumption that college campuses are hotbeds of oversensitive children, followed by a journalistic failure to ask basic questions.
Calling all HuffPost superfans!
Sign up for membership to become a founding member and help shape HuffPost's next chapter