The Rev. Bernice King believes that if her father, the legendary Dr. Martin Luther King Jr., were to reflect on the state of race in America today, he wouldn't express shock or surprise.
"He would be disappointed that America as a whole did not take heed to some of the things that he encouraged us to do as a nation, which was to wipe out the last vestiges of racism," King told The Huffington Post.
Her father's wish may have been a tall order, but it was one he believed was possible to achieve, in large part, through unconditional acts of love and kindness. As we enter a political era that has welcomed racism, King says now is a time, more than ever, for all Americans to reflect on and uphold these lessons in achieving equality that her father proudly preached.
"Daddy taught us through his philosophy of nonviolence, which placed love at the centerpiece, that through that love we can turn enemies into friends," she said. "Through that love, we can create more dignified atmospheres."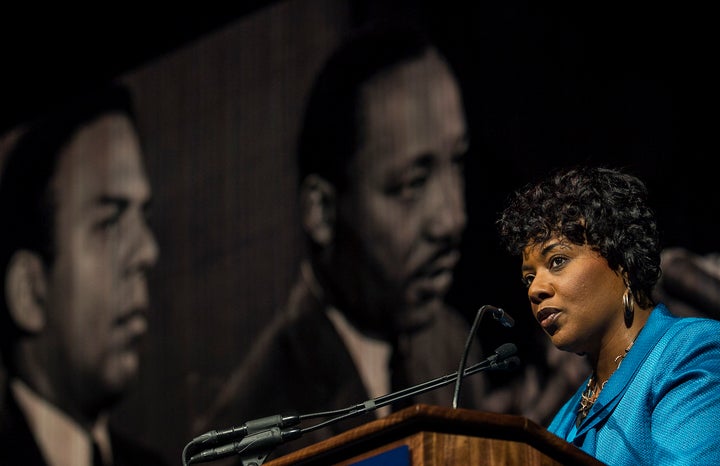 The elder King rose to prominence in the civil rights era of the 1960s, during which he expressed an unwavering faith in achieving equality and fought relentlessly to dismantle injustice. In doing so, he expressed great courage as he spoke about love and unity in the face of racial hate. His preaching was not always well-received and, at a time when black people were frequently subjected to violence from white people on account of race alone, King and other civil rights heroes put their livelihoods in great jeopardy to promote intolerance of such acts of evil.
Ultimately, it was hate that fueled the actions that led to Martin Luther King Jr.'s assassination on April 4, 1968 ― but the younger King, who was only 5 years old at the time, says it was her father's uplifting message around love that allowed his legacy to live on forever.
Bernice King, who is an Atlanta-based minister and King's youngest daughter, says that while MLK Day is a great time to reflect on her father's iconic legacy, it should not be the only one. America is being forced to reckon with a breed of racism that has been emboldened by Donald Trump and his presidency, and she encouraged all Americans to always pursue the same dream of equality that her father envisioned and to do what's necessary to achieve it.
"[We must] recognize that we are not seeking to defeat and destroy people but we are really seeking to defeat injustice that's trying to keep us all separated and realize our commonality," she said. "That's what [MLK Day] means to me, that's what it has always meant to me ― it's not just a day for me, it's a lifetime. It's a lifestyle."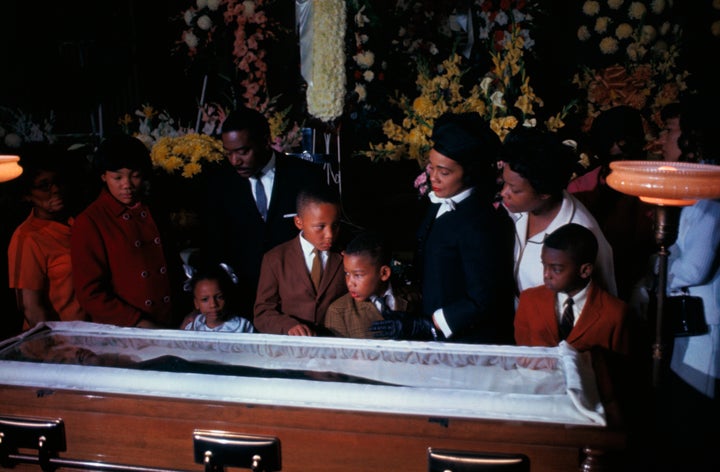 MLK preached unity and love at a time when hate and division were dominant. He encouraged healing through helping others and wanted to establish a global community where people were understanding of and kind to each other.
"The greatest thing he taught us outside of the unconditional love and the organizing is that we are part of a global world and that we have to find a way to coexist and live like brothers and sisters. And that takes a lot of humility, it takes a lot of courage, a lot of understanding, and obviously a lot of love and forgiveness," she said. "These are the things I try to keep close to my heart on a daily basis and because this is the way I was raised. All of us have to be committed to a life beyond our own aspirations."
These are important lessons to remember, perhaps now more than ever. America is still very heavily divided along racial lines, inequalities exist across almost every facet of life, and it is likely that the incoming commander in chief will make little, if any, substantial improvements in these areas. For many, especially communities of color, it's easy to feel defeated by the divisive and hateful rhetoric that has consumed our political landscape. But, instead of expressing worry of what lies ahead, King encourages Americans to stay vigilant and to not feel fearful. After all, she reminds us, America has seen much worse.
"It's hard to for me to be fearful, because of my faith," she said. "People don't realize … we have seen worse as humans. You have to realize, when Daddy and them came along they didn't have the right to vote, when they came along all black people were subject to being lynched. All."
It's a sobering reminder of the progress that has been made, but there's certainly much more work to be done. In acknowledging the positive changes that have occurred, King credits movements like Black Lives Matter for reinvigorating the discussion around racial issues in America and organizing ways to help dismantle them.
"Thank God for the efforts of Black Lives Matter ― we've seen an awakening in this era in a way we didn't see in Daddy's era in terms of people coming to grips with white privilege," she said. "[White privilege] has never been uncovered, revealed and discussed by those in the white community in history."
"Be wise in the resistance in the next four years. I'm not saying there shouldn't be [any], I'm Dr. King's daughter.""
The road to racial equality is one that requires active participation from both white and black Americans, but stubborn attitudes among some white people often makes the journey a difficult one. However, it is irresponsible to leave people in their ignorance and in their hate, King says, which is why she charges white people who have been awakened to the reality of race in America "to take the responsibility now not to just be aware of it yourselves but to begin to create opportunity to awaken your white brothers and sisters."
In looking ahead, King, a longtime activist herself, also has pointed words of advice for black activists in the fight moving forward.
"Be comprehensive and holistic. Be wise in the resistance in the next four years. I'm not saying there shouldn't be [any], I'm Dr. King's daughter," she said bluntly. "But be comprehensive, be wise and think about the bigger picture … We have to be shrewd in knowing what to resist, how to resist and when to resist."
"Do we want to be successful or do we just want to make noise just to make it? Or just to put to put something on the record?" she added. "I'll be honest with you, I'm tired of putting stuff on the record, I'm ready to see some real transformation and change."
Before You Go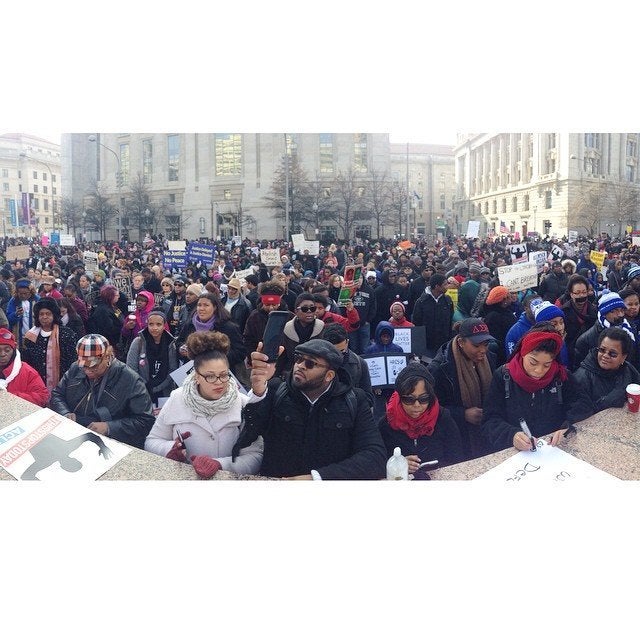 Powerful Black Lives Matter March In Washington
Popular in the Community