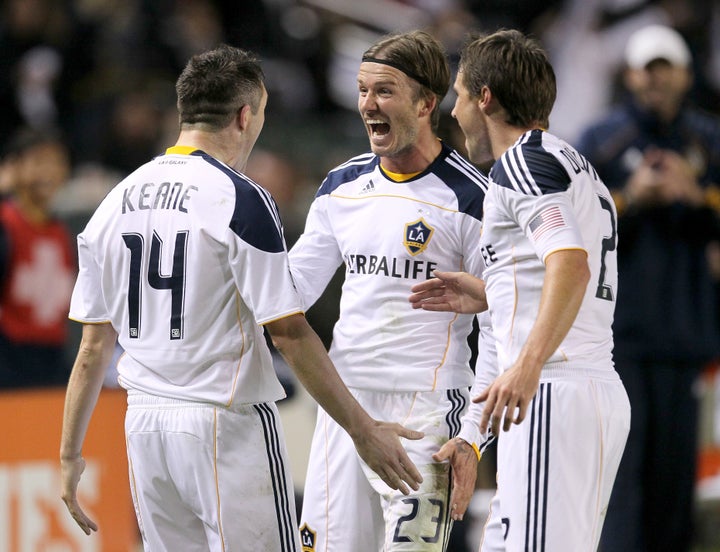 David Beckham may be about to write his own Hollywood ending. On November 20, his eyes will focus on the MLS Cup, American domestic soccer's grand prize. His team, LA Galaxy, will take on Houston Dynamo, the winner to be crowned champions of the nation. It may well be Beckham's Hollywood swan song for a journey that started in 2007 when he stunned the soccer world by endorsing America, a land that was shedding its ignorance to the world's game with a maturing domestic league and a quality national team. European critics dismissed his choice as motivated by something other than soccer. Perhaps the spotlight pull of Hollywood was too strong to resist for a man who was now a global brand. His twilight playing years would fast become dark, they prophesied, he would fade as a player, the wrong way to enter the great night of soccer shadow. But they were wrong. Beckham grew as a player, adapted to a role he had been developing while playing in Spain, a creator of chances, an opener of defenses, and this fitted into the zeitgeist of the modern game occupied with the dance of changing space.
Beckham playing in Europe was surrounded by the world's best players, a part in an all-star cast. But in the States, he is the star and he has played two roles. The business side of MLS required him to deliver the lines that soccer was worth the investment both for sports fans and corporate dollars. In this he succeeded. Folks who had never been to a soccer game were hauled by their kids to see the man in action, providing a contact with the sport through a lens Americans were more familiar with, celebrity fame. Becks turned people on.
On the soccer field, his role as leader and talisman provoked equal measures of cheers and boos. When Beckham threatened to leave the Galaxy for Europe in 2009, he engaged in a punch up with Galaxy fans branding him a traitor. This was a sign of maturation for American soccer fans, the idea of club over man. After this, Beckham was seen more as a player, less of a figment of the imagination, and he played some of his best soccer. His influence in the recent playoffs have been proof that his skills are still sharp, his knifing crosses lethal. If his American playing days are to be done, and he decides not to renew his contract with the Galaxy, he can walk away knowing that his boots will have done the talking which for Becks is a good thing. While he has the looks for Hollywood, he doesn't have the voice.
Calling all HuffPost superfans!
Sign up for membership to become a founding member and help shape HuffPost's next chapter