On December 10, two unique clubs will contend their first ever MLS Cup Final when Toronto FC host Seattle Sounders FC.
Both clubs can be fairly credited with moving the fledgling league to a new level, When Toronto arrived in 2007, such was the volume and passion of their support, that the club was credited for beginning the era "MLS 2.0" to distinguish the league from the early years which was still rooted in the obsolete image of Soccer Moms and wholesome American entertainment.
It was their fans rather than their perennially underachieving team which caught the attention. European style chanting was just part of it. They also did something unheralded in MLS circles - traveled to away games in large numbers. An estimated 1700 - 2000 undertook the 12 hour (plus an international border) round trip bus journey to Columbus Ohio in 2009.
Before fellow Canadians Montreal Impact and Vancouver Whitecaps arrived in MLS, this was Toronto's main 'local' rivalry. Even though Montreal brought a more local rivalry along with the traditional Ontario/Quebec and Francophone/Anglophone divides, Columbus Crew remain a rival especially as an established and respected supporter culture also existed in Columbus.
On the field, the side strove to let down their fans on every occasion. They failed to make the MLS playoffs in any of their first eight years. This is quite an achievement given that more than half the sides usually qualify.
Scouring the globe to find and discard, they ran through managers during this stretch starting with former Partick Thistle and Watford striker Maurice Johnston, Englishman John Carver, Serbian-American Preki, Dutch international Aron Winter, England international Paul Mariner, Kiwi Ryan Nelsen before the current incumbent Greg Vanney took over.
Last year, they finally made the playoffs for the first time despite having the joint worst defence in the league during the regular season and after finishing 13th in the league of 20, and 6th in the Eastern Conference. A 3-0 loss in their first game to Montreal ended their foray. That took their defence to 61 goals conceded, more than any other side.
All that is past now and as Johnston might sing 'and in the past it must remain'. They conceded just 39 regular season goals this year, second only to Colorado. A 3rd placed finish in the East saw them comfortably through to the post-season and with home advantage in the one leg play-in round, they triumphed 3-1 over Philadelphia.
In the two-leg Conference semi final, they walloped New York City 7-0 to the glee those who still resent NYCFC being allowed into the league despite having no stadium and being a club who brought in David Villa, Andrea Pirlo and the ever-absent Frank Lampard. The 5-0 drubbing in the 2nd leg at Yankee Stadium was seen by many as a repudiation of Commissioner Don Garber's personal obsession with bringing soccer to Manhattan whatever rules he had to bend. Toronto by comparison are seen as an authentic "football club' with passionate and long-suffering fans by many across the league.
This is not to say Toronto do not have stars.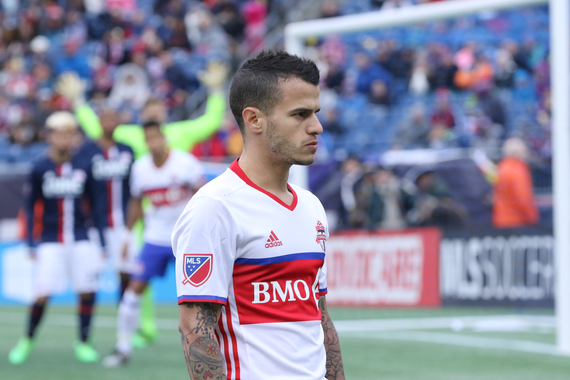 Italian Sebastian Giovinco (above) has proven to be one of the best European imports in MLS history, up there with David Beckham and Robbie Keane. Some of his 39 goals in 61 games have been quite spectacular. Their other two Designated Players are both USA internationals, ex Sunderland striker Jozy Altidore and Michael Bradley, son of Swansea manager Bob Bradley. Two time MLS Cup winner Will Johnson (with RSL and Portland) whose parents are both Nuclear Physicists and Iran international Steven Beitashour add colour and experience to an interesting squad.
In the Conference final, they ran into old adversaries Montreal in the first ever All-Canadian Eastern Conference final. And what a whirlwind final it was. Both legs had large away supports and healthy doses of Canadian pride pervaded; tinged a little with Quebec pride from the Montreal side.
In the first leg in Quebec, history seemed to be repeating itself as the Impact ran into a 3-0 lead against a shell shocked Toronto and even that was without Didier Drogba who came off the bench in the 71st minute. A resilient Toronto regrouped after local boy Will Johnson came on and fought back with two late goals for a finishing score of 3-2.
The second leg in Toronto was even more dramatic. Montreal scored first to take a 4-2 aggregate lead but before half time, Toronto had scored twice to lead on the away goals rule in a 4-4 aggregate score. The Impact took the lead again only to lose it and the match finished 3-2 with a 5-5 aggregate necessitating extra time. Toronto scored twice more and won 5-2 on the night, with five different scorers, advancing 7-5 on aggregate.
Their superior points record in the regular season guaranteed them home advantage after Sounders eliminated Colorado in the West.
Now they await Washington State's Sounders FC who are credited with taking MLS into the era of 3.0. I'll look at their tumultuous fairy-tale season, and some of their history, in the next article.
(Photo: Kari Heistad/prostamerika.com)
Calling all HuffPost superfans!
Sign up for membership to become a founding member and help shape HuffPost's next chapter