M&M Brownies made adorable with festive Easter M&Ms. These are a treat every bunny will love!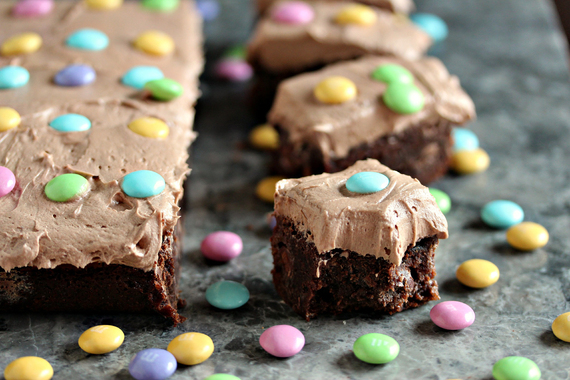 Hello, Food Fanatic fans! I'm back with another easy chocolate recipe for you. I'm really digging being the resident chocolate addict. It's a pretty cool gig.
My family and friends always ask me why I'm always in such a good mood. I usually tell them when you love your job it makes your life so much happier.
The real truth is when you consume as much chocolate and sugar as I do it's impossible not to be happy. I'm not sure I would be this happy if I was eating kale, or spinach.
Sure, my waistline would be smaller, but I'm at a point where I'm totally okay with not being a size 0 if it means I get to enjoy my favourite things more often.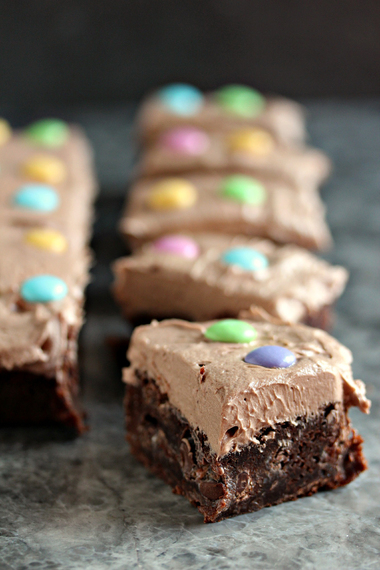 I know they say dark chocolate is way healthier for you but I'm not a huge fan of it. We tend to love milk chocolate in this household. All of us love it best.
There should be a new motto... "the family that eats milk chocolate together stays together". We all tend to love similar things. M&M's are one of those things we all love.
Brownies just happens to be another love of the Beaulieu family. We really dig ooey, gooey, fudgy brownies. In fact the more ooey, gooey and fudgy they are the better.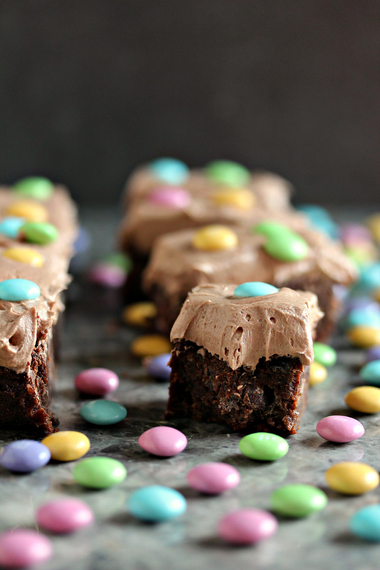 My daughter has a favourite brownie recipe. She loves it so much she rarely likes me to make any other kind. It's why there are not a lot of brownie recipes on my site.
A friend shared a brownie recipe with me and it quickly became our go-to brownie recipe. We now use the best brownies in the world recipe for almost every brownie occasion.
If you like your brownies more cake-like you can add more flour to this recipe. That will give them a more cake-like texture. We were happy keeping these ooey, gooey and fudgy.
We made two batches. I figure go big or go home. That way we had more to share with family and friends. That's always the plan, then we eat 'em all up ourselves. It's just how we roll.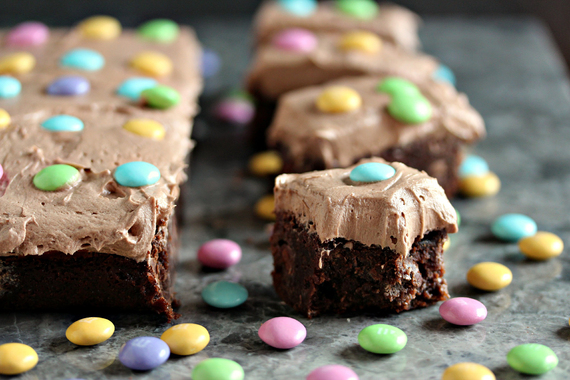 Hope you enjoy these M&M Brownies. Swap the M&Ms you use to match any season. I make peppermint ones for Christmas. I just use peppermint M&Ms, then toss peppermint extract in the brownies.
If you're an ice cream lover, try using my brownie recipe then whipping up a brownie sundae! You can also toss brownies in ice cream to make chocolate fudge brownie ice cream. Both are equally awesome.
Get creative and have a blast with these. Pile a million M&M's on top or make fancy patterns. Whatever puts a smile on your face. It's impossible to be in a bad mood while eating M&M Brownies!