UFC Fight Pass is returning to Miami and the Bank United Center in Coral Gables will be rocking this August when Lex McMahon's Mixed Martial Arts broadcast returns to the 305. When MMA hits Miami it's a big deal and in the words of Will Smith, Beinvenido a Miami! So much so of a big deal in fact, that Titan FC 40 will be streamed live, worldwide, by the industry leader in combat sports, the UFC. Via their revolutionary Fight Pass technology, millions around the world will be able to tune in and see live action as it takes place in Miami, Florida via their mobile device, computer or right on their living room TV.
Since taking the reins as the Senior Vice President and General manager of UFC Fight Pass, Eric Winter, a former high level executive with Yahoo and the head of Rivals.com, has instantly transformed the Fight Pass model into a ground breaking force multiplier for combat sports. Having also held leadership positions within DirecTV, it is clear why Dana White and the UFC selected Eric for such an important role in the future of UFC broadcasting. In doing so, Eric and the UFC have enabled fans throughout the globe to tune in and watch exciting and revolutionary combat sports action like Titan FC 40 taking place live in Miami on August 5th, 2016. Prior to Fight Pass, only local fans in attendance and those able to tune in and catch a cable broadcast on their television could experience these hard hitting fight cards.
Although local Miami fans and South Floridians will be coming in droves to catch the action this August, fans in multiple hemispheres will now be afforded the opportunity be tune in and catch hard hitting warriors straight from the 305 in the Titan FC Hexagon. If Titan FC 40 is even close to the success of it's predecessor, Titan FC 39, it should not be missed and I for one, will be looking forward to catching the action cage-side as Gesias Cavalcante defends his title against Freddy Assuncao in the main event.
Word on the streets is that master world championship belt craftsman and Operation Enduring Freedom soldier "Rey Rey", a Miami native and US Air Force vet, is working with Titan FC Chief Operating Officer Lex McMahon on some stellar new Titan FC World Championship title belts;' perhaps they will be unveiled at Titan FC 40. COO McMahon is a Marine and does quite a bit to help the military community, including promoting PTSD awareness during his live events.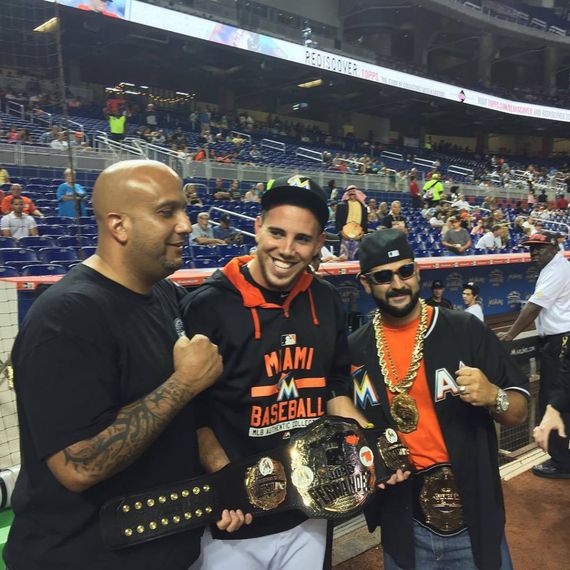 Uncle Louie joins Rey Rey on field at Marlins Park to present Jose Fernandez with his Championship Belt in Miami, Florida
The pre-sale for Titan FC 40 was announced this week on Titan FC's social media. See you at the Bank United Center in August Miami!
Calling all HuffPost superfans!
Sign up for membership to become a founding member and help shape HuffPost's next chapter