Aspiring photojournalist Mo Gelber captured this incredible image outside Manhattan Criminal Court last month and is now desperately trying to identify the photo's subjects: an attractive, young, handcuffed couple about to share a kiss while being escorted by police to the courthouse.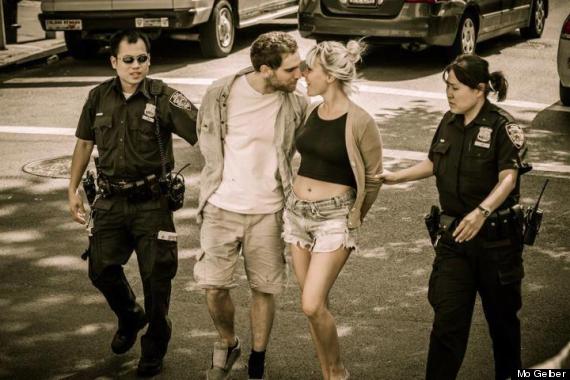 Gelber described the scene to HuffPost in a Facebook message:
On August 16th I saw a commotion in front of manhattan criminal court. Every local news station had a reporter and cameraman outside. Since I always have my camera with me , I decided to join in the fray. They were waiting for Anna Gristina the alleged soccer mom madame. I got a few good shots of her entering the court. The reporters stayed outside thinking she would answer questions at an ad hoc press conference after her court appearance. She slid out a back door, but her lawyer stuck around to talk to the press. While the pack of reporters surrounded the lawyer, I climbed up a pillar next to the court steps to get a wide shot of the scene. Then I noticed these 2 cops bringing a couple in handcuffs toward the courthouse which I think is also central booking. The couple leaned in to have a last kiss before being taken into jail. I snapped this photo quickly and asked the man why he was arrested and he replied "for writing on other peoples stuff."
Gelber was notified Wednesday that the photo, which he titled "Last Kiss," is a finalist in a major photography contest. The good news, however, came with a caveat.
In order for his photo to be considered for the grand prize, Gelber needs the mysterious couple to sign a release form. The problem, of course, is that Gelber doesn't know their names.
Hearing of his dilemma, a friend of Gelber's passed along the image to Brandon Stanton, who runs the uber-popular photoblog 'Humans Of New York.' Stanton shared the photo with his Facebook followers and within ten minutes, it had been "liked" and shared by thousands of people.
So, anybody know who this couple is? It would not only be great for Gelber, but we'd also like to know the couple's backstory. Why exactly were they arrested? How long have they been dating? Were the cops nice? Why doesn't he have any shoelaces?
Gelber says that late Wednesday night, a woman contacted him, claiming to be the woman in the photo. Once we can confirm that it's her, and get more details, we'll update this post.
[Update: The Daily News identified the woman as 28-year-old Alexis Creque. Creque says the man in the photo is her 26-year-old boyfriend, a graffiti artist still in jail for tagging a wall in the Lower East Side. Although identified, Creque tells Gelber she doesn't want to sign a release form until her boyfriend is out of jail.]
In the meantime, let's take a look at another amazing photo of a couple sharing a kiss under even more extreme circumstances: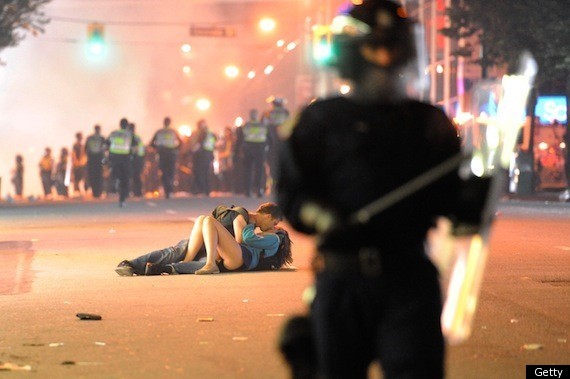 Popular in the Community