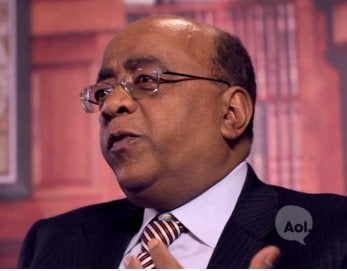 Rare among Africa's benefactors is an actual African, making billionaire Sudanese businessman Mo Ibrahim unique in his role as one of the continent's foremost philanthropists. But the fact that Ibrahim has staked his reputation on questioning the transparency and efficacy of all 53 governments on the continent is what has made him singular.
The Ibrahim Foundation, launched in 2005, is an initiative "committed to supporting great African leadership that will improve the economic and social prospects of the people of Africa." The foundation is best known for the Ibrahim Prize, which recognizes a democratically elected African head of state who has demonstrated good governance and observed term limits -- stepping down from office in accordance with the country's constitution.
The winner is chosen by the Ibrahim Prize Committee, which includes prominent players in the world of international affairs, including Nobel Peace Prize laureate and former President of Finland Marrti Ahtisaari, U.N. High Commissioner for Human Rights Mary Robinson and Nobel Peace Prize laureate and Egyptian diplomat Mohamed El Baradei.
Recipients of the award are given $5 million and an annual $200,000 stipend for life, which has prompted some detractors to accuse Ibrahim of "reverse bribery" -- that is, paying off leaders to step down from power before they seek to abuse it. Ibrahim reasons that African leaders are not given the same economic opportunities as Western leaders -- comparing their futures to that of say, Bill Clinton. The prize is his way of combating that imbalance.
In 2007, the award was given to Joaquim Alberto Chissano of Mozambique, credited with leading his country to an open market and a multiparty system of governance. In 2008, it was awarded to Festus Gontebanye Mogae of Botswana, who was praised for his work combating the HIV/AIDS epidemic. But for the past two years, the prize committee has declined to name a winner.
Ibrahim explains, "The prize is a prize for excellence -- it's not a pension. It's not automatic. We are looking for exceptional leadership." But to some in the international community, the lack of an award for the past two years paints a grim picture of contemporary African leadership -- undermining the very principle of (positive) African recognition that rests at the core of the prize. At an event in Washington earlier this month, Ibrahim announced he was hopeful that 2011 would see a winner -- but added quickly that he was not on the prize committee and could not, therefore, know who was being considered -- or if, in fact, anyone was.
Dr. Mohammed Ibrahim, known popularly as "Mo", was born in the Nubian north of Sudan to what he describes as a "lower middle class family." At school in Egypt, Ibrahim participated in the African political activities of the 1960s: "We really cared," he says. "I remember going out demonstrating for [Congolese freedom fighter Patrice] Lumumba when he was arrested. We went out demonstrating for the release of [Kenya's first president] Jomo Kenyatta when he was arrested by the British. There was a really great sense of the African identity, the global link between young people."
Though Ibrahim took part in political demonstrations, he maintains that his passion was for science. "My heroes as a young man were people like Einstein, Madame Curie. I never had a doubt that I wanted to do engineering." He would go on to receive a master's degree and Ph.D. in England, and later take a job working for British Telecom in the burgeoning field of mobile communications. From there, Ibrahim would start two companies: Mobile Systems International (which he later sold for $900 million) and Celtel -- which would bring mobile phone technology to 15 countries in Africa and a third of the population on the continent.
In 2005, Ibrahim sold Celtel to MTC Kuwait for $3.4 billion. In an interview earlier this year, he described in Celtel his hope to create the first African company to have its primary listing on the London Stock Exchange -- but the offer from MTC would prove too tempting to turn down. "Celtel had partners," Ibrahim explains. "We funded the company mainly through equity -- we couldn't raise debt because banks don't lend to African companies, unfortunately."
As a result, many of the shareholders invested in Celtel were funds that had invested in the company at very low prices: "Two dollars, five dollars a share," according to Ibrahim. When the offer from MTC came in, "Suddenly it was $56 a share. It was a huge gain to be realized. And they wanted to cash in. And I had to respect that."

"What matters really is the company grows and moves forward," Ibrahim continues, "and that is what's happening. And with luck, you have another baby, which is the foundation. You get over your first love by falling in love with something new. That's what happened."
While Ibrahim may appear to be singular in the world of African philanthropy, he would seem to be part of a longer, richer tradition inside Sudan. According to Suliman Baldo, the Africa Director of the International Center for Transitional Justice, "There is a strong tradition of benevolent giving among people of northern Sudan from which [Ibrahim] hails."
Says Baldo, because of concerns surrounding land scarcity, many of the locals "resorted to migration as a survival strategy." Migrants sent remittances not only to their extended families, but to the community. Their home village or regional associations built mosques, schools, hospitals, drinking water projects and, at later dates, irrigation schemes to reclaim land from the desert for the community."
Ibrahim's work, Baldo contends, is a modern extension of this. Like generations before him, Ibrahim left Sudan at a young age to study in Egypt, and then migrated elsewhere, later directing his newfound resources back home. "His innovation is that he expands the tradition in which he is rooted, to a modern philanthropy -- comparable to [George] Soros and [Bill] Gates," says Baldo.

For his part, Ibrahim offers that the idea for the foundation was sparked by his work with Celtel. Traveling across Africa, he says, "You interact with governments, businesspeople, communities. You start to really see what's happening in each country. It's very interesting, that in-depth exposure to the process of governance, running a country, how things are done: tax laws, customs laws, company laws."
Ibrahim says he realized two things from his business across the continent: "Number one, Africa is a huge place. You fly for hours and hours and hours over Africa to go from one place to another. We have over 50 cities in Africa with over one million inhabitants. That's more urbanization than India!"
And two: "It has a lot of resources. You start to ask yourself: Why are we poor? Why aren't we doing better? When you start to ask yourself these questions, it's inevitable that you come to the same conclusion, which is: We are poor because we are mismanaging our resources, our economy, our people, our government."
Once Celtel had been sold, Ibrahim says he put his mind, "To really tackle that issue -- because I owe it to my people. If I'm in a position to be able to do something, and I don't do it, then I'm a traitor to my people."
In addition to the prize, Ibrahim's foundation also publishes the Ibrahim Index -- which doesn't have the media pixie dust of a lifelong stipend and a multimillion-dollar purse, and is therefore less widely covered -- but is, in some ways, more influential than the prize. The index evaluates and rates African countries according to four criteria: Safety and Rule of Law, Participation in Human Rights, Sustainable Economic Opportunity, and Human Development.
International aid agencies rely on the index as a guideline for their grants, and for some African countries, it has become a race to the top -- promoting better, more accountable and transparent governance in exactly the fashion that Ibrahim envisioned when he first created his foundation.
The index has stirred up some controversy for the weighting of its categories -- allowing countries with developed economies and educational systems high rankings despite questionable records on human rights and rule of law (Tunisia and Egypt, for example, rated eighth and ninth, respectively, in 2010).
Responding to these criticisms earlier this month, Ibrahim said the foundation would be addressing some of these concerns and was adding categories -- including one measuring gender parity -- in the next year. For Ibrahim, the index remains the thing he is most proud of. "It is more important than the prize," he says.
Alongside the prize and index, the Ibrahim Foundation announced in early April the creation of a fellowship to "help to prepare the next generation of outstanding African leaders by providing them with unique mentoring opportunities." The fellows will have hands-on training by leaders of three multinational corporations: the African Development Bank, the United Nations Economic Commission for Africa, and the World Trade Organization.
In interviews, Ibrahim frequently repeats his desire to show the West that Africa is more than just genocide and human suffering. "You see all these images on television about Africa and usually it's a camp, it's dying kids, it's weak women. But it distorts your view about the African people," he says. "People forget that we have the best athletes in the world -- we walk better than you, we dance better than you. We are not sick. Yes, there are pockets of poverty, there are regimes which are brutal and cause a lot of misery. We need to stop that -- no question -- and we need to deal with the result of this."
Speaking to the efforts of the Bill Gateses and the Bonos of the world, Ibrahim says, "We thank all the philanthropic [institutions], the wonderful people who are helping the needy in Africa. But the job in our foundation is to really stop all that by changing the political outlook of Africa, changing the way we're managing our affairs. There's no need for us to beg for money." He adds, "I don't want Africa to forever be the recipient of aid. Aid is also humiliating for the recipient. And it touches a human indignity. Why? We are able-bodied people. We are not sick people."
John Prendergast, co-founder of the Enough Project, an anti-genocide advocacy group and an expert on issues in Darfur, Rwanda and Congo, addresses Ibrahim's contention that the West is preternaturally obsessed with African carnage: "He's right," Prendergast says. He believes this dynamic will change in two ways: "First, more progress has to be made in resolving existing crises. And second, a better job has to be done telling the success stories. Mo Ibrahim is doing a lot in support of the latter."
With all his activities promoting better governance, it does raise the question: Why doesn't Mo Ibrahim run for office? Sudan's President, Omar al-Bashir, is wanted by the International Criminal Court on charges of crimes against humanity, and is due to leave office by 2015. Following a referendum in January, the country remains beset by violence in the South, following one of the world's longest-running civil wars which killed an estimated 2 million people.
Amir Osman, a senior policy analyst for the Open Society Institute and the former senior director for government relations at the Save Darfur Coalition, first met with Ibrahim four years ago, when Ibrahim requested his help in planning a Darfur peace process initiative. "Mo is really unique," says Osman. "He's a very genuine person who really wanted to help. Some people were skeptical [about his efforts]. The government of Sudan thought he might want to run for the presidential elections, and people urged him to consider it. He said he absolutely wouldn't do it. He's not waiting for anything in return."
Despite his extensive efforts in African governance -- and his clear passion for reform -- Ibrahim reiterated his staunch aversion to political office. "It's out of the question," he said in mid-April. "It damages what we do in our organization. I need to be free, to speak the unspeakable. You can't do that in office." With a chuckle that belied the gravity of his convictions, he added, "If you ever hear of me going after even the mayorship of the smallest village -- come find me."

Popular in the Community