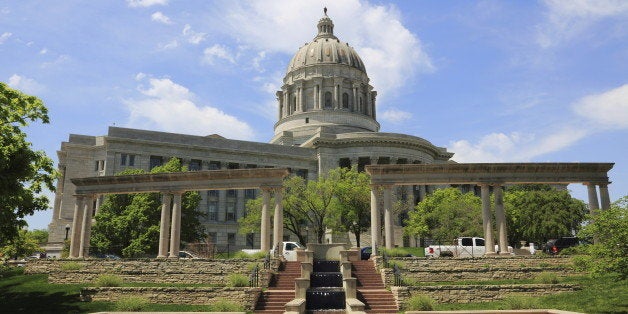 Corporations, not satisfied enough with their sky-high profits, are trying yet again to rally Missouri lawmakers in an attempt to override the veto of Gov. Jay Nixon and pass so-called right-to-work (RTW) legislation that would drive down salaries and hamper workplace rights of everyday workers.
The Missouri Legislature reconvenes this week and is expected to take up the measure. But a bipartisan collection of legislators stand in the way of an override. And the Teamsters and other allies are mobilizing in advance to make sure that hardworking Missourians aren't tossed aside to enable big business to grow even more wealthy and powerful at the people's expense.
I joined my fellow Teamsters at a rally Saturday in Kansas City to let Statehouse officials know the best move to make is to not support RTW. This is an attempt at government overreach that would only further the growing income disparity between those struggling to makes ends meet and those at the top of the corporate ladder taking in millions in salary and benefits each year.
If this effort seems like déjà vu, that's because it is. The Missouri Legislature tried to pass similar legislation last year. It failed because so-called RTW is a divisive political issue meant to punish labor unions. In this economy, companies, employees and unions should be working together to create good jobs and create safe workplaces instead of the government trying to manage the private sector.
Such anti-worker laws make it harder for workers to protect their wages and job security, while at the same time taking their voice on the job away. But the Missouri bill goes even further than most by criminalizing employers and subjecting small business owners to unlimited civil liability and jury verdicts. In short, it takes away the rights of an employer to decide for itself how to run its business.
The fact remains that in the state, only 8.4 percent of workers were members of a union in 2014, and only 9.7 percent were represented by a union. That is well below the national average. At the same time, however, Missouri ranks 33rd in per capita income, some $2,500 below the U.S. average. And teachers' salaries are more than three percent lower than they were a decade ago.
Working Missourians have no good reason to support this repeal of workers' rights. Those living in RTW states have a higher poverty rate than those in ones that support collective bargaining. In fact, nine of the 10 highest poverty states are RTW. That, in part, is attributable to lower salaries and benefits. Those with no rights at work make almost $1,500 a year less. They are also less likely to receive employer-based health insurance or pensions as well.

If the Legislature were to override Gov. Nixon's veto, it would be harder for workers to protect their wages and job security and their voice at the workplace would be silenced. Meanwhile, big business would get even more power at a time when CEO pay has grown to 373 times that of the average worker.
This effort needs to be called out for what it is - a corporate-fueled attack on everyday people who are just trying to earn a living to support their families. It's part of a national effort being pushed by the same big companies and business executives who for years have boosted their profits by sending American jobs overseas. These out-of-state special interests are targeting Missouri to lower wages and cut benefits for workers so they can increase their profits even more.
Lawmakers in Jefferson City can't allow that to happen. Their constituents need them more than big business does. As the state motto says, "Show Me" (and them) that the interests of regular people come before bad policy backed by corporate campaign cash.
Popular in the Community