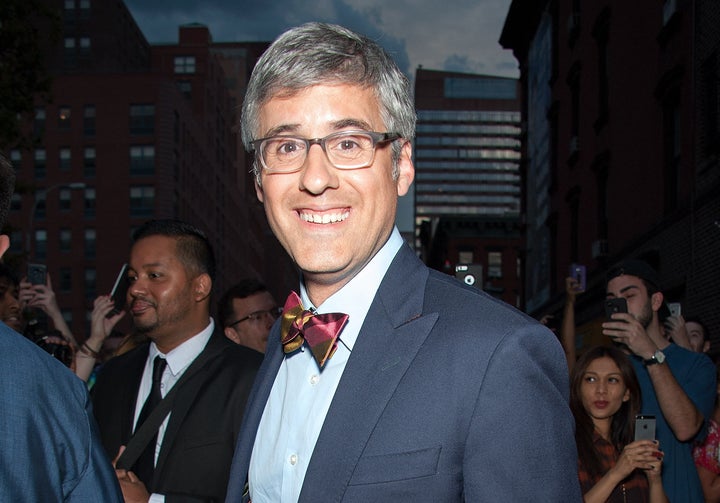 Mo Rocca, an openly gay TV reporter and comic, played a starring role in Pope Francis' Mass in New York City's Madison Square Garden Friday night, delighting LGBT rights advocates long critical of the Catholic Church's opposition to homosexuality.
"I am deeply grateful and humbled to have delivered a reading at a Mass celebrated by @Pontifex," Rocca tweeted afterward.
Joe Sudbay, a veteran LGBT rights activist and writer, interpreted Rocca's reading as a sign that Pope Francis has followed through on his rhetoric implying he would make the Church more welcoming to gays and lesbians.
"Having openly gay @MoRocca do first reading at MSG seems to confirm" Rocca's argument that Francis' July 2013 statement expressing tolerance of gay people was "big," Sudbay said on Twitter. In 2013, the pontiff famously said, "Who am I to judge a gay person of goodwill who seeks the Lord?"
Tony Varona, an American University law professor and LGBT activist, called Rocca's reading "lovely."
Rocca came out in 2011, when he was 42. He insists that his Catholic family members have been very supportive.
"Everyone assumes (including my Anglo friends) that it's hard to be gay if you have a parent who is a religious Catholic, and especially a Latin American Catholic -- all I can tell you that wasn't the case with me," Rocca told the Latin Post in November 2013. "My parents were great."
New Ways Ministry, which calls itself a "gay-positive ministry of advocacy and justice" for LGBT Catholics, was pleased to see the Church include Rocca, but remains skeptical of the institution's overall progress on LGBT rights. Rocca's starring role comes as LGBT men and women "find themselves unwelcome in many U.S. parishes and more than fifty church workers have lost their jobs in LGBT-related disputes since 2008," Bob Shine, a staff associate at the ministry, wrote in a blog post.
One of the pope's speaking stops on Saturday -- the four-day, Vatican-backed World Meeting of Families -- demonstrates the challenges facing LGBT Catholics seeking greater acceptance in the church. The conference limited attendance to its only session on homosexuality on Thursday and has taken measures to stifle LGBT activism at the event.
UPDATE: Dignity USA, an advocacy group for LGBT Catholics, applauded Mo Rocca's participation in the Friday Mass.
"Mo Rocca's being chosen to proclaim the first reading at the Papal Mass in New York highlights the presence of LGBTQ people in all aspects of the Catholic church's ministry," Marianne Duddy-Burke, executive director of Dignity USA, said in an emailed statement Monday. "We are members of the church, lectors, Eucharistic ministers, Catechism teachers, choir members and directors, musicians, priests, nuns, even bishops and cardinals. In some places, we can live and serve and be open about who we are and who we love; in other places, we must remain closeted or risk being fired.
"I hope that Mr. Rocca's visible role was meant to send a message to bishops, priests, and all Catholics that the gifts and ministries of LGBTQ Catholics and our families should be embraced and celebrated," Duddy-Burke addd. "It would be a great thing if the Pope's visit marked the end of LGBTQ people being told we are unworthy to be full members of our Church."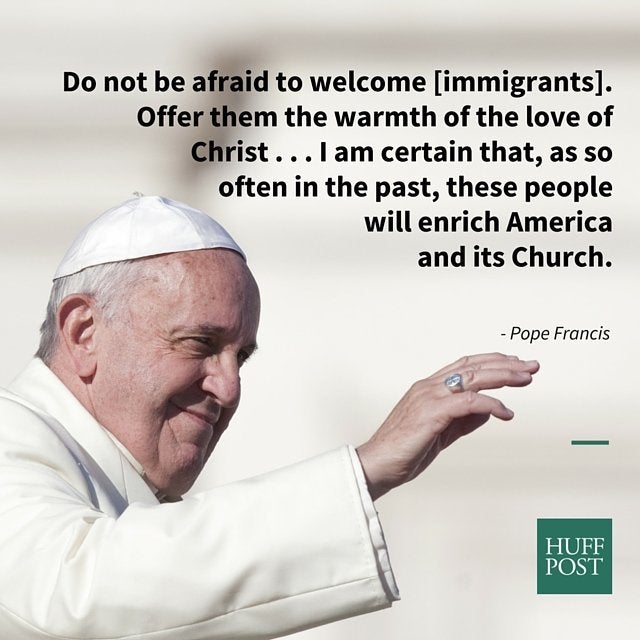 Pope Francis' Best Quotes From His Trip To America
Related
Popular in the Community