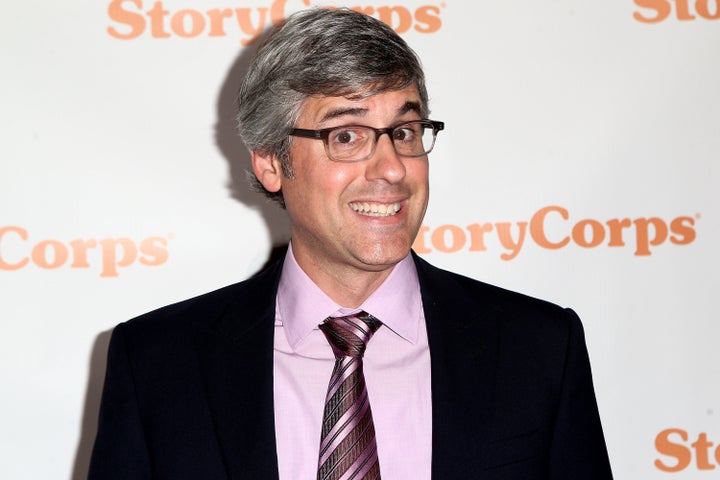 Many commencement speakers at college graduations encourage students to run into life right "out of the gate" -- or any number of other metaphors involving hustle.
The comic and television personality told the graduating class at Sarah Lawrence College on Friday that it does not all need to happen right away.
Experimenting -- and even dawdling -- through your post-college years is sometimes the best way to discover the passions that will propel you in life, Rocca argued.
"Many people will tell you – as they told me – that time is of the essence," Rocca said. "Many people will tell you ruefully that youth is wasted in on the young. Many people will warn you that in an ever more competitive economy the clock is ticking."
"Well, many people are wrong," he quipped. "You've got time."
Rocca went on to describe the circuitous route he took to becoming a successful screen presence and writer with some funny anecdotal gems.
After graduating college, Rocca studied Kabuki in Japan, did odd jobs in his hometown outside Washington, D.C., and scored the role of Doody in the Southeast Asia tour of a production of the musical "Grease," he recalled.
Rocca subsequently got his start in television as a writer for the PBS series "Wishbone," about a dog that imagines himself taking part in famous literary dramas.
The Emmy Award-winning show has something of a nostalgic cult following among millennials who watched it as pre-teens in the 1990s. And Rocca's revelation of his little-known work on "Wishbone" almost makes the speech newsworthy in itself.
But that wasn't his big break. Living in characterless Dallas suburbs during production of "Wishbone" prompted even more soul-searching and sent him on a tour of late 19th and early 20th century presidential residences in the midwest, according to Rocca.
The self-assigned road trip fired Rocca up about American history.
A colorful turn at the Indianapolis residence of our illustrious 29th president, Benjamin Harrison, was apparently especially memorable.
If someone asks you, 'What are you working on these days?' It's OK to say 'My personal life, because it does require work.
Rocca then parlayed his "passion for the material" into the gig as a correspondent for "The Daily Show" that launched him to national fame.
"There was no grand five-year plan," Rocca said of his accidental stardom. "Because five-year plans usually don't work. You know who liked five-year plans? Josef Stalin. Not a great role model."
Rocca has not forsaken his love of American history for the entertainment world, of course. He applied his comic talents to the subject matter in the 2004 book, All the Presidents' Pets: The Story of One Reporter Who Refused to Roll Over.
You might have seen Rocca lately on CBS' "Sunday Morning," where he is a correspondent, or on his Cooking Channel show, "My Grandmother's Ravioli."
The openly gay reporter delivered the first Bible reading at Pope Francis' mass in Madison Square Garden in New York City in September, in an act activists applauded because of the Catholic Church's opposition to homosexuality.
Rocca concluded his remarks at Sarah Lawrence with a series of smart and amusing advice for various challenging scenarios that recent college grads -- and really all people -- are likely to encounter.
"If someone asks you, 'What are you working on these days?' It's OK to say 'My personal life,'" he said. "Because it does require work."
Calling all HuffPost superfans!
Sign up for membership to become a founding member and help shape HuffPost's next chapter
BEFORE YOU GO
PHOTO GALLERY
Hilarious College Gameday Signs