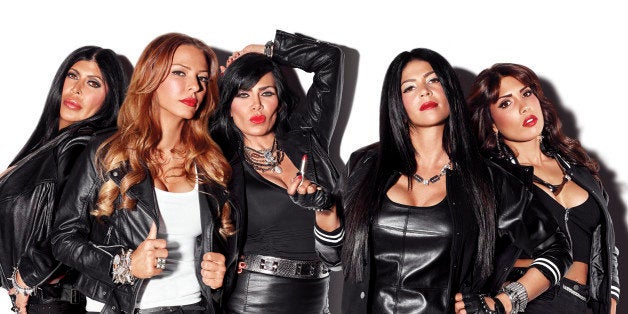 "Mob Wives" is introducing some "New Blood." VH1 has shaken up the cast of "Mob Wives" with two new faces joining the fray and rebranding the show "Mob Wives: New Blood."
Renee Graziano, Drita D'Avanzo and Big Ang will return to "Mob Wives" and will be joined by Alicia DiMichele and Natalie Guercio. The two new women hail from Philadelphia.
When Season 3 ended, Drita had finally let husband Lee back into her live, Renee and AJ were mending their relationship and Big Ang did her best to remain neutral. Expect the new girls to shake things up.
Alicia DiMichele is the wife of Eddie "Tall Guy" Garofalo. "Tall Guy" has been indicted for racketeering, extortion, and conspiracy to murder. According to VH1, Sammy "The Bull" Gravano allegedly orchestrated the August 1990 murder of her father-in-law, Edward Garofolo Sr., based on orders from John Gotti.
Alicia worked for Eddie's trucking business, which led to her being indicted and pleading guilty to embezzlement. She's a mom of three and while she awaits a potential jail sentence, Alicia runs two designer boutiques.
Natalie Guercio owns the Carto Funeral Home, which has a history of being the reputed go-to-spot for mob-related burials in South Philadelphia, VH1 said in a release. A single mom, Natalie is looking to find love outside of her Wise Guy circle.
"Philly and New York mobsters, just by nature of proximity, have mostly been known to be friendly with one another," "Mob Wives" creator and executive producer Jennifer Graziano of JustJenn Productions said in a statement. "And in most cases, it is no different amongst the wives -- although Alicia is from Philly, her husband is a Brooklyn native. Renee and Eddie go back 30 years, so it was only natural for her to come in contact with his wife. The new women were an organic addition to our existing cast as even Natalie has New York roots and ties to some 'friendly faces.' Natalie's spitfire ways and Alicia's personal story about getting arrested and 'going down' with the mob offers a new perspective on what it means to 'live the lifestyle' or to be a 'mob wife.' We are looking forward to a fresh, new and rejuvenated season!"
"Mob Wives: New Blood" premieres Thursday, Dec. 5 at 10 p.m. ET on VH1.

Calling all HuffPost superfans!
Sign up for membership to become a founding member and help shape HuffPost's next chapter
BEFORE YOU GO
PHOTO GALLERY
Critics Picks 2013-2014