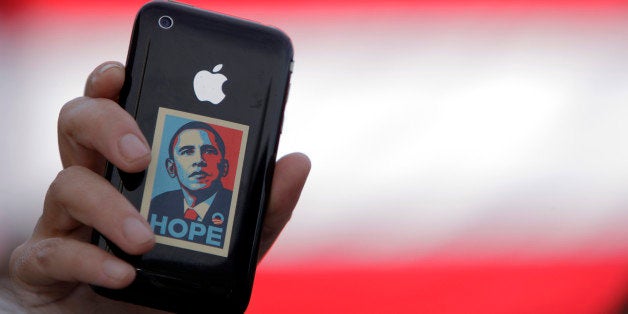 WASHINGTON -- A digital political advertising firm is asking the Federal Election Commission to exempt banner ads for mobile devices, such as the recently announced iPhone 5S and 5C, from disclaimer language required for most political advertising and materials.
The request originates with Revolution Messaging, a digital advertising firm founded by Scott Goodstein, who was external online director for President Barack Obama's first presidential campaign. The firm has asked for the exemption based on the argument that mobile devices are too small to ensure that the disclaimer naming the group responsible for the advertisement would not "dwarf the ad entirely."
"Many of our clients have been unable to take advantage of mobile advertising capabilities after being told they need to include a disclaimer," Keegan Goudiss, Revolution Messaging's partner and head of digital advertising, said in a statement. "It's an impossible request because the disclaimer would end up larger than the ad itself."
All public communications by political committees are required by federal campaign finance law to state, in a "clear and conspicuous" manner, the name of the responsible political committee and whether it was authorized by a candidate.
Revolution Messaging has argued for the exemption because any disclaimer on a mobile banner ad would not be "clear and conspicuous" due to its small size. The Interactive Advertising Bureau guidelines for wide banner advertisements on smartphones is 320 by 50 pixels.
Goudiss told The Huffington Post that a disclaimer would take up approximately 40 percent of a banner ad on a mobile phone. "It's impractical for having a disclaimer," Goudiss said.
The FEC has previously granted exemptions to such items as bumper stickers, clothing, buttons, pens, pins and other small items. Other forms of communication that are exempt due to impracticality include skywriting and postings on water towers.
In previous opinions the FEC has stated that text message advertising under 160 characters qualifies for the disclaimer exemption, as do Google Ads, which run up to 92 characters, and ads on Facebook, so long as the disclaimer appears on the landing page reached upon clicking on the ad. Revolution Messaging hopes to extend those precedents to mobile advertising.
Political advertising on mobile devices is still in its infancy, but both President Barack Obama and 2012 Republican presidential nominee Mitt Romney put resources towards targeting voters via the medium. According to Mashable, the Obama campaign targeted mobile advertising to users of Electronic Arts' mobile games, like Battleship, Tetris and Scrabble, while the Romney campaign spent on advertising through the Facebook and Google mobile apps, as well as Apple's iAds.
The benefits of mobile advertising include the ability for hyperlocal and personalized targeting. By using anonymously collected data that show a person's precise location, a campaign committee could target specific individuals with tailored messages through mobile devices located within a chosen area.
REAL LIFE. REAL NEWS. REAL VOICES.
Help us tell more of the stories that matter from voices that too often remain unheard.
BEFORE YOU GO
PHOTO GALLERY
Curious Campaign Ads